Site
Home /
Fighting
/
NJPW
Logo

Upcoming Events
None Found...
Latest Results

DOMINION 6.9 in OSAKA-JO HALL (Saturday 09th June)

Wrestle Kingdom 12 In Tokyo Dome (Thursday 04th January)

Destruction in Kobe 2016 (Sunday 25th September)

Destruction in Hiroshima 2016 (Thursday 22nd September)

Destruction in Tokyo 2016 (Saturday 17th September)

Lions Gate Project3 (Thursday 01st September)

Super J Cup 2016 - Day 2 (Sunday 21st August)

G1 Climax 26 - Day 19 (Sunday 14th August)

G1 Climax 26 - Day 18 (Saturday 13th August)

G1 Climax 26 - Day 17 (Friday 12th August)

Description
New Japan Pro-Wrestling Co., Ltd. sometimes referred to as NJPW or simply New Japan, is a major Japanese puroresu professional wrestling promotion founded in January 1972 by Antonio Inoki. In 2005, Inoki sold the promotion to Yukes, who later sold it to Bushiroad in 2012. Naoki Sugabayashi has served as the Chairman of the promotion since September 2013, while Katsuhiko Harada has served as the President of the promotion since February 2016.

Owing to its TV program aired on TV Asahi, NJPW is the largest professional wrestling promotion in Japan and the second largest in the world in terms of attendance and revenue (behind WWE). From its creation in 1972 until 1986, it was a member of the National Wrestling Alliance. NJPW is known for openly engaging in working agreements with various MMA and professional wrestling promotions around the world, including WWE, World Championship Wrestling, Total Nonstop Action Wrestling, WAR, UWFi, Ring of Honor, Pride Fighting Championships, and Jersey All Pro Wrestling. NJPWs biggest event is the January 4th at the Tokyo Dome show, held each year since 1992 and currently promoted under the Wrestle Kingdom banner.

Schedule
2015 Season
2016 Season
2018 Season
TeamsTrophy Icon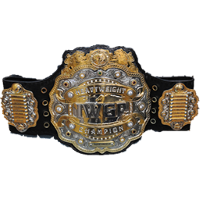 Fanart
Banner
Other Links