Name
Kilmarnock
Badge
User Rating
(0 users)


Next Event
Arbroath vs Kilmarnock (24 Sep)
Head Coach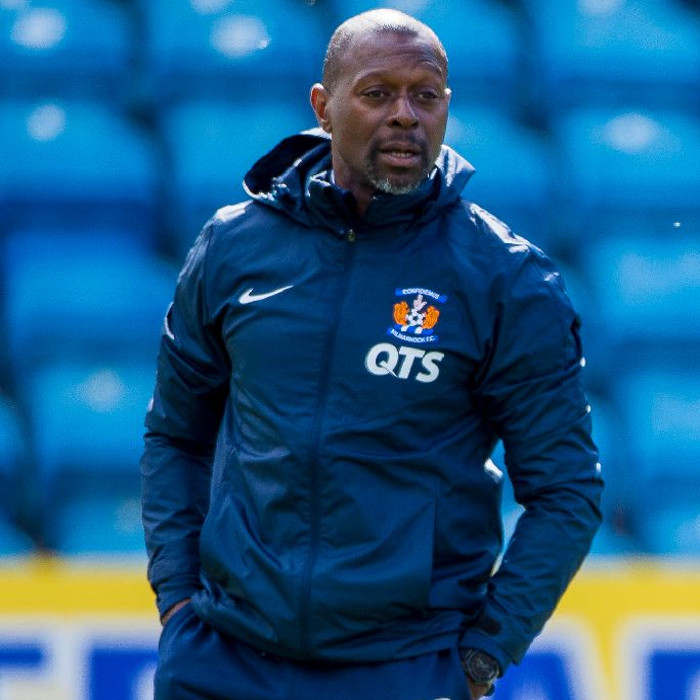 Alex Dyer
Recent Form ➡
L
W
L
W
W
Established
1869 (152 years old)
Sport
Soccer
Stadium/Home
Rugby Park
(18,128 Capacity)
Jersey or Equipment Clearart
Location
Kilmarnock, East Ayrshire
NicknamesLeague
Scottish Championship
Last Edit
smudgie: 10/Sep/21
Site
Home /
Sport /
Soccer
/
Scottish Championship
/
Kilmarnock
(year 2019)
Upcoming Events
24 Sep 21
Arbroath &nbsp
-
&nbspKilmarnock
02 Oct 21
Kilmarnock &nbsp
-
&nbspRaith Rvs
16 Oct 21
Dunfermline &nbsp
-
&nbspKilmarnock
23 Oct 21
Kilmarnock &nbsp
-
&nbspHamilton
26 Oct 21
Ayr &nbsp
-
&nbspKilmarnock

Latest Results

18 Sep 21
Partick
&nbsp
0 - 2
&nbsp
Kilmarnock
11 Sep 21
Kilmarnock
&nbsp
1 - 0
&nbsp
Morton
28 Aug 21
Kilmarnock
&nbsp
0 - 1
&nbsp
Inverness C
21 Aug 21
Hamilton
&nbsp
0 - 2
&nbsp
Kilmarnock
15 Aug 21
Hibernian
&nbsp
2 - 0
&nbsp
Kilmarnock
Description
Available in:
Kilmarnock Football Club, commonly known as Killie, is a Scottish professional football team based in the town of Kilmarnock, East Ayrshire. The team is currently managed by Tommy Wright, who was appointed in February 2021. The club has achieved several honours since its formation in 1869, most recently the 2011–12 Scottish League Cup after a 1–0 win over Celtic at Hampden Park.

Kilmarnock Football Club is currently the oldest football club in the Scottish Championship, and also the oldest professional club in Scotland. Home matches are played at Rugby Park, a 17,889 capacity all seater stadium situated in the town itself. Kilmarnock took part in the first-ever official match in the Scottish Cup against the now-defunct Renton in 1873. The club have qualified for European competitions on nine occasions, their best performance coming in the 1966–67 Fairs Cup when they progressed to the semi-finals, eventually being eliminated by Leeds United. The club is also one of only a few Scottish clubs to have played in all three European competitions (European Cup, Cup Winners' Cup and the UEFA Cup).

Kilmarnock have a long-standing football rivalry with fellow Ayrshire side Ayr United, with both teams playing frequently in the Ayrshire derby in which both sides first met in September 1910. Kilmarnock have long been the most successful side in the Ayrshire derby, winning 189 times in 256 meetings. The club nickname, Killie, is the Scottish slang term for the town of Kilmarnock.

Team Members

Aaron
Tshibola




Stephen
O




Stephen
Hendrie




Greg
Taylor
#3




Dario
Del
#15


= Contract years remaining
Stadium or Home
Rugby Park is a football stadium situated in the Scottish town of Kilmarnock. It was first used in 1899 and is the home of Kilmarnock.
It underwent a major redevelopment in 1994–95, becoming an all-seater stadium with a capacity of 17,921. In addition to its main duty of hosting home matches for Kilmarnock it has been the venue for two Scottish international matches.
It can also be used for concerts, with Elton John playing to 15,000 in a first for the venue. In 2002, the club constructed Park Hotel, a 4-star complex next to the ground.
Fanart
Banner
Other Links