Name
Czech Republic
Badge
User Rating
(0 users)


Next Event
Czech Republic vs Poland (24 Mar)
Head Coach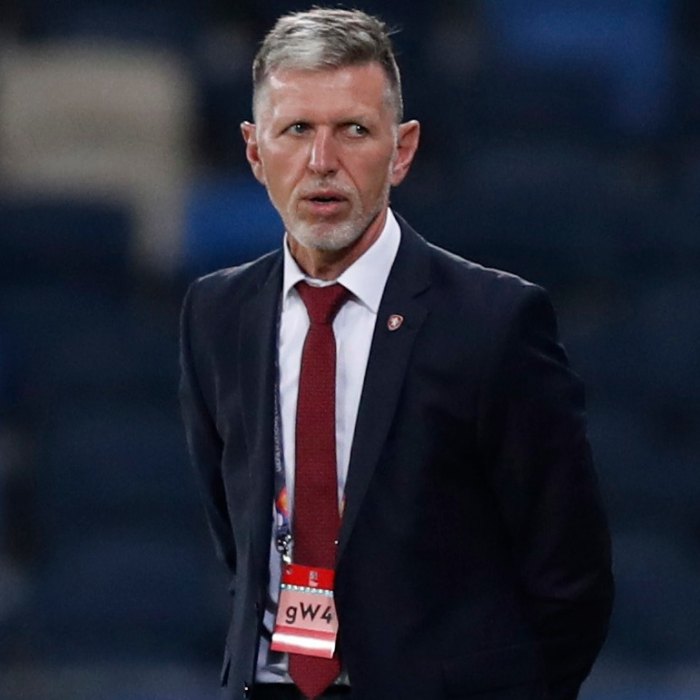 Jaroslav Šilhavý
Recent Form ➡
L
L
L
W
L
Established
1994 (29 years old)
Sport
Soccer
Stadium/Home
Generali Česká pojišťovna Arena
(19,416 Capacity)
Jersey or Equipment Clearart
Location
Prague, Czech Republic
NicknamesLeague
UEFA European Championships
Last Edit
curswine: 02/Jun/22
Site
Home /
Sport /
Soccer
/
UEFA European Championships
/
Czech Republic
(year 2001)
Upcoming Events
24 Mar 23
Czech Republic &nbsp
-
&nbspPoland
27 Mar 23
Moldova &nbsp
-
&nbspCzech Republic
17 Jun 23
Faroe Islands &nbsp
-
&nbspCzech Republic
20 Jun 23
Montenegro &nbsp
-
&nbspCzech Republic
07 Sep 23
Czech Republic &nbsp
-
&nbspAlbania

Latest Results

19 Nov 22
Turkey
&nbsp
2 - 1
&nbsp
Czech Republic
16 Nov 22
Czech Republic
&nbsp
5 - 0
&nbsp
Faroe Islands
27 Sep 22
Switzerland
&nbsp
2 - 1
&nbsp
Czech Republic
24 Sep 22
Czech Republic
&nbsp
0 - 4
&nbsp
Portugal
12 Jun 22
Spain
&nbsp
2 - 0
&nbsp
Czech Republic
Description
Available in:
The Czech national football team (Czech: Česká fotbalová reprezentace) represents the Czech Republic in international football, and are controlled by the Football Association of the Czech Republic, the governing body for football in the Czech Republic. Historically, the team participated in FIFA and UEFA competitions as Bohemia, Austria-Hungary and Czechoslovakia. The Czech team, as Czechoslovakia, finished as Runners Up to hosts Italy at the second-ever FIFA World Cup in 1934 and again were Runners Up to Pelé's Brazil at the 1962 World Cup in Chile. They won the European Championship in 1976 over West Germany.

The national team was founded in 1901, existing under the previously mentioned names before the dissolution of Czechoslovakia in 1993. Their first international competition as the Czech Republic was the UEFA Euro 1996, where they finished runners-up, and they have taken part in every European Championship since. Following the separation, however, they have only featured in one FIFA World Cup, the 2006 tournament, where they were eliminated in the first round of the competition.

Team Members

Marek
Jankulovski




Jan
Koller




Milan
Baroš




Pavel
Nedvěd




Tomáš
Galásek


= Contract years remaining
Stadium or Home
The Generali Česká pojišťovna Arena, previously, and still commonly known as Letná Stadium (Czech: Stadion Letná), is a football stadium in Prague. It is the home venue of Sparta Prague and occasionally hosts the matches of the Czech Republic national football team. It has capacity for 19,416 people.
Fanart
Banner
Other Links