Name
Forest Green Rovers
Badge
User Rating
(0 users)


Next Event
Tranmere vs Forest Green Rovers (29 Jan)
Head Coach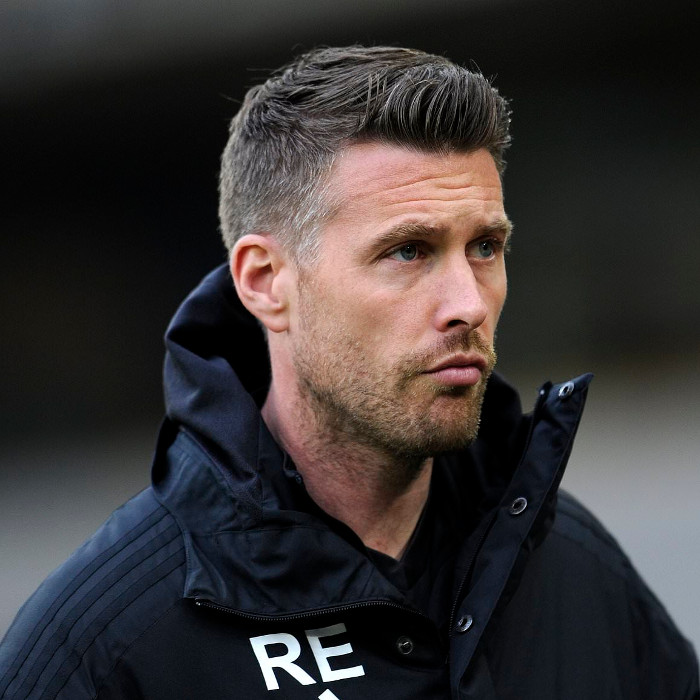 Rob Edwards
Recent Form ➡
D
W
D
D
W
Established
1889 (133 years old)
Sport
Soccer
Stadium/Home
The New Lawn
(5,141 Capacity)
Jersey or Equipment Clearart
Location
Nailsworth, Gloucestershire
NicknamesLeague
English League 2
Last Edit
smudgie: 26/Sep/21
Site
Home /
Sport /
Soccer
/
English League 2
/
Forest Green Rovers
(year 2011)
Upcoming Events
29 Jan 22
Tranmere &nbsp
-
&nbspForest Green
01 Feb 22
Port Vale &nbsp
-
&nbspForest Green
05 Feb 22
Forest Green &nbsp
-
&nbspNewport
08 Feb 22
Forest Green &nbsp
-
&nbspRochdale
12 Feb 22
Sutton United &nbsp
-
&nbspForest Green

Latest Results

22 Jan 22
Forest Green
&nbsp
3 - 0
&nbsp
Carlisle
18 Jan 22
Forest Green
&nbsp
P - P
&nbsp
Mansfield
15 Jan 22
Northampton
&nbsp
1 - 1
&nbsp
Forest Green
11 Jan 22
Forest Green
&nbsp
2 - 0
&nbsp
Colchester
04 Jan 22
Forest Green
&nbsp
0 - 0
&nbsp
Exeter
Description
Available in:
Forest Green Rovers Football Club is a professional football club based in Nailsworth, Gloucestershire, England. The team competes in League Two, the fourth tier of English football, and have played their home games at the New Lawn since 2006, when they moved from their original home at The Lawn Ground.

Formed in October 1889, the club became founder members of the Mid Gloucestershire League five years later. Competing in various local league competitions for much of the 20th century, they won a multitude of league titles: the Dursley & District League (1902–03), the Stroud & District League (1911–12 and 1920–21), the Stroud Premier League (1934–35, 1935–36 and 1936–37), the North Gloucestershire League (1920–21 and 1921–22), and the Gloucestershire Northern Senior League (1937–38, 1949–50 and 1950–51). They became founder members of the Gloucestershire County League in 1968, before they were moved up to the Premier Division of the Hellenic League seven years later.

Forest Green won the Hellenic League in the 1981–82 season and lifted the FA Vase after beating Rainworth Miners Welfare in the final at Wembley. They spent the next 13 years in the Midland Division of the Southern League, and briefly competed under the name Stroud F.C. Reverting to the name Forest Green Rovers, the club won successive Southern League Southern Division and Premier Division titles in 1996–97 and 1997–98, winning promotion into the Conference. Reaching the 1999 FA Trophy Final, which they lost, they became the first club to reach the finals of both the FA Vase and FA Trophy. They also reached the 2001 FA Trophy Final, which again they lost. Twice reprieved from relegation from the Conference National due to the demotion of other clubs, the club was transformed following investment from green energy industrialist Dale Vince in 2010.

Under Dale Vince's chairmanship Forest Green became the world's first vegan football club in 2015, and the New Lawn was installed with numerous eco-friendly innovations. Investment in the playing squad saw the club compete for promotion into the English Football League, which they achieved with victory in the 2017 National League play-offs, having been beaten in the semi-finals in 2015 and in the 2016 final.

Team Members

Matthew
Taylor #10




Chris
Stokes #5




Jonathan
Bond #23




James
Norwood #10


= Contract years remaining
Stadium or Home
The New Lawn is a football stadium in Nailsworth, Gloucestershire. It has been the home stadium of League Two club Forest Green Rovers since 2006. During the 2007–08 season the stadium was shared with Gloucester City. The stadium has a capacity of 5,140, of which 2,000 is seated. It replaced The Lawn Ground as Forest Green Rovers' home stadium and is expected to be replaced by a new stadium development located near the M5 motorway.
Fanart
Banner
Other Links