Name
West Ham Women
Badge
User Rating
(0 users)


Next Event
Tottenham Women vs West Ham Women (11 Dec)
Head Coach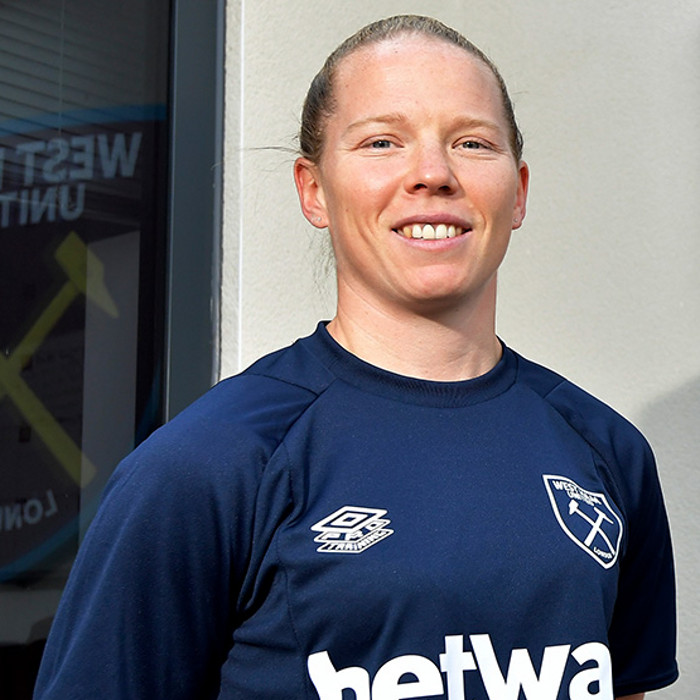 Danielle Bowman
Recent Form ➡
W
L
L
W
L
Established
1991 (31 years old)
Sport
Soccer
Stadium/Home
The Chigwell Construction Stadium
(6,078 Capacity)
Jersey or Equipment Clearart
Location
Dagenham, Greater London
NicknamesLeague
English Womens Super League
Last Edit
smudgie: 21/Sep/22
Site
Home /
Sport /
Soccer
/
English Womens Super League
/
West Ham Women
(year 2020)
Upcoming Events
11 Dec 22
Tottenham Women &nbsp
-
&nbspWest Ham
15 Jan 23
West Ham &nbsp
-
&nbspManchester City
22 Jan 23
Everton FC &nbsp
-
&nbspWest Ham
05 Feb 23
West Ham &nbsp
-
&nbspArsenal WFC
05 Mar 23
Reading Women &nbsp
-
&nbspWest Ham

Latest Results

04 Dec 22
Liverpool FC
&nbsp
2 - 0
&nbsp
West Ham
20 Nov 22
West Ham
&nbsp
1 - 0
&nbsp
Leicester City
06 Nov 22
West Ham
&nbsp
4 - 5
&nbsp
Brighton WFC
30 Oct 22
Arsenal WFC
&nbsp
3 - 1
&nbsp
West Ham
23 Oct 22
West Ham
&nbsp
3 - 2
&nbsp
Reading Women
Description
Available in:
West Ham United Women Football Club is an English women's football club affiliated with West Ham United. They were formed in 1991 and play home games at Dagenham & Redbridge's Chigwell Construction Stadium on Victoria Road.
Whilst the 1970s saw a short lived incarnation of West Ham United Ladies, it was early in 1991 when Roger Morgan, the Football in the Community officer at West Ham United, mooted the idea of forming the present ladies section of the club. Following a number of initial coaching sessions to bring in local players and the capture of John Greenacre.
On 28 May 2018, it was announced that West Ham Ladies had successfully gained entry into the WSL, the top league in England. West Ham Ladies changed their name to West Ham United women's team in July 2018.

Team Members

Emily
van
#5




Rachel
Daly #3




Anna
Moorhouse #21




Erin
Simon #3




Gilly
Flaherty #5




Alisha
Lehmann #7




Adriana
Leon #19


= Contract years remaining
Stadium or Home
Victoria Road, currently known as the Chigwell Construction Stadium for sponsorship purposes, is the home ground of Dagenham & Redbridge F.C. of Dagenham, Greater London, England. It has a capacity of 6,078.
The ground has been used to host some important matches including a Women's Full international match between England and Sweden, an FA Women's Cup semi-final, UEFA Youth International matches involving England, San Marino and Cyprus, various County and League Cup finals and an FAXI against an Isthmian League representative side. Premier League West Ham United also use the ground to host their under-23 fixtures and women's fixtures.
Fanart
Banner
Other Links