Site
Home /
Fighting
/
ECW
Logo

Upcoming Events
None Found...
Latest Results

Guilty as Charged 2001 (Sunday 07th January)

Massacre on 34th Street (Sunday 03rd December)

November to Remember 2000 (Sunday 05th November)

Anarchy Rulz 2000 (Sunday 01st October)

Heat Wave 2000 (Sunday 16th July)

Hardcore Heaven 2000 (Sunday 14th May)

Living Dangerously 2000 (Sunday 12th March)

Guilty as Charged 2000 (Sunday 09th January)

November to Remember 1999 (Sunday 07th November)

Anarchy Rulz 1999 (Sunday 19th September)

Description
Extreme Championship Wrestling (ECW) was a professional wrestling promotion that was founded in Philadelphia, Pennsylvania in 1992 by Tod Gordon. ECW closed when then owner Paul Heyman declared bankruptcy in April 2001. The promotion showcased various international styles of professional wrestling, ranging from lucha libre to puroresu and hardcore wrestling, and became known for having a rowdy and vocal fanbase that rejected the more cartoonish programming of ECW's competitors.

After purchasing the assets of ECW in 2003, World Wrestling Entertainment relaunched the Extreme Championship Wrestling franchise as a WWE brand with their existing Raw and SmackDown brands. It debuted on June 13, 2006 on Sci Fi in the United States and ran for close to four years until it aired its final episode on February 16, 2010 on the rebranded Syfy. It was replaced the following week with WWE NXT.

Schedule
1995 Season
1997 Season
1998 Season
1999 Season
2000 Season
2001 Season
TeamsTrophy Icon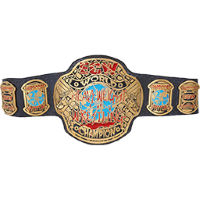 Fanart
Banner
Other Links