Site
Home /
Fighting
/
NWA
Logo

Upcoming Events
None Found...
Latest Results

The Great American Bash 1988 (Sunday 10th July)

Bunkhouse Stampede (Sunday 24th January)

Starrcade 1987 (Thursday 26th November)

Starrcade 1986 (Thursday 27th November)

Starrcade 1985 (Thursday 28th November)

Starrcade 1984 (Thursday 22nd November)

Starrcade 1983 (Thursday 24th November)

Description
The National Wrestling Alliance (NWA) is a professional wrestling governing body which has historically been the largest league of independent wrestling promotions in the world. The organization sanctions various NWA championship bouts within its member promotions. The NWA has been in operation since 1948. Prior to the 1960s, it acted as the sole governing body for most of professional wrestling, operating as a talent and brand name franchiser for the inter-regional "territory" system.

Schedule
1983 Season
1984 Season
1985 Season
1986 Season
1987 Season
1988 Season
TeamsTrophy Icon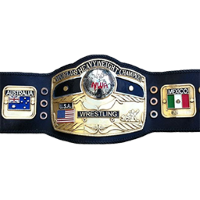 Fanart
Banner
Other Links