Event
FireKeepers Casino 400
Date
Sun 22nd August 2021 UTC
Sun 22nd August 2021 Local
Time
19:00:00 UTC
15:00:00 Local
Poster
Thumb
Square Poster
Recent Record
Click here to show
League
NASCAR Cup Series
Season
2021
Round
0
Status
Location
Michigan International Speedway
(0 Attendance)
Site
Home /
Sport /
Motorsport
/
NASCAR Cup Series
/
2021
/
FireKeepers Casino 400
Video Highlights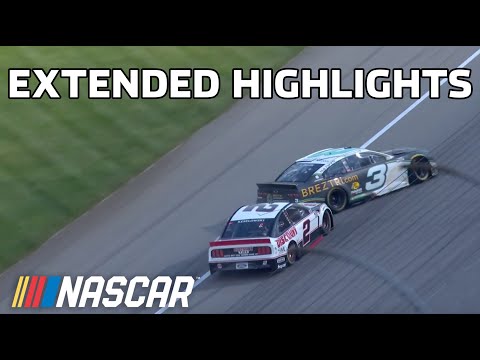 Play on YouTube
Event Statistics Description
The FireKeepers Casino 400 is a 400-mile (643.737 km) NASCAR Cup Series stock car race held annually at Michigan International Speedway in Brooklyn, Michigan. It is the first of two NASCAR Cup Series races at Michigan, with the other one being the Consumers Energy 400 in mid-August.
This particular event had one of the longer title sponsorship arrangements. Miller Brewing Company sponsored the race from 1984 to 1998. In 2006, 3M signed a three-year agreement to sponsor the race, but after one year moved its sponsorship to the August race. Starting with the 2008 race, LifeLock had title sponsorship rights for three years pending the announcement by the speedway but left after two. The LifeLock 400 was the name of the race formerly known as the Banquet 400 in 2007. From 2012 to 2015, Quicken Loans sponsored the race and was replaced by FireKeepers Casino in 2016. On October 7, 2020, the track announced that FireKeepers Casino will continue as the race sponsor.
Ryan Blaney took the lead on a restart with eight laps remaining and skillfully held off a frantic field to earn the victory Sunday in the FireKeepers Casino 400 at Michigan International Speedway in the penultimate race of the NASCAR Cup Series regular season.
Those eight laps out front were the only laps Blaney's No. 12 Team Penske Ford led on the afternoon but it was good enough to give him his second victory of the season — by a modern-day track-record margin of .077 seconds over Hendrick Motorsports' William Byron, who had teammate Kyle Larson close behind.
Reports
None found...
Result List
1
Ryan Blaney
200 Laps
2
William Byron
200 Laps
3
Kyle Larson
200 Laps
4
Kurt Busch
200 Laps
5
Denny Hamlin
200 Laps
6
Matt DiBenedetto
200 Laps
7
Kyle Busch
200 Laps
7
Chase Elliott
200 Laps
9
Brad Keselowski
200 Laps
9
Martin Truex Jr.
200 Laps
Result DescriptionPopular Tweets
Fanart
Banner


Other Event Name



Potential Filename

NASCAR.Cup.Series.2021-08-22.FireKeepers.Casino.400.ext

Download Metadata

Kodi NFO File