Site
Home /
Basketball
/
Italian Lega Basket
Logo
Upcoming Events
None Found...
Latest Results

Vanoli Cremona 87 - 99 Banco di Sardegna Sassari (Sunday 10th May)

Emporio Armani Milano 78 - 77 Giorgio Tesi Group Pistoia (Sunday 10th May)

Consultinvest Pesaro 80 - 70 Pasta Reggia Caserta (Sunday 10th May)

Grissin Bon Reggio Emilia 67 - 63 Enel Brindisi (Sunday 10th May)

Dolomiti Energia Trento 96 - 81 Granarolo Bologna (Sunday 10th May)

Openjobmetis Varese 66 - 73 Sidigas Avellino (Sunday 10th May)

Umana Venezia 90 - 67 Upea Capo d'Orlando (Sunday 10th May)

Acea Roma 75 - 78 Acqua Vitasnella Cantù (Sunday 10th May)

Sidigas Avellino 84 - 79 Vanoli Cremona (Sunday 03rd May)

Enel Brindisi 73 - 85 Emporio Armani Milano (Sunday 03rd May)

Description
The Lega Basket Serie A is the first-tier level club competition in Italian professional basketball where play determines the national champion. It is organized by Lega Basket. The season consists of a home-and-away schedule of 30 games, followed by an eight-team playoff round. Quarterfinals and semifinals series are best-of-five, and the finals series is best-of-seven (in the 2012-13 season, all series are best-of-seven). The last placed club is relegated, and is replaced by the winner of the playoffs of the second-level Serie A2 Basket.

Schedule
1415 Season
Teams

Aquila Basket Tr


Auxilium Pallaca


Basket Brescia L


Dinamo Basket Sa


Guerino Vanoli B


New Basket Brind


Olimpia Milano


Orlandina Basket


Pallacanestro Ca


Pallacanestro Re


Pallacanestro Va


Pistoia Basket


Reyer Venezia Me


S.S. Felice Scan


Victoria Liberta


Virtus Pallacane
Trophy Icon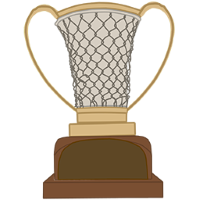 Fanart
Banner
Other Links