Site
Home /
Sport /
Basketball
/
Italian Lega Basket
Logo
Upcoming Events
09 Jun 23
Olimpia Milano
&nbsp
-
Virtus Pallacan
11 Jun 23
Olimpia Milano
&nbsp
-
Virtus Pallacan
14 Jun 23
Virtus Pallacan
&nbsp
-
Olimpia Milano
16 Jun 23
Virtus Pallacan
&nbsp
-
Olimpia Milano



Latest Results
02 Jun 23
Derthona Basket&nbsp
82 - 89
&nbsp
Virtus Pallacan
01 Jun 23
Dinamo Basket S&nbsp
61 - 93
&nbsp
Olimpia Milano
30 May 23
Virtus Pallacan&nbsp
108 - 78
&nbsp
Derthona Basket
29 May 23
Olimpia Milano&nbsp
80 - 75
&nbsp
Dinamo Basket S
28 May 23
Virtus Pallacan&nbsp
84 - 61
&nbsp
Derthona Basket
27 May 23
Olimpia Milano&nbsp
95 - 72
&nbsp
Dinamo Basket S
21 May 23
Aquila Basket T&nbsp
81 - 82
&nbsp
Derthona Basket
20 May 23
Victoria Libert&nbsp
80 - 94
&nbsp
Olimpia Milano
20 May 23
Dinamo Basket S&nbsp
87 - 83
&nbsp
Reyer Venezia M
19 May 23
Aquila Basket T&nbsp
79 - 76
&nbsp
Derthona Basket
Description
Available in:
The Lega Basket Serie A, officially abbreviated as LBA, (English: Serie A Basketball League) and known for sponsorship reasons as the Serie A PosteMobile, is a professional men's club basketball league that has been organised in Italy since 1920. It constitutes the first and highest-tier level of the Italian league pyramid. The LBA, which is played under FIBA rules, currently consists of 16 teams, with the lowest-placed team relegated to the Serie A2 and replaced by the winner of the play-offs of that division.

A total of 99 teams have competed in the LBA since its inception. Seventeen teams have been crowned champions, with Olimpia Milano winning the title a record 27 times, and Virtus Bologna 15 times. According to FIBA Europe's and Euroleague Basketball's national league coefficients, the LBA was the overall historically top ranked national domestic league in Europe, for the period 1958 to 2007. Today, the LBA is considered to be one of the top European national basketball leagues. Its clubs have won the most EuroLeague championships (13), the most FIBA Saporta Cups (15), and the most FIBA Korać Cups (10).

The league is run by the Lega Basket, which is itself regulated by the FIP, the Italian Basketball Federation.



Seasons


2010-2011

2011-2012

2012-2013

2013-2014

2014-2015

2015-2016

2016-2017

2017-2018

2018-2019

2019-2020

2020-2021

2021-2022

2022-2023
Teams

Aquila Basket T


Derthona Basket


Dinamo Basket S


Napoli Basket


New Basket Brin


Olimpia Milano


Pallacanestro B


Pallacanestro R


Pallacanestro T


Pallacanestro V


Reyer Venezia M


Scafati Basket


Scaligera Baske


Universo Trevis


Victoria Libert


Virtus Pallacan
Key
(
) Missing Artwork
(- 4) Missing 4 Players: Data and Artwork
(
) Team Complete
Trophy Icon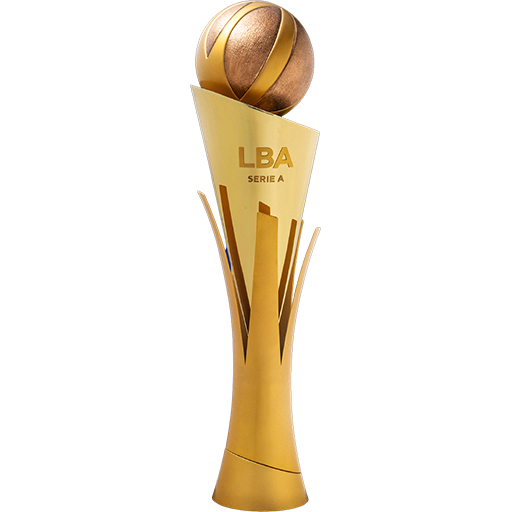 Fanart
Banner

Other Links