Site
Home /
Sport /
Baseball
/
Liga Mexicana de Béisbol
Logo
Upcoming Events
21 Apr 23
Tecolotes de lo
&nbsp
-
Generales de Du
21 Apr 23
Mariachis de Gu
&nbsp
-
Saraperos de Sa
21 Apr 23
Algodoneros de
&nbsp
-
Sultanes de Mon
21 Apr 23
Diablos Rojos d
&nbsp
-
Tigres de Quint
21 Apr 23
Acereros de Mon
&nbsp
-
Rieleros de Agu
21 Apr 23
Guerreros de Oa
&nbsp
-
Olmecas de Taba
21 Apr 23
Pericos de Pueb
&nbsp
-
Piratas de Camp
21 Apr 23
El Águila de V
&nbsp
-
Toros de Tijuan
22 Apr 23
Acereros de Mon
&nbsp
-
Rieleros de Agu
22 Apr 23
El Águila de V
&nbsp
-
Toros de Tijuan



Latest Results
20 Sep 22
Sultanes de Mon&nbsp
1 - 6
&nbsp
Leones de Yucat
18 Sep 22
Sultanes de Mon&nbsp
2 - 6
&nbsp
Leones de Yucat
17 Sep 22
Leones de Yucat&nbsp
3 - 6
&nbsp
Sultanes de Mon
16 Sep 22
Leones de Yucat&nbsp
0 - 5
&nbsp
Sultanes de Mon
15 Sep 22
Leones de Yucat&nbsp
6 - 1
&nbsp
Sultanes de Mon
11 Sep 22
Sultanes de Mon&nbsp
0 - 1
&nbsp
Leones de Yucat
10 Sep 22
Sultanes de Mon&nbsp
4 - 3
&nbsp
Leones de Yucat
09 Sep 22
Diablos Rojos d&nbsp
5 - 7
&nbsp
Leones de Yucat
08 Sep 22
Diablos Rojos d&nbsp
18 - 21
&nbsp
Leones de Yucat
04 Sep 22
Leones de Yucat&nbsp
2 - 0
&nbsp
Diablos Rojos d
Description
Available in:
The Mexican League (Spanish: Liga Mexicana de Béisbol, LMB, lit. 'Mexican League of Baseball') is a professional baseball league based in Mexico and the oldest running professional league in the country.

The league has 18 teams organized in two divisions, North and South. Teams play 114 games each season. Five teams in each division advance to a four-round postseason tournament that culminates in the Serie del Rey, a best-of-seven championship series between the two division champions. The Mexican League has two affiliated minor leagues, the Liga Norte de México and Mexican Academy League.

Though founded in 1925, the league joined the National Association of Professional Baseball Leagues (Minor League Baseball) in 1955, when it was designated a Double-A league. Some member teams entered player development contracts with teams in the National League at that time. Triple-A classification was granted in 1967. As part of the 2021 reorganization of the minors, the Mexican League was not included as a Triple-A league, though it continues to operate independently.



Seasons


2008

2009

2010

2011

2012

2013

2014

2015

2016

2017

2018

2019

2021

2022

2023
Teams

Acereros de Moncl


Algodoneros de Un


Bravos de León


Diablos Rojos del


El Águila de Ver


Generales de Dura


Guerreros de Oaxa


Leones de Yucatá


Mariachis de Guad


Olmecas de Tabasc


Pericos de Puebla


Piratas de Campec


Rieleros de Aguas


Saraperos de Salt


Sultanes de Monte


Tecolotes de los


Tigres de Quintan


Toros de Tijuana
Key
(
) Missing Artwork
(- 4) Missing 4 Players: Data and Artwork
(
) Team Complete
Trophy Icon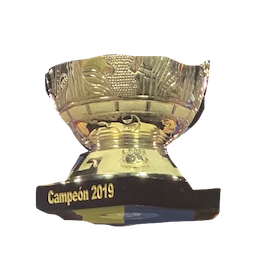 Fanart
Banner

Other Links