Name
Halil Altintop
Thumb
User Rating
(0 users)
Born
1982 (35 years old)
Birth Place
Gelsenkirchen, West Germany
Position
Midfielder
Height/Weight
1.85 m (6 ft 1 in) / 80.27
Value
Signed
Wage YearPlayer Manager ID
884390
Player Cutout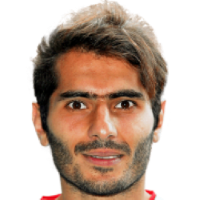 Sport
Soccer
Team
Slavia Prague
League
_No League
Site
Home /
Soccer
/
_No League
/
Slavia Prague /
Halil Altintop
Description
Halil Altıntop (Turkish pronunciation: , born 8 December 1982) is a Turkish footballer who plays for Slavia Prague. He is the identical twin brother of SV Darmstadt 98 player Hamit Altıntop. He can be deployed as a centre-forward or as a winger or attacking midfielder.

Altıntop started his professional career in the local German club Wattenscheid 09 along with his brother. As successful performances grabbed the attention of bigger clubs, Altıntop was transferred to Kaiserslautern, and his brother to Schalke. Altıntop, who plays as a striker, finished third highest scorer in the Bundesliga for the 2005–06 season with 20 goals. At the end of that season he joined his brother at Schalke on a free transfer. However, after only one season, his brother Hamit Altıntop joined Bayern Munich on another free deal. On 27 January 2010, he dissolved his contract with Schalke and joined Eintracht Frankfurt.

After Eintracht Frankfurt were relegated in the 2010–11 season Altıntop was transferred to Turkish side Trabzonspor signing a three-year contract.

Altıntop joined FC Augsburg in summer 2013. He finished the 2016–17 season with 6 goals and 2 assists in 31 matches. At the end of the season he announced his decision not to renew his contract with club. In this time at Augsburg, he made 116 appearances in the Bundesliga scoring 20 goals and contributing 12 assists.

In June 2017, Altıntop moved to SK Slavia Prague of the Czech First League.



Career Honours

None Found... Add Some?


Former Teams

None Found... Add Some?

Fanart



Banner




Other Links