Site
Home /
Sport
/
Soccer
/
English Premier League
/
Chelsea /
Timo Werner
Description
Available in:
Timo Werner (born 6 March 1996) is a German professional footballer who plays as a striker for English Premier League club Chelsea and the Germany national team.

Upon making his senior debut in 2013, Werner became the youngest player ever to represent VfB Stuttgart and later became the club's youngest ever goalscorer. He made over 100 appearances for Stuttgart before joining RB Leipzig in 2016 for a then-club record fee of €10 million. Across his spell with the two clubs, Werner claimed the domestic records for being the youngest player to reach 50, 100, 150 and 200 appearances in the Bundesliga, although the former two milestones were broken by Kai Havertz, and is the youngest player to have scored two goals in a single top-flight match in Germany. Werner signed for English Premier League club Chelsea in July 2020.

Werner was a prolific goalscorer at youth international level for Germany, where he scored 34 goals in 48 appearances across the various age group levels. He made his senior debut for the German national team in 2017 and in the same year helped his nation claim the 2017 FIFA Confederations Cup where his return of three goals earned him the tournament's Golden Boot award. He was also selected to represent Germany at the 2018 FIFA World Cup.



Season Stats
15 appearances in the current 2021-2022 Season
8 goals scored in the current 2021-2022 Season

Career Honours


2021
Chelsea


2020-2021
Chelsea


2017
Germany

Former Youth Teams

2002-2013

Former Senior Teams

2013-2016

2014-2014

2016-2020

2017-

Former Club Staff
Contracts
| | |
| --- | --- |
| 2020-2025 | |
Fanart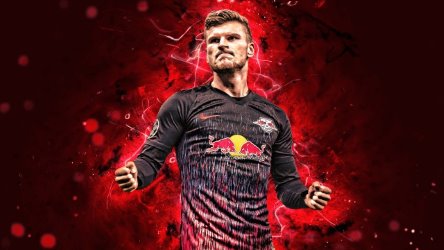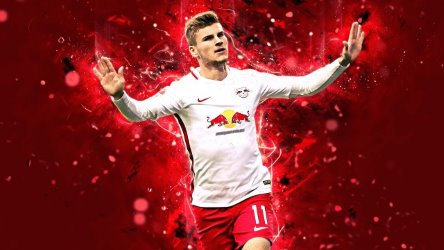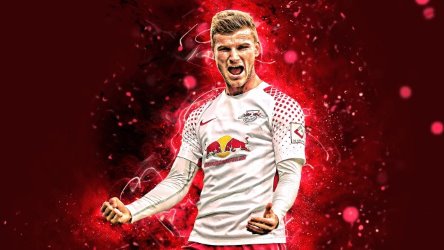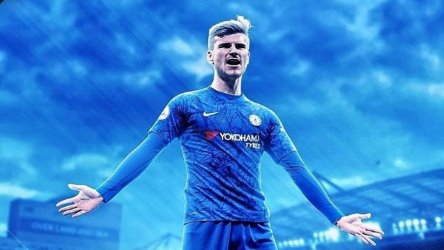 Banner

Statistics




RasenBallsport Leipzig
Appearances
German Bundesliga
2019-2020
34


RasenBallsport Leipzig
Appearances
UEFA Champions League
2019-2020
8


RasenBallsport Leipzig
Appearances
DFB-Pokal
2019-2020
3


RasenBallsport Leipzig
Assists
German Bundesliga
2019-2020
8


RasenBallsport Leipzig
Assists
UEFA Champions League
2019-2020
2


RasenBallsport Leipzig
Assists
DFB-Pokal
2019-2020
3


RasenBallsport Leipzig
Goals
German Bundesliga
2019-2020
28


RasenBallsport Leipzig
Goals
UEFA Champions League
2019-2020
4


RasenBallsport Leipzig
Goals
DFB-Pokal
2019-2020
2


RasenBallsport Leipzig
Mins Played
German Bundesliga
2019-2020
2,809


RasenBallsport Leipzig
Mins Played
UEFA Champions League
2019-2020
579


RasenBallsport Leipzig
Mins Played
DFB-Pokal
2019-2020
202




Germany
Appearances
International Friendlies
2019
1


Germany
Mins Played
International Friendlies
2019
90




Germany
Appearances
UEFA Nations League
2018-2019
4


RasenBallsport Leipzig
Appearances
UEFA Europa League
2018-2019
3


RasenBallsport Leipzig
Appearances
German Bundesliga
2018-2019
30


RasenBallsport Leipzig
Appearances
DFB-Pokal
2018-2019
4


RasenBallsport Leipzig
Assists
UEFA Europa League
2018-2019
1


RasenBallsport Leipzig
Assists
German Bundesliga
2018-2019
9


Germany
Goals
UEFA Nations League
2018-2019
1


RasenBallsport Leipzig
Goals
German Bundesliga
2018-2019
16


RasenBallsport Leipzig
Goals
DFB-Pokal
2018-2019
3


Germany
Mins Played
UEFA Nations League
2018-2019
332


RasenBallsport Leipzig
Mins Played
UEFA Europa League
2018-2019
270


RasenBallsport Leipzig
Mins Played
German Bundesliga
2018-2019
2,523


RasenBallsport Leipzig
Mins Played
DFB-Pokal
2018-2019
308




Germany
Appearances
FIFA World Cup
2018
6


Germany
Appearances
International Friendlies
2018
6


Germany
Goals
FIFA World Cup
2018
3


Germany
Goals
International Friendlies
2018
1


Germany
Mins Played
FIFA World Cup
2018
444


Germany
Mins Played
International Friendlies
2018
329




RasenBallsport Leipzig
Appearances
UEFA Champions League
2017-2018
6


RasenBallsport Leipzig
Appearances
UEFA Europa League
2017-2018
5


RasenBallsport Leipzig
Appearances
German Bundesliga
2017-2018
32


RasenBallsport Leipzig
Appearances
DFB-Pokal
2017-2018
2


RasenBallsport Leipzig
Assists
UEFA Europa League
2017-2018
2


RasenBallsport Leipzig
Assists
German Bundesliga
2017-2018
8


RasenBallsport Leipzig
Goals
UEFA Champions League
2017-2018
3


RasenBallsport Leipzig
Goals
UEFA Europa League
2017-2018
4


RasenBallsport Leipzig
Goals
German Bundesliga
2017-2018
13


RasenBallsport Leipzig
Goals
DFB-Pokal
2017-2018
1


RasenBallsport Leipzig
Mins Played
UEFA Champions League
2017-2018
329


RasenBallsport Leipzig
Mins Played
UEFA Europa League
2017-2018
445


RasenBallsport Leipzig
Mins Played
German Bundesliga
2017-2018
2,493


RasenBallsport Leipzig
Mins Played
German Bundesliga
2017-2018
130




Germany
Appearances
Confederations Cup
2017
4


Germany
Appearances
International Friendlies
2017
3


Germany
Assists
Confederations Cup
2017
2


Germany
Goals
Confederations Cup
2017
3


Germany
Goals
International Friendlies
2017
1


Germany
Mins Played
Confederations Cup
2017
292


Germany
Mins Played
International Friendlies
2017
232




RasenBallsport Leipzig
Appearances
German Bundesliga
2016-2017
31


RasenBallsport Leipzig
Appearances
DFB-Pokal
2016-2017
1


RasenBallsport Leipzig
Assists
German Bundesliga
2016-2017
7


RasenBallsport Leipzig
Goals
German Bundesliga
2016-2017
21


RasenBallsport Leipzig
Mins Played
German Bundesliga
2016-2017
2,433


RasenBallsport Leipzig
Mins Played
DFB-Pokal
2016-2017
31




Stuttgart
Appearances
German Bundesliga
2015-2016
33


Stuttgart
Appearances
DFB-Pokal
2015-2016
3


Stuttgart
Assists
German Bundesliga
2015-2016
4


Stuttgart
Assists
DFB-Pokal
2015-2016
1


Stuttgart
Goals
German Bundesliga
2015-2016
6


Stuttgart
Goals
DFB-Pokal
2015-2016
1


Stuttgart
Mins Played
German Bundesliga
2015-2016
2,196


Stuttgart
Mins Played
DFB-Pokal
2015-2016
258




Stuttgart
Appearances
German Bundesliga
2014-2015
32


Stuttgart
Assists
German Bundesliga
2014-2015
1


Stuttgart
Goals
German Bundesliga
2014-2015
3


Stuttgart
Mins Played
German Bundesliga
2014-2015
1,623




Stuttgart
Appearances
UEFA Europa League
2013-2014
2


Stuttgart
Appearances
German Bundesliga
2013-2014
30


Stuttgart
Appearances
DFB-Pokal
2013-2014
2


Stuttgart II
Appearances
Germany Liga 3
2013-2014
1


Stuttgart
Assists
German Bundesliga
2013-2014
5


Stuttgart
Goals
German Bundesliga
2013-2014
4


Stuttgart II
Goals
Germany Liga 3
2013-2014
1


Stuttgart
Mins Played
UEFA Europa League
2013-2014
101


Stuttgart
Mins Played
German Bundesliga
2013-2014
1,528


Stuttgart
Mins Played
DFB-Pokal
2013-2014
40


Stuttgart II
Mins Played
Germany Liga 3
2013-2014
84
Other Links