Event
Cook Out Southern 500
Date
Sun 5th September 2021 UTC
Sun 5th September 2021 Local
Time
22:00:00 UTC
18:00:00 Local
Poster
Thumb
Square Poster
Recent Record
Click here to show
League
NASCAR Cup Series
Season
2021
Round
0
Location
Darlington Raceway
(0 Attendance)
Site
Home /
Sport /
Motorsport
/
NASCAR Cup Series
/
2021
/
Cook Out Southern 500
Video Highlights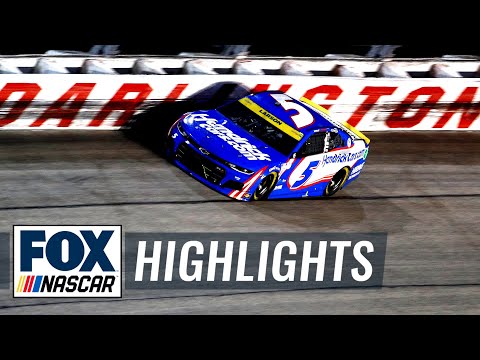 Play on YouTube
Event Statistics Description
The Southern 500, officially known as the Cook Out Southern 500 for sponsorship reasons, is a NASCAR Cup Series stock car race at Darlington Raceway in Darlington, South Carolina, United States. The race distance is 501 miles (806 km) and consists of 367 laps. From 1950 to 2003, and again since 2015, the race has been held on Labor Day weekend. The Southern 500 is largely considered one of the Crown Jewels of the NASCAR calendar, and has been nicknamed NASCAR's "oldest superspeedway race." For decades, the race has been considered by competitors and media as one of the more difficult and challenging races on the NASCAR schedule, owing much to the track's unusual, asymmetrical egg-shape, rough pavement, and overall unforgiving nature. Darlington Raceway itself has a long and storied reputation as the "Track Too Tough to Tame."
Holding off regular-season champion Kyle Larson throughout a thrilling final green-flag run in Sunday's Cook Out Southern 500 at Darlington Raceway, Denny Hamlin is winless in 2021 no more.
Hamlin maintained control of his No. 11 Joe Gibbs Racing Toyota as Larson buried his No. 5 Chevrolet into Turns 3 and 4 on the final lap. Larson gave Hamlin a tap, but Hamlin blocked the top lane and got to the finish line .212 seconds ahead of the runner-up.
Reports
None found...
Result List
1
Denny Hamlin
367 Laps
2
Kyle Larson
367 Laps
3
Ross Chastain
367 Laps
4
Martin Truex Jr.
367 Laps
5
Kevin Harvick
367 Laps
6
Kurt Busch
367 Laps
7
Brad Keselowski
367 Laps
8
Joey Logano
367 Laps
9
Chris Buescher
367 Laps
10
Austin Dillon
367 Laps
Result DescriptionPopular Tweets
Fanart
Banner


Other Event Name



Potential Filename

NASCAR.Cup.Series.2021-09-05.Cook.Out.Southern.500.ext

Download Metadata

Kodi NFO File