Site
Home /
Sport /
American Football
/
NFL
/
2020
/
Tampa Bay Buccaneers vs Kansas City Chiefs
vs

31

No timeline found..

9

No timeline found.. Add one?
Video Highlights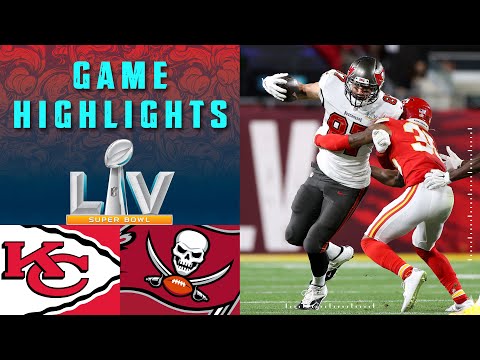 Play on YouTube
Home Team Lineup

Carlton
Davis
Cornerback



Vita
Vea
Defensive Tackle



Devin
White
Linebacker



Lavonte
David
Outside Linebacker



Tom
Brady
Quarterback



Ronald
Jones
II
Running Back



Leonard
Fournette
Running Back



Cameron
Brate
Tight End



Rob
Gronkowski
Tight End



Scotty
Miller
Wide Receiver



Antonio
Brown
Wide Receiver



Chris
Godwin
Wide Receiver


Away Team Lineup

Bashaud
Breeland
Cornerback




Chris
Jones
Defensive End




Frank
Clark
Defensive End




Damien
Wilson
Middle Linebacker




Patrick
Mahomes
Quarterback




Clyde
Edwards-Helaire
Running Back




Darrel
Williams
Running Back




Daniel
Sorensen
Safety




Travis
Kelce
Tight End




Tyreek
Hill
Wide Receiver




Byron
Pringle
Wide Receiver




Mecole
Hardman
Wide Receiver



Event Statistics Description
Super Bowl LV, the 55th Super Bowl and the 51st modern-era National Football League (NFL) championship game, will decide the league champion for the 2020 NFL season. The American Football Conference (AFC) champion Kansas City Chiefs (who are also the defending Super Bowl champions) will play the National Football Conference (NFC) champion Tampa Bay Buccaneers. With pending developments on the COVID-19 pandemic, the game is scheduled to be played on February 7, 2021, at Raymond James Stadium in Tampa, Florida. This will be the fifth Super Bowl hosted by the Tampa area and the third held at Raymond James Stadium. It will be the fourth time that the Super Bowl was in the same state in back-to-back years, since Super Bowl LIV took place at Hard Rock Stadium in Miami Gardens, Florida.
This Super Bowl will mark three milestones, as Tampa Bay will be the first team to play a Super Bowl in its home stadium, Tampa Bay quarterback Tom Brady will play in his record 10th Super Bowl, and with COVID-19 health restrictions limiting stadium capacity to 22,000 fans, it will be the lowest attended Super Bowl.
The game will be televised nationally by CBS, with country music singer Eric Church and R&B singer Jazmine Sullivan performing the national anthem, while the halftime show will be headlined by Canadian singer the Weeknd.
Reports
None found...
Result ListResult Description
First half
Buccaneers tight end Rob Gronkowski caught two touchdown passes in the first half.
Kansas City won the coin toss and deferred possession to the second half. The opening kickoff from Chiefs kicker Harrison Butker was returned to the Tampa Bay 24-yard line. The Buccaneers' opening drive stalled to a three-and-out, and the resulting Bradley Pinion punt was downed at the Kansas City 33-yard line. The Chiefs' first drive ended similarly, with the offense able to gain only one first down and Tommy Townsend's punt resulting in a touchback. Tampa Bay's second drive started with a promising 13-yard rush by Ronald Jones II, but stalled from there and resulted in another punt by Pinion, this one downed at the Chiefs' 38-yard line. Kansas City's ensuing drive took them 31 yards in eight plays, culminating in the first points of the game: a 49-yard field goal by Butker. On the next drive, Buccaneers running back Leonard Fournette rushed four times for 26 yards on an eight-play, 70-yard drive that ended on Tom Brady's eight-yard touchdown pass to Rob Gronkowski, giving Tampa Bay a four-point lead. This was the 13th postseason touchdown pass from Brady to Gronkowski, setting a new record, which they had previously shared with Joe Montana and Jerry Rice.[122] It was also the first time in Brady's 10 Super Bowls that he threw a touchdown pass in the first quarter.[123] The Chiefs' next drive, which started on their own 37-yard line, ended in a three-and-out, and the Buccaneers took over on their own 30-yard line following the punt.[124]
On their first drive of the second quarter, Brady's 31-yard completion to Mike Evans gave Tampa Bay a first and goal at the Chiefs six-yard line. However the Bucs were only able to reach the Chiefs' one-yard line with their next three plays, and Ronald Jones II was stopped short of the goal line on a fourth down rushing attempt (a ruling that was challenged by Tampa Bay and upheld), giving the ball over on downs to Kansas City. The Chiefs were unable to capitalize off of the stop. The Chiefs' Tommy Townsend punted deep into Tampa Bay territory, but Kansas City was flagged for a holding call and had to punt again. Townsend's follow-up punt went out-of-bounds at the Chiefs' 38-yard line, for a net of only 29 yards. On the next drive, Brady threw a 17-yard touchdown pass to Gronkowski, increasing the Buccaneers' lead to 14–3. The Buccaneers' drive was aided by two significant penalties – first, an interception by the Chiefs' Tyrann Mathieu was negated by defensive holding call. Later, after Kansas City stopped the Buccaneers on third down, the Chiefs' Mecole Hardman was called for offsides during the ensuing field goal attempt, giving the Buccaneers a first down as a result of the five-yard penalty.[125] Kansas City responded by moving the ball 61 yards in 10 plays, with Patrick Mahomes completing three passes to Travis Kelce for 36 yards and rushing for 11. Butker finished the possession with another field goal, this from 34 yards, making the score 14–6. Tampa Bay's final first half drive began on their own 29-yard line with just over a minute on the clock, and increased their lead to 21–6 with a five-play, 71-yard drive, the longest a 15-yard catch by Fournette. Brady finished it with a one-yard touchdown pass to Antonio Brown with six seconds to play. Again, Tampa Bay was aided by penalties – in particular a 34-yard pass interference call against Bashaud Breeland who was covering Evans, and an eight-yard pass interference call against Mathieu in the end zone.[125] All told, in the first half the Chiefs were penalized eight times for 95 yards – the most penalties called on any team in one half in any game of the 2020–21 NFL season, while the Buccaneers were flagged for one five-yard penalty.[126] At halftime, the Buccaneers led the Chiefs 21–6.[124]
Second half
The second half began with a kickoff by Pinion, which was returned to the Chiefs' own 19-yard line. On the next play, Clyde Edwards-Helaire rushed for a 26-yard gain. Edwards-Helaire also had a 10-yard run on the drive, which went for 47 yards in seven plays and concluded with a 52-yard field goal, Butker's third of the game, making the score 21–9. Tampa Bay stormed right back with a six-play, 74-yard drive, featuring a 25-yard completion from Brady to Gronkowski. On the next play, Fournette's 27-yard touchdown burst increased the Bucs lead to 28–9. Following a touchback, Kansas City began their drive on their own 25-yard line, but an interception by Antoine Winfield Jr. at the Chiefs' 45-yard line gave Tampa Bay the ball back. Despite the fact that the Buccaneers were only able to gain eleven yards on their next eight plays, they were able to capitalize on the turnover, as Succop ended the drive with a 52-yard field goal, increasing their lead to 31–9. On the next drive, Tampa Bay forced a turnover on downs at their own 11-yard line with 13:43 left in the game, stuffing a running play for a one-yard gain and then forcing Mahomes to throw three straight incompletions.[124]
The Chiefs defense forced Tampa Bay to punt for just the third time, allowing their offense to take the ball at their own eight-yard line. They got the ball across midfield, but turned the ball over to Tampa Bay on downs at the Bucs' 27-yard line. The Buccaneers then went three-and-out, and punted the ball to the Kansas City 42-yard line. Kansas City drove the ball to the Buccaneers 10-yard line, but Mahomes threw an interception to Devin White with 1:33 left in the game, which was downed in the end zone for a touchback. Brady then kneeled the ball three times for Tampa Bay, running out the clock, ending the game at 31–9.[124] Brady, who completed 21 of 29 passes for 201 yards and three touchdowns, won the Super Bowl Most Valuable Player Award for a record fifth time in his career, extending his previous record of four.[127]
Fournette was the game's leading rusher with 16 carries for 89 yards and a touchdown, while also catching four passes for 46 yards. Gronkowski, who caught only two passes in Tampa Bay's previous three postseason games, was the team's leading receiver with six receptions for 67 yards and two touchdowns. White had eight tackles (two for a loss), four assists, and an interception. Mahomes finished the day 26-of-49 for 270 yards and two interceptions, while also rushing for 33 yards. Kelce caught 10 passes for 133 yards, setting a new Super Bowl record for receiving yards by a tight end. Out of 110 Super Bowl teams, Kansas City became just the third to finish the game without scoring a touchdown, joining the Miami Dolphins in Super Bowl VI and the Los Angeles Rams in Super Bowl LIII. Buccaneers coach Bruce Arians became the oldest coach to win a Super Bowl, at 68 years and 127 days, while the team became the first to score at least 30 points in four games during the same postseason.[128]
Following the game, Mahomes underwent surgery to repair a torn plantar plate in his foot.[129]
Popular Tweets
Fanart
Banner


Other Event Name

Kansas City Chiefs @ Tampa Bay Buccaneers

Potential Filename

NFL.2021-02-07.Tampa.Bay.Buccaneers.vs.Kansas.City.Chiefs.ext

Download Metadata

Kodi NFO File