Event
Man United vs
Liverpool
Date
Sun 24th October 2021 UTC
Sun 24th October 2021 Local
Time
15:30:00 UTC
No local time found
Poster
Thumb
Square Poster
Recent Record
Click here to show
League
English Premier League
Season
2021-2022
Round
9
Status
Match Finished
Location
Old Trafford
(0 Attendance)
England
Site
Home /
Sport /
Soccer
/
English Premier League
/
2021-2022
/
Man United vs Liverpool
vs

0

| | | |
| --- | --- | --- |
| 41' | Card | Shaw |
| 45' | Card | Ronaldo |
| 45' | Card | Fred |
| 46' | Card | Fernandes |
| 53' | Var | Ronaldo |
| 55' | Card | Maguire |
| 61' | Card | Pogba |
| 86' | Card | Wan-Bissaka |

5

| | | |
| --- | --- | --- |
| 5' | Goal | Naby Keïta |
| 13' | Goal | Jota |
| 38' | Goal | Salah |
| 45' | Goal | Salah |
| 50' | Goal | Salah |
Video Highlights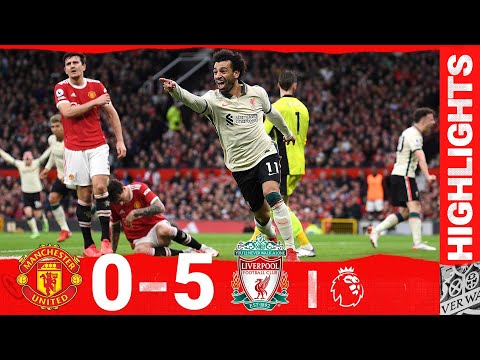 Play on YouTube
Home Team Lineup

Bruno
Fernandes
Attacking Midfielder
Cavani 62



Victor
Lindelof
Defender




Harry
Maguire
Defender




Luke
Shaw
Defender




Mason
Greenwood
Forward
Pogba 46



Marcus
Rashford
Forward
Dalot 62



David
de
Gea
Goalkeeper




Cristiano
Ronaldo
Left Wing




Scott
McTominay
Midfielder




Fred
Midfielder




Aaron
Wan-Bissaka
Right Back



Away Team Lineup

Virgil
van
Dijk
Centre Back




Naby
Keïta
Centre Midfielder
Oxlade-Chamberlain 64



Jordan
Henderson
Centre Midfielder




James
Milner
Centre Midfielder
Jones 27



Ibrahima
Konate
Defender




Roberto
Firmino
Forward
Mane 77



Alisson
Becker
Goalkeeper




Andrew
Robertson
Left Back




Trent
Alexander-Arnold
Right Back




Mohamed
Salah
Right Wing




Diogo
Jota
Winger



Event Statistics
Shots on Goal
Shots off Goal
Total Shots
Blocked Shots
Shots insidebox
Shots outsidebox
Fouls
Corner Kicks
Offsides
Ball Possession
Yellow Cards
Red Cards
Goalkeeper Saves
Total passes
Passes accurate
Passes %
Description
Two of Englands biggest teams go head-to-head as Manchester United hosts Liverpool. With the likes of Jadon Sancho and Cristiano Ronaldo to call upon, United will hope for a first win over the Reds in the Premier League since 2018.
Reports
None found...
Result ListResult DescriptionPopular Tweets
Fanart
Banner
Ovokx says:
24 Oct 2021 17:49
Historical result today on the theatre of dreams!
Continue discussion on forum..

Other Event Name

Liverpool @ Man United

Potential Filename

English.Premier.League.2021-10-24.Man.United.vs.Liverpool.ext

Download Metadata

Kodi NFO File