Site
Home /
Sport /
Motorsport
/
Formula 1
/
2021
/
British Grand Prix Sprint Race
Video Highlights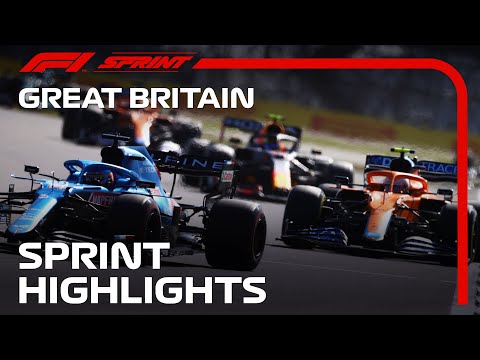 Play on YouTube
Event Statistics Description
F1 Sprint will be a race run over 100km (in Silverstone's case, 17 laps) and lasting around 25-30 minutes. It is designed to provide a short and fast-paced racing spectacle – similar to a Twenty20 cricket match – with drivers racing flat-out from start to finish without the need to pit.
Points will be awarded to the top three finishers, three for the winner down to one point for third. There won't be a podium ceremony, as that honour will remain the privilege of the top three in Sunday's Grand Prix, however there will be a special post-Sprint presentation for the top three.
The finishing order of the race will define the grid for Sunday's showpiece event – the Grand Prix, where the traditional format will remain unchanged.
Max Verstappen blasted past Lewis Hamilton at the start and won the inaugural F1 Sprint, securing pole position for Sunday's British GP and increasing his title lead by a point.
Verstappen's Red Bull outdragged Hamilton's Mercedes within a matter of metres and, although the Briton battled back later around the opening lap to go wheel-to-wheel towards Copse, the Red Bull held position and then steadily pulled away over the next 16 laps to win by 1.4 seconds.
Reports
Result List
1
Max Verstappen
25:38.426
2
Lewis Hamilton
+1.430s
3
Valtteri Bottas
+7.502s
4
Charles Leclerc
+11.278s
5
Lando Norris
+24.111s
6
Daniel Ricciardo
+30.959s
7
Fernando Alonso
+43.527s
8
Sebastian Vettel
+44.439s
9
George Russell
+46.652s
10
Esteban Ocon
+47.395s
Result DescriptionPopular Tweets
Fanart
Banner


Other Event Name



Potential Filename

Formula.1.2021-07-17.British.Grand.Prix.Sprint.Race.ext

Download Metadata

Kodi NFO File