Event
Sentry Tournament of Champions
Date
Sun 9th January 2022 UTC
Sun 9th January 2022 Local
Time
21:00:00 UTC
No local time found
Poster
Your Rating (Click a star below)


Total Rating

(0 users)


Thumb




Square Poster




Recent Record
Click here to show

League
PGA Tour

Season
2021-2022

Round
0

Status


Location
Plantation Course at Kapalua
(0 Attendance)



Site
Home /
Sport /
Golf
/
PGA Tour
/
2021-2022
/
Sentry Tournament of Champions
Video Highlights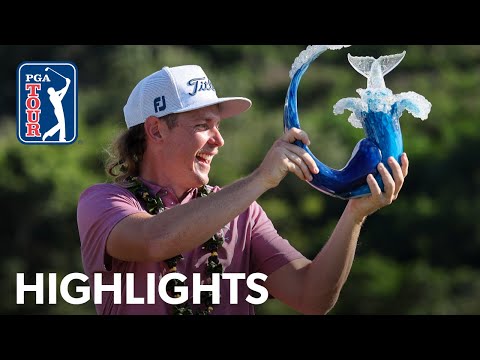 Play on YouTube
Event Statistics Description
The Sentry Tournament of Champions is the calendar-year opening tournament of golf's PGA Tour season, played in Hawaii on the island of Maui. The tournament was founded in 1953; its field is restricted to golfers who won a tournament on the tour during the previous calendar year. From 1986 through 2013, it was the opening event of each tour season; the PGA Tour switched to its wrap-around season (starting season in September and ending in August) in the fall of 2013.
Cameron Smith won the Sentry Tournament of Champions after a bogey-free 65 to close with a 34-under par 258. Spain's Jon Rahm closed with a bogey-free 66 to take solo second place one shot behind.
The Australian broke the PGA Tour record of most strokes under par since 1950.
Reports
None found...
Result List
1
Cameron Smith
258
2
Jon Rahm
259
3
Matt Jones
260
4
Patrick Cantlay
266
5
Collin Morikawa
267
5
Justin Thomas
267
5
Daniel Berger
267
8
Kevin Kisner
268
8
Im Sung-jae
268
10
Cameron Davis
269
10
Marc Leishman
269
Result Description
After Final Round
Top 10 plus ties
Pos. /Player /To Par /R1 /R2 /R3 /R4 /Total
1 /Cameron Smith /-34 /65 /64 /64 /65 /258
2 /Jon Rahm /-33 /66 /66 /61 /66 /259
3 /Matt Jones /-32 /70 /67 /62 /61 /260
4 /Patrick Cantlay /-26 /66 /67 /66 /67 /266
T5 /Collin Morikawa /-25 /68 /70 /67 /62 /267
T5 /Justin Thomas /-25 /74 /67 /61 /65 /267
T5 /Daniel Berger /-25 /66 /66 /66 /69 /267
T8 /Kevin Kisner /-24 /69 /68 /66 /65 /268
T8 /Sungjae Im /-24 /67 /67 /65 /69 /268
T10 /Cam Davis /-23 /69 /68 /66 /66 /269
T10 /Marc Leishman /-23 /69 /67 /65 /68 /269
Popular Tweets
Fanart
Banner


Other Event Name



Potential Filename

Download Metadata
Kodi NFO File