Event
World Golf Championships Dell Technologies Match Play
Date
Sun 27th March 2022 UTC
Sun 27th March 2022 Local
Time
19:00:00 UTC
No local time found
Poster
Your Rating (Click a star below)


Total Rating

(0 users)


Thumb




Square Poster




Recent Record
Click here to show

League
PGA Tour

Season
2021-2022

Round
0

Status


Location
Austin Country Club
(0 Attendance)



Site
Home /
Sport /
Golf
/
PGA Tour
/
2021-2022
/
World Golf Championships Dell Technologies Match Play
Video Highlights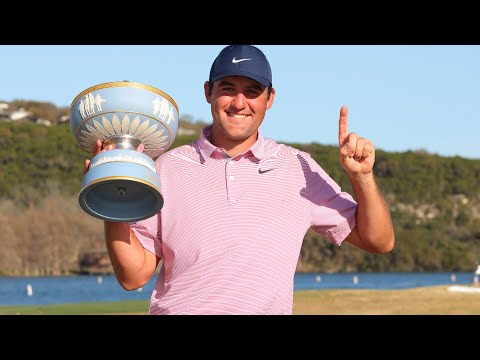 Play on YouTube
Event Statistics Description
The World Golf Championships (WGC) are a group of four annual events for professional golfers created by the International Federation of PGA Tours as a means of gathering the best players in the world together more frequently than the pre-existing four major championships. All four WGC tournaments are official money events on the PGA Tour and the European Tour, and officially sanctioned by the Asian Tour, Japan Golf Tour, Sunshine Tour, and PGA Tour of Australasia.
The WGC-Dell Technologies Match Play is a professional golf tournament hosted at the Austin Country Club in Texas since 2016, and is the only one of the four annual World Golf Championships to be contested using match play format.
Reports
Result List
1
Scottie Scheffler
4 and 3
Result Description
Six weeks after his first PGA TOUR victory, Scheffler won the World Golf Championships-Dell Technologies Match Play for his third title in his last five starts, this one enough to move him to No. 1 in the world. He earned 550 FedExCup points and remained atop the standings.
One year after losing in the championship match, Scheffler never trailed against Kevin Kisner, building a 3-up lead through six holes and giving him no chance to catch up. Scheffler closed him out with a par on the 15th for a 4-and-3 victory.
Final
Scottie Scheffler WINS 4 and 3 vs. Kevin Kisner
Consolation
Corey Conners 3 and 1 vs. Dustin Johnson
Semifinals
Kevin Kisner WINS 2 UP vs. Corey Conners
Scottie Scheffler WINS 3 and 1 vs. Dustin Johnson
Quarterfinals
Scottie Scheffler WINS 3 and 2 vs. Seamus Power
Dustin Johnson WINS 2 UP vs. Brooks Koepka
Kevin Kisner WINS 4 and 3 vs. Will Zalatoris
Corey Conners WINS 2 UP vs. Abraham Ancer
Popular Tweets
Fanart
Banner


Other Event Name



Potential Filename

Download Metadata
Kodi NFO File