Site
Home /
Sport /
Motorsport
/
BTCC
/
2022
/
Oulton Park Race 3
Video Highlights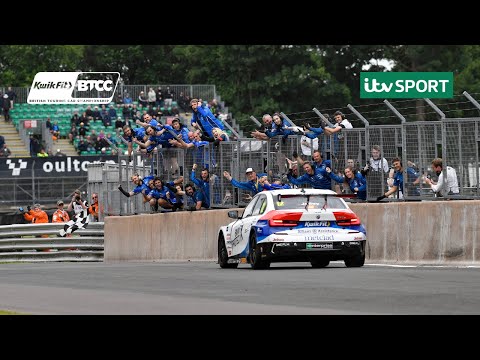 Play on YouTube
Event Statistics Description
Team BMW's Stephen Jelley claimed a calm and measured victory – the fourth of his BTCC career – whilst drama kicked off throughout the field in the final encounter at Oulton Park.
Contact between Dan Lloyd's Hyundai and the Toyota of Ricky Collard sent the former's #123 car into the barrier at high speed on the run towards Hislops. Lloyd's stricken machine re-entered the track and was collected heavily by Team BMW's Colin Turkington, with the likes of Tom Ingram, Ash Sutton and Michael Crees also caught up the incident.
With a trio of title contenders now out of contention, Jelley was able to get his head down following the restart and impressively scampered away into the distance, with Laser Tools Racing's Aiden Moffat taking a brilliant second.
Reports
None found...
Result List
1
Stephen Jelley
18 Laps
2
Aiden Moffat
+1.541
3
Josh Cook
+3.975
4
Gordon Shedden
+4.402
5
Rory Butcher
+5.196
6
Daniel Cammish
+8.245
7
Ricky Collard
+ 8.261
8
Adam Morgan
+ 8.453
9
Ashley Hand
+ 11.503
10
Árón Taylor-Smith
+16.670
Result Description
Drivers Standings
1 Josh Cook 169
2 Tom Ingram 154
3 Ashley Sutton 151
4 Colin Turkington 140
5 Jake Hill 119
6 Gordon Shedden 106
7 Rory Butcher 104
8 Adam Morgan 94
9 Daniel Lloyd 84
10 Dan Cammish 72
Popular Tweets
Fanart
Banner


Other Event Name



Potential Filename

BTCC.2022-06-12.Oulton.Park.Race.3.mkv

BTCC.2022-06-12.Oulton.Park.Race.3.S2022E12.mkv

BTCC.2022-06-12.Oulton.Park.Race.3.mkv

Download Metadata

Kodi NFO File