Event
Udinese vs
Salernitana
Date
Wed 20th April 2022 UTC
Wed 20th April 2022 Local
Time
16:45:00 UTC
No local time found
Poster
Your Rating (Click a star below)


Total Rating

(0 users)


Thumb




Square Poster




Recent Record
Click here to show

League
Italian Serie A

Season
2021-2022

Round
34

Status
Match Finished

Location
Dacia Arena
(0 Attendance)

Italy





Site
Home /
Sport /
Soccer
/
Italian Serie A
/
2021-2022
/
Udinese vs Salernitana
vs

0

| | | |
| --- | --- | --- |
| 32' | Card | Jajalo |
| 89' | Card | Pablo Marí |
| 90' | Card | Deulofeu |

1

| | | |
| --- | --- | --- |
| 56' | Card | Ranieri |
| 84' | Card | Éderson |
| 86' | Card | Bohinen |
| 90' | Card | Kastanos |
| 90' | Goal | Verdi |
| 90' | Card | Verdi |
Video Highlights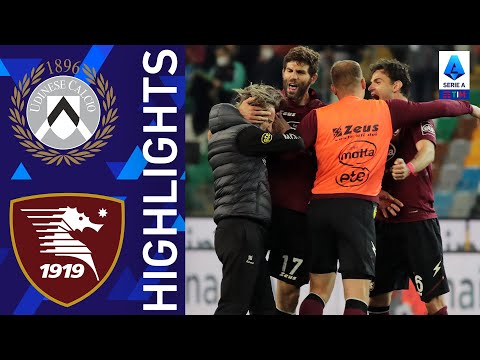 Play on YouTube
Home Team Lineup

Rodrigo
Becão
Defender




Pablo
Marí
Defender




Nehuén
Pérez
Defender




Brandon
Soppy
Defender
Zeegelaar 69



Destiny
Udogie
Defender




Gerard
Deulofeu
Forward




Ignacio
Pussetto
Forward
Success 65



Marco
Silvestri
Goalkeeper




Tolgay
Arslan
Midfielder
Makengo 57



Mato
Jajalo
Midfielder
Walace 57



Lazar
Samardžić
Midfielder



Away Team Lineup

Norbert
Gyömbér
Defender




Federico
Fazio
Defender




Luca
Ranieri
Defender




Federico
Bonazzoli
Forward
Verdi 87



Franck
Ribery
Forward
Mikael 72



Luigi
Sepe
Goalkeeper




Ivan
Radovanovic
Midfielder




Nadir
Zortea
Midfielder




Lassana
Coulibaly
Midfielder
Kastanos 72



Emil
Bohinen
Midfielder




Éderson
Midfielder



Event Statistics
Shots on Goal
Shots off Goal
Total Shots
Blocked Shots
Shots insidebox
Shots outsidebox
Fouls
Corner Kicks
Offsides
Ball Possession
Yellow Cards
Red Cards
Goalkeeper Saves
Total passes
Passes accurate
Passes %
Description
https://www.espn.in/football/italian-serie-a/story/4554415/covid-chaos-forces-serie-a-match-between-udinesesalernitana-to-be-abandoned
A fixture between Udinese and Salernitana descended into chaos on Tuesday after local health authority (ASL) banned the recently-promoted side from travelling due to COVID-19 cases in their squad while Serie A refused to postpone the game.
Udinese players showed up in their Stadio Friuli stadium knowing that the ASL had banned the visitors from travelling north due to two positive cases in the squad.
But the game was not postponed by the league's governing body because according to them the Salerno club still had enough available players in their squad for the fixture to go ahead.
Udinese named a starting line-up but remained in the dressing room, and after the regulation 45 minutes had passed from the scheduled kickoff time, the game was abandoned.
"The league is right not to postpone the game. They have a duty to protect the regularity of the league season and a game must not be postponed because a player tests positive," Udinese director Pierpaolo Marino told DAZN.
"We went to Rome to play Lazio with seven players and our coach out with COVID last season. And we won 3-1."
But Salernitana sporting director Angelo Fabiani said they were following orders.
"It isn't up to us, we paid for a plane journey and then spent more on a charter flight. But if the authorities ban you from going, what can we do?" he said.
Reports
None found...
Result ListResult DescriptionPopular Tweets
Fanart
Banner


Other Event Name

Salernitana @ Udinese

Potential Filename

Italian.Serie.A.2022-04-20.Udinese.vs.Salernitana.mkv

Italian.Serie.A.2022-04-20.Udinese.vs.Salernitana.S2021-2022E34.mkv

Italian.Serie.A.20220420.Udinese.vs.Salernitana.special

Download Metadata
Kodi NFO File