Event
Sanderson Farms Championship
Date
Thu 29th September 2022 UTC
Thu 29th September 2022 Local
Time
00:00:00 UTC
00:00:00 Local
Poster
Your Rating (Click a star below)


Total Rating

(0 users)


Thumb




Square Poster




Recent Record
Click here to show

League
PGA Tour

Season
2022-2023

Round
0

Status


Location
The Country Club of Jackson
(0 Attendance)



Site
Home /
Sport /
Golf
/
PGA Tour
/
2022-2023
/
Sanderson Farms Championship
Video Highlights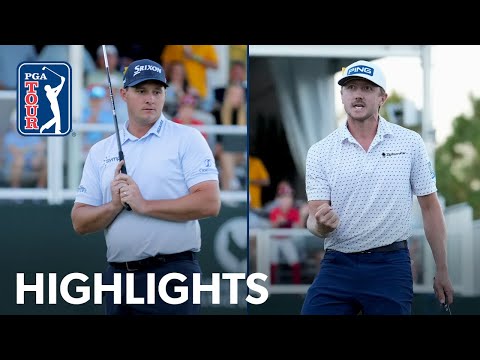 Play on YouTube
Event Statistics Description
The Sanderson Farms Championship is a professional golf tournament on the PGA Tour, played annually in Mississippi. It moved to the Country Club of Jackson in Jackson in autumn 2014, early in the 2015 season.
The tournament has been part of the PGA Tour schedule since 1968, and has raised more than $8.1 million for statewide charities. Originally played at the Hattiesburg Country Club in Hattiesburg, the event moved in 1994 to Annandale Golf Club in Madison, which hosted through 2013.
Since 2013, the tournament's title sponsor has been Sanderson Farms, a poultry farming corporation based in Laurel, Mississippi. The tournament's host organization, Century Club Charities, is a non-profit, tax-exempt 501(c)(3) organization whose mission is promoting the game of golf for the benefit of charity. The Sanderson Farms Championship's primary charity is Friends of Children's Hospital, which benefits the Batson's Children Hospital.
The event takes place Sep 29 - Oct 2 and has a prize fund of $7,900,000.
Reports
Result List
1
Mackenzie Hughes
271
2
Sepp Straka
271
3
Garrick Higgo
272
4
Dean Burmester
273
5
Emiliano Grillo
275
5
Nick Hardy
275
5
Keegan Bradley
275
5
Mark Hubbard
275
8
Greyson Sigg
276
9
Matthew NeSmith
276
9
Thomas Detry
276
9
Taylor Montgomery
276
Result Description
After Final Round
Top 10 plus ties
Pos. /Player /To Par /R1 /R2 /R3 /R4 /Total
1 /Mackenzie Hughes /-17 /71 /63 /68 /69 /271
2 /Sepp Straka /-17 /69 /66 /69 /67 /271
3 /Garrick Higgo /-16 /70 /66 /68 /68 /272
4 /Dean Burmester /-15 /70 /68 /68 /67 /273
T5 /Emiliano Grillo /-13 /73 /65 /68 /69 /275
T5 /Nick Hardy /-13 /70 /67 /68 /70 /275
T5 /Keegan Bradley /-13 /70 /71 /64 /70 /275
T5 /Mark Hubbard /-13 /67 /69 /65 /74 /275
T9 /Matthew NeSmith /-12 /72 /69 /71 /64 /276
T9 /Greyson Sigg /-12 /69 /71 /69 /67 /276
T9 /Thomas Detry /-12 /67 /67 /74 /68 /276
T9 /Taylor Montgomery /-12 /72 /68 /67 /69 /276
Popular Tweets
Fanart
Banner


Other Event Name



Potential Filename

Download Metadata
Kodi NFO File