Event
Butterfield Bermuda Championship
Date
Thu 27th October 2022 UTC
Thu 27th October 2022 Local
Time
00:00:00 UTC
00:00:00 Local
Poster
Your Rating (Click a star below)


Total Rating

(0 users)


Thumb




Square Poster




Recent Record
Click here to show

League
PGA Tour

Season
2022-2023

Round
0

Status


Location
Port Royal Golf Course
(0 Attendance)



Site
Home /
Sport /
Golf
/
PGA Tour
/
2022-2023
/
Butterfield Bermuda Championship
Video Highlights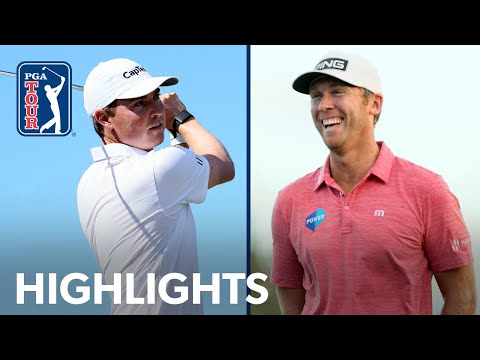 Play on YouTube
Event Statistics Description
The Butterfield Bermuda Championship is a professional golf tournament on the PGA Tour that debuted in October/November 2019 as part of the 2020 season. The tournament is played at the Port Royal Golf Course, designed by Robert Trent Jones, in Southampton Parish, Bermuda. Originally designated as an alternate event, opposite the WGC-HSBC Champions, the prize fund in 2019 was US$3,000,000.
In 2020 and 2021, as a result of successive cancellations of the WGC-HSBC Champions due to COVID-19 pandemic considerations, the tournament was elevated to full FedEx Cup point event status, with the winner earning a Masters Tournament invitation. As a full-field tournament, the prize fund was US$4 million in the 2020, and US$6.5 million in 2021 as Butterfield Bank joined the Bermuda Tourism Board as co-title sponsors
The event takes place Oct 27 - 30 and has a prize fund of $6,500,000 .
Reports
Result List
1
Seamus Power
265
2
Thomas Detry
266
3
Patrick Rodgers
267
3
Ben Griffin
267
3
Kevin Yu
267
6
Denny McCarthy
268
6
Aaron Baddeley
268
8
Justin Lower
269
8
Max McGreevy
269
10
Harrison Endycott
270
Result Description
After Final Round
Top 10 plus ties
Pos. /Player /To Par /R1 /R2 /R3 /R4 /Total
1 /Seamus Power /-19 /65 /65 /65 /70 /265
2 /Thomas Detry /-18 /64 /67 /68 /67 /266
T3 /Patrick Rodgers /-17 /65 /67 /70 /65 /267
T3 /Kevin Yu /-17 /64 /66 /67 /70 /267
T3 /Ben Griffin /-17 /65 /64 /66 /72 /267
T6 /Denny McCarthy /-16 /63 /69 /69 /67 /268
T6 /Aaron Baddeley /-16 /65 /64 /68 /71 /268
T8 /Justin Lower /-15 /64 /68 /69 /68 /269
T8 /Max McGreevy /-15 /65 /70 /66 /68 /269
10 /Harrison Endycott /-14 /62 /70 /70 /68 /270
Popular Tweets
Fanart
Banner


Other Event Name



Potential Filename

Download Metadata
Kodi NFO File