Event
Farmers Insurance Open
Date
Wed 25th January 2023 UTC
Wed 25th January 2023 Local
Time
00:00:00 UTC
00:00:00 Local
Poster
Your Rating (Click a star below)


Total Rating

(0 users)


Thumb




Square Poster




Recent Record
Click here to show

League
PGA Tour

Season
2022-2023

Round
0

Status


Location
Torrey Pines Golf Course
(0 Attendance)



Site
Home /
Sport /
Golf
/
PGA Tour
/
2022-2023
/
Farmers Insurance Open
Video Highlights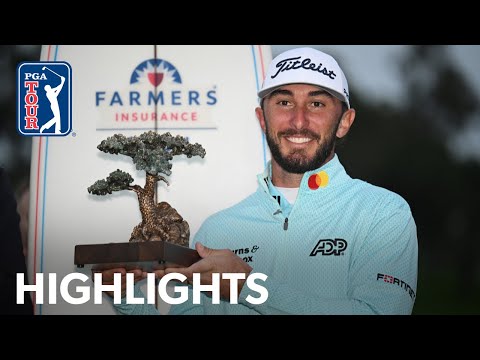 Play on YouTube
Event Statistics Description
The Farmers Insurance Open is a professional golf tournament on the PGA Tour, played in the San Diego, California, area in the early part of the season known as the "West Coast Swing".
The tournament was noted for having singer-actor Andy Williams as a celebrity host from 1968 through 1988. It originated as the San Diego Open in 1952 and used that name in its title through 1985. Title sponsors were added in 1981, first with Wickes for two years, then three with Isuzu. Shearson Lehman Brothers became the title sponsors in 1986, replaced by Buick in 1992 and Farmers Insurance in 2010. The event is organized by The Century Club of San Diego.
Although the San Diego Open began in 1952, the PGA Tour recognizes two earlier events of the same name: Leo Diegel won both events, in December 1927 and January 1929. It was an autumn event in 1956 and 1957, not held in 1958, and returned as a winter event in early 1959.
Reports
Result List
1
Max Homa
275
2
Keegan Bradley
277
3
Collin Morikawa
278
4
Sahith Theegala
279
4
Im Sung-jae
279
4
Sam Ryder
279
7
Jason Day
280
7
Jon Rahm
280
9
Hideki Matsuyama
281
9
Tony Finau
281
Result Description
After Final Round
Top 10 plus ties
Pos. /Player /To Par /R1 /R2 /R3 /R4 /Total
1 /Max Homa /-13 /68 /70 /71 /66 /275
2 /Keegan Bradley /-11 /70 /73 /68 /66 /277
3 /Collin Morikawa /-10 /67 /72 /70 /69 /278
T4 /Sahith Theegala /-9 /66 /72 /71 /70 /279
T4 /Sungjae Im /-9 /68 /74 /67 /70 /279
T4 /Sam Ryder /-9 /64 /68 /72 /75 /279
T7 /Jason Day /-8 /68 /71 /73 /68 /280
T7 /Jon Rahm /-8 /73 /67 /66 /74 /280
T9 /Hideki Matsuyama /-7 /70 /73 /69 /69 /281
T9 /Tony Finau /-7 /73 /71 /64 /73 /281
Popular Tweets
Fanart
Banner


Other Event Name



Potential Filename

PGA.Tour.2023-01-25.Farmers.Insurance.Open.mkv

PGA.Tour.2023-01-25.Farmers.Insurance.Open.S2022-2023E0.mkv

PGA.Tour.2023-01-25.Farmers.Insurance.Open.mkv
Download Metadata
Kodi NFO File