Site
Home /
Sport /
Golf
/
LIV Golf
/
2023
/
Tucson
Video Highlights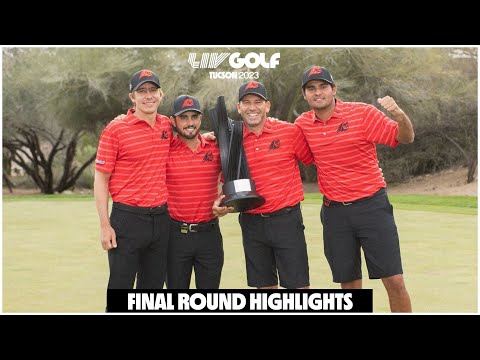 Play on YouTube
Event Statistics Description
Arizona is the setting for a high-stakes showdown when the LIV Golf League rolls into town for the second event in this year's schedule.
Many of the world's top players will be at The Gallery Golf Club, just outside Tucson, in the spirit of what was once the Wild West.
It's a fitting venue for a pioneering golf series that is breaking new ground and exploring new frontiers with its fresh format and innovative all-action approach.
Reports
Result List
1
Danny Lee
204
2
Louis Oosthuizen
204
2
Brendan Steele
204
2
Carlos Ortiz
204
5
Charles Howell III
205
6
Sergio Garcia
206
6
Kevin Na
206
6
Matt Jones
206
6
Mito Pereira
206
10
Peter Uihlein
207
10
Branden Grace
207
10
Matthew Wolff
207
Result Description
After Final Round
Individual Results, Top 10 plus ties
Pos. /Player /To Par /R1 /R2 /R3 /Total
1 /Danny Lee /-9 /68 /67 /69 /204
T2 /Louis Oosthuizen /-9 /66 /68 /70 /204
T2 /Brendan Steele /-9 /69 /65 /70 /204
T2 /Carlos Ortiz /-9 /71 /68 /65 /204
5 /Charles Howell III /-8 /69 /65 /71 /205
T6 /Sergio Garcia /-7 /68 /65 /73 /206
T6 /Kevin Na /-7 /68 /67 /71 /206
T6 /Matt Jones /-7 /70 /67 /69 /206
T6 /Mito Pereira /-7 /71 /68 /67 /206
T10 /Peter Uihlein /-6 /67 /72 /68 /207
T10 /Branden Grace /-6 /70 /67 /70 /207
T10 /Matthew Wolff /-6 /66 /69 /72 /207
--------------------------------------
After Final Round
Team Results
Pos /Team /R1 /R2 /R3 /Total
1 /Fireballs GC /-9 /-13 /-3 /-25
2 /4Aces GC /-7 /-3 /-11 /-21
3 /Iron Heads GC /-9 /-6 /-4 /-19
4 /Stinger GC /-5 /-10 /-1 /-16
5 /Ripper GC /-7 /-10 /+1 /-16
6 /HyFlyers GC /-6 /-15 /+6 /-15
7 /HyFlyers GC /-10 /-2 /-2 /-14
8 /RangeGoats GC /-4 /-8 /E /-12
9 /Crushers GC /-5 /-8 /+1 /-12
10 /Smash GC /-9 /-4 /+5 /-8
11 /Cleeks GC /+1 /-5 /-1 /-5
12 /Majesticks GC /E /-8 /+4 /-4
----------------------------------------
Team Standings
Pos /Team /Pts
1 /4ACES GC /48
2 /FIREBALLS GC /36
3 /CRUSHERS GC /32
4 /STINGER GC /24
5 /TORQUE GC /18
6 /IRONHEADS GC /16
7 /RIPPER GC /16
8 /HYFLYERS GC /6
9 /RANGEGOATS GC /2
10 /SMASH GC /0
11 /CLEEKS GC /0
12 /MAJESTICKS GC /0
Popular Tweets
Fanart
Banner


Other Event Name



Potential Filename

Download Metadata
Kodi NFO File