Site
Home /
Soccer
/
English League Championship
Logo

Upcoming Events
None Found...
Latest Results
Sheffield Weds 5 - 1 Norwich (Sunday 06th May)

Bristol City 2 - 3 Sheffield United (Sunday 06th May)

Preston 2 - 1 Burton (Sunday 06th May)

Brentford 1 - 1 Hull (Sunday 06th May)

Millwall 1 - 0 Aston Villa (Sunday 06th May)

Bolton 3 - 2 Nottingham F. (Sunday 06th May)

Leeds 2 - 0 QPR (Sunday 06th May)

Birmingham 3 - 1 Fulham (Sunday 06th May)

Ipswich 2 - 2 Middlesbrough (Sunday 06th May)

Derby 4 - 1 Barnsley (Sunday 06th May)

Description
The Football League Championship (often referred to as the Championship for short, or the Sky Bet Championship for sponsorship reasons) is the second-highest division overall in the English football league system after the Premier League. Each year, the top finishing teams in the Championship are promoted to the Premier League, and the lowest finishing teams are relegated.

The Football League Championship, which was introduced for the 2004–05 season, was previously known as the Football League First Division (1992–2004), and before that was known as Division Two (1892–1992). The winners of the Championship receive the Football League Championship trophy, the same trophy as the old First Division champions were handed prior to the Premier League's inception in 1992.

The Championship is the wealthiest non-top flight football division in the world and the seventh richest division in Europe. The average match attendance for the 2011–12 season was 17,738, which also makes it the most-watched secondary league in the world.

In the 2013–14 season, Leicester City were the division champions, Burnley were the runners up. At present (2014–15 season), Ipswich Town hold the longest tenure in the Championship, last being out of the division in the 2001–02 season when they were relegated from the Premier League.

Schedule
0304 Season
0405 Season
0506 Season
0607 Season
0708 Season
0809 Season
0910 Season
1011 Season
1112 Season
1213 Season
1314 Season
1415 Season
1516 Season
1617 Season
1718 Season
Teams

Aston Villa


Barnsley


Birmingham


Bolton


Brentford


Bristol City


Burton


Cardiff


Derby


Fulham


Hull


Ipswich


Leeds


Middlesbrough


Millwall


Norwich


Nottingham F.


Preston


QPR


Reading


Sheffield United


Sheffield Weds


Sunderland


Wolves
Trophy Icon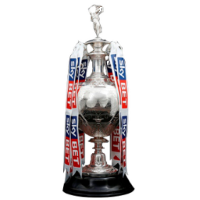 Fanart
Banner
Other Links