Site
Home /
Sport /
Motorsport
/
Formula E
Logo
Upcoming Events
Santiago ePrix Race 2 (20 Jun 2021)

Latest Results

Santiago ePrix Race 1 (19 Jun 2021)

Monaco ePrix (08 May 2021)

Valencia ePrix Race 2 (25 Apr 2021)

Valencia ePrix Race 1 (24 Apr 2021)

Rome ePrix Race 2 (11 Apr 2021)

Rome ePrix Race 1 (10 Apr 2021)

Diriyah ePrix Race 2 (27 Feb 2021)

Diriyah ePrix Race 1 (26 Feb 2021)

Berlin ePrix III (13 Aug 2020)

Berlin ePrix III (12 Aug 2020)

Description
Available in:
Formula E, officially the FIA Formula E Championship, is a class of auto racing, sanctioned by the Fédération Internationale de l'Automobile (FIA), intended to be the highest class of competition for one-make, single-seater, electrically powered racing cars. The series was conceived in 2012, and the inaugural championship started in Beijing on 13 September 2014.

For the first season, all teams were supplied an electric racing car built by Spark Racing Technology, called the Spark-Renault SRT 01E. The chassis was designed by Dallara, with an electric motor developed by McLaren (the same as that used in its P1 supercar), a battery system created by Williams Advanced Engineering and a Hewland five-speed gearbox. Michelin will be the official tyre supplier. For the first season, 42 electric cars have been ordered by the series, with four cars made available to each of the ten teams and two cars kept for testing purposes.

The Formula E championship is currently contested by 10 teams with 2 drivers each. Racing generally takes place on temporary city-center street circuits which are approximately 2 to 3.4 km (1.2 to 2.1 mi) long. Two exceptions are Berlin (airport circuit) and Mexico City (modified version of the Autódromo Hermanos Rodríguez race track).

For the second season the technical regulations have been changed to allow for new powertrain manufacturers. The manufacturers are able to build the electric motor, inverter, gearbox and cooling system. The chassis and battery stay the same. Eight manufacturers were selected to create powertrain technology for the 2015–16 season, with existing teams Andretti, Abt Sportsline, Venturi Automobiles, and Virgin Racing Engineering electing to build their own powertrain. In addition, Motomatica, NEXTEV TCR and Renault Sport will provide for customer teams.

Seasons

2014-2015

2015-2016

2016-2017

2017-2018

2018-2019

2019-2020

2020-2021
Teams

Andretti Autospor


Audi Sport ABT Fo


Dragon Racing


Jaguar Racing


Mahindra Racing


Mercedes-Benz E


NIO 333 FE Team


Nissan e.dams


Porsche Formula


Techeetah


Venturi Grand Pri


Virgin Racing For
Key
(
) Missing Artwork
(- 4) Missing 4 Players: Data and Artwork
(
) Team Complete
Trophy Icon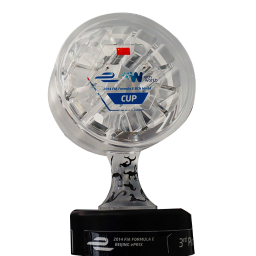 Fanart
Banner

Other Links