Site
Home /
American Football
/
NFL
Logo

Upcoming Events
None Found...
Latest Results

New England Patriots 33 - 41 Philadelphia Eagles (Sunday 04th February)

Philadelphia Eagles 38 - 7 Minnesota Vikings (Sunday 21st January)

New England Patriots 24 - 20 Jacksonville Jaguars (Sunday 21st January)

Minnesota Vikings 29 - 24 New Orleans Saints (Sunday 14th January)

Pittsburgh Steelers 42 - 45 Jacksonville Jaguars (Sunday 14th January)

New England Patriots 35 - 14 Tennessee Titans (Saturday 13th January)

Philadelphia Eagles 15 - 10 Atlanta Falcons (Saturday 13th January)

Jacksonville Jaguars 10 - 3 Buffalo Bills (Sunday 07th January)

New Orleans Saints 31 - 26 Carolina Panthers (Sunday 07th January)

Los Angeles Rams 13 - 26 Atlanta Falcons (Saturday 06th January)

Description
The National Football League (NFL) is a professional American football league of 32 teams, divided equally between the National Football Conference (NFC) and the American Football Conference (AFC). The NFL is one of the four major professional sports leagues in North America, and the highest professional level of American football in the world. The NFL's 17-week regular season runs from the week after Labor Day to the week after Christmas, with each team playing sixteen games and having one bye week. Following the conclusion of the regular season, six teams from each conference (four division winners and two wild card teams) advance to the playoffs, a single-elimination tournament culminating in the Super Bowl, played between the champions of the NFC and AFC.

The NFL was formed in 1920 as the American Professional Football Association (APFA) before renaming itself the National Football League for the 1923 season. The NFL agreed to merge with the American Football League (AFL) in 1966, and the first Super Bowl was held at the end of that season; the merger was completed in 1970. Today, the NFL has the highest average attendance (67,591) of any professional sports league in the world and is the most popular sports league in the United States. The Super Bowl is among the biggest club sporting events in the world and individual Super Bowl games account for many of the most-watched television programs in American history. At the corporate level, the NFL is a nonprofit 501(c)(6) association. The NFL's executive officer is the commissioner, who has broad authority in governing the league.

The team with the most NFL championships is the Green Bay Packers with thirteen; the team with the most Super Bowl championships is the Pittsburgh Steelers with six. The current NFL champions are the Denver Broncos, who defeated the Carolina Panthers 24–10 in Super Bowl 50.

Schedule
1999 Season
2000 Season
2001 Season
2002 Season
2003 Season
2004 Season
2005 Season
2006 Season
2007 Season
2008 Season
2009 Season
2010 Season
2011 Season
2012 Season
2013 Season
2014 Season
2015 Season
2016 Season
2017 Season
Teams

Arizona Car


Atlanta Fal


Baltimore R


Buffalo Bil


Carolina Pa


Chicago Bea


Cincinnati


Cleveland B


Dallas Cowboys


Denver Bron


Detroit Lio


Green Bay P


Houston Tex


Indianapoli


Jacksonvill


Kansas City


Los Angeles


Los Angeles Ra


Miami Dolph


Minnesota V


New England


New Orleans Sa


New York Gi


New York Je


Oakland Rai


Philadelphi


Pittsburgh


San Francis


Seattle Sea


Tampa Bay B


Tennessee T


Washington
Trophy Icon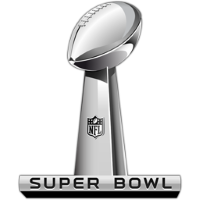 Fanart
Banner

Other Links