Site
Home /
Sport /
Basketball
/
Spanish Liga ACB
Logo
Upcoming Events
06 Jun 23
Real Madrid Bal
&nbsp
-
Joventut Badalo
07 Jun 23
FC Barcelona Ba
&nbsp
-
Baloncesto Mál
08 Jun 23
Real Madrid Bal
&nbsp
-
Joventut Badalo
09 Jun 23
FC Barcelona Ba
&nbsp
-
Baloncesto Mál
10 Jun 23
Joventut Badalo
&nbsp
-
Real Madrid Bal
11 Jun 23
Baloncesto Mál
&nbsp
-
FC Barcelona Ba



Latest Results
02 Jun 23
Valencia Basket&nbsp
64 - 87
&nbsp
FC Barcelona Ba
01 Jun 23
Baloncesto Mál&nbsp
97 - 74
&nbsp
CB 1939 Canaria
31 May 23
CB Gran Canaria&nbsp
81 - 89
&nbsp
Real Madrid Bal
30 May 23
Joventut Badalo&nbsp
83 - 76
&nbsp
Baskonia
29 May 23
FC Barcelona Ba&nbsp
84 - 74
&nbsp
Valencia Basket
28 May 23
CB 1939 Canaria&nbsp
59 - 72
&nbsp
Baloncesto Mál
28 May 23
Real Madrid Bal&nbsp
95 - 68
&nbsp
CB Gran Canaria
27 May 23
Baskonia&nbsp
91 - 99
&nbsp
Joventut Badalo
24 May 23
Baskonia&nbsp
70 - 75
&nbsp
Bàsquet Girona
24 May 23
CB Breogan&nbsp
77 - 80
&nbsp
Valencia Basket
Description
Available in:
The Liga ACB, known as Liga Endesa for sponsorship reasons, is the top professional basketball division of the Spanish basketball league system. Administrated by the Asociación de Clubes de Baloncesto (ACB), Liga ACB is contested by 18 teams, with the two lowest-placed teams relegated to the LEB Oro and replaced by the top team in that division plus the winner of the playoffs.

A total of 49 teams have competed in Liga ACB since its inception. Seven teams have been crowned champions, with Real Madrid winning the title a record 34 times and FC Barcelona 18 times. Real Madrid dominated the championship from the 1950s through the 1970s when was organized by the Spanish Basketball Federation. From the 1980s onwards when the ACB took control over the league, FC Barcelona (15 titles) and Real Madrid (12 titles) both dominated, though Liga ACB also saw other champions, including Baskonia, Joventut Badalona, Baloncesto Málaga, Bàsquet Manresa, and Valencia Basket. In more recent years, Baskonia has joined a coalition of now three teams dominating Liga ACB alongside Real Madrid and FC Barcelona.

Liga ACB is one of the most popular professional indoor sports leagues in the world, with an average attendance of 6,427 for league matches in the 2017–18 season. This is the ninth-highest of any domestic professional indoor sports league in the world and the fourth-highest of any professional basketball league in the world, behind the National Basketball Association, the EuroLeague, and the Women's National Basketball Association.



Seasons


2001-2002

2002-2003

2003-2004

2004-2005

2005-2006

2006-2007

2007-2008

2008-2009

2009-2010

2010-2011

2011-2012

2012-2013

2013-2014

2014-2015

2015-2016

2016-2017

2017-2018

2018-2019

2019-2020

2020-2021

2021-2022

2022-2023
Teams

Baloncesto Fuenla


Baloncesto Málag


Basket Zaragoza


Baskonia


Bàsquet Girona


Basquet Manresa


Bilbao Basket


CB 1939 Canarias


CB Breogan


CB Gran Canaria


CB Murcia


FC Barcelona Basq


Fundación CB G


Joventut Badalona


Obradoiro CAB


Real Betis Balonc


Real Madrid Balon


Valencia Basket
Key
(
) Missing Artwork
(- 4) Missing 4 Players: Data and Artwork
(
) Team Complete
Trophy Icon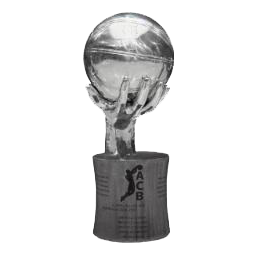 Fanart
Banner

Other Links