Site
Home /
Sport /
Rugby
/
Australian National Rugby League
Logo
Upcoming Events
08 Jun 23
Gold Coast Tita
&nbsp
-
Wests Tigers
09 Jun 23
Canberra Raider
&nbsp
-
New Zealand War
09 Jun 23
Manly Sea Eagle
&nbsp
-
Dolphins
10 Jun 23
St. George Illa
&nbsp
-
South Sydney Ra
10 Jun 23
Brisbane Bronco
&nbsp
-
Newcastle Knigh
10 Jun 23
Sydney Roosters
&nbsp
-
Penrith Panther
11 Jun 23
Melbourne Storm
&nbsp
-
Cronulla Sharks
12 Jun 23
Canterbury Bank
&nbsp
-
Parramatta Eels
16 Jun 23
North Queenslan
&nbsp
-
Penrith Panther
17 Jun 23
Newcastle Knigh
&nbsp
-
Sydney Roosters



Latest Results
04 Jun 23
Penrith Panther&nbsp
26 - 18
&nbsp
St. George Illa
04 Jun 23
North Queenslan&nbsp
45 - 20
&nbsp
Melbourne Storm
04 Jun 23
Sydney Roosters&nbsp
25 - 24
&nbsp
Canterbury Bank
03 Jun 23
Cronulla Sharks&nbsp
12 - 20
&nbsp
Brisbane Bronco
03 Jun 23
Gold Coast Tita&nbsp
28 - 46
&nbsp
South Sydney Ra
03 Jun 23
New Zealand War&nbsp
30 - 8
&nbsp
Dolphins
02 Jun 23
Wests Tigers&nbsp
19 - 20
&nbsp
Canberra Raider
28 May 23
Newcastle Knigh&nbsp
28 - 18
&nbsp
Manly Sea Eagle
27 May 23
South Sydney Ra&nbsp
26 - 33
&nbsp
Canberra Raider
27 May 23
New Zealand War&nbsp
22 - 26
&nbsp
Brisbane Bronco
Description
Available in:
The National Rugby League (NRL) is the top league of professional rugby league football clubs in Australasia. Run by the Australian Rugby League Commission, the NRL's main competition is known as the Telstra Premiership due to sponsorship from Telstra Corporation and is contested by sixteen teams, fifteen of which are based in Australia with one based in New Zealand. It is regarded as the world's elite rugby league championship and, per season, is the most viewed and attended rugby football club competition in the world.

The National Rugby League is Australia's top-level domestic rugby-league club competition. It grew out of Sydney's local club competition, which has been running continuously since 1908. The NRL formed in the aftermath of the 1990s' Super League war as a joint partnership between the sport's already-existing national governing body, the Australian Rugby League (ARL) and media giant News Corporation-controlled Super League, after both organisations ran premierships parallel to each other in 1997. This partnership was dissolved in February 2012, with control of the NRL going to the independently formed Australian Rugby League Commission.

NRL matches are played in Australia and New Zealand from autumn until spring. The season culminates in the premiership-deciding game, the NRL Grand Final, traditionally one of Australia's most popular sporting events and one of the world's largest attended sporting championship games. In addition, the NRL premiers also play in the World Club Challenge, a pre-season match against the champions of the European Super League competition. The reigning premiers are the South Sydney Rabbitohs.



Seasons


2009

2010

2011

2012

2013

2014

2015

2016

2017

2018

2019

2020

2021

2022

2023
Teams

Brisbane Broncos


Canberra Raiders


Canterbury Bankst


Cronulla Sharks


Dolphins


Gold Coast Titans


Manly Sea Eagles


Melbourne Storm


New Zealand Warri


Newcastle Knights


North Queensland


Parramatta Eels


Penrith Panthers


South Sydney Rabb


St. George Illawa


Sydney Roosters


Wests Tigers
Key
(
) Missing Artwork
(- 4) Missing 4 Players: Data and Artwork
(
) Team Complete
Trophy Icon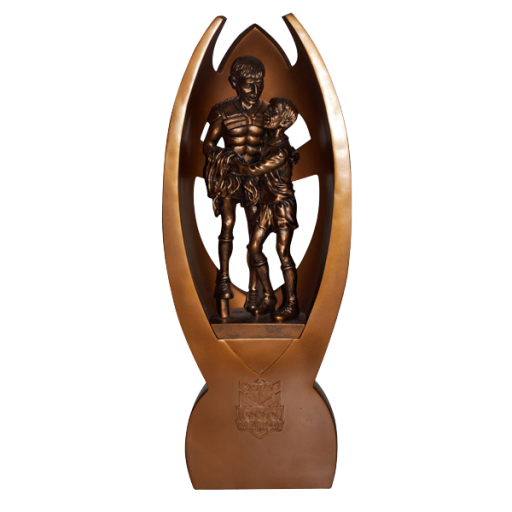 Fanart
Banner

Other Links