Name
Indian Premier League
Badge
Poster
Established
2008 (14 years old)
First Recorded Event
2010-03-12
Current Season
2022
Sport
Cricket
Location
India
Gender
Male
Alternate Names
IPL
TV Rights
US (Linear) - Willow [2017-2021]
US (Streaming) - ESPN+ [2021-2022]
Last Edit
Site
Home /
Sport /
Cricket
/
Indian Premier League
Logo
Upcoming Events
24 May 22
Gujarat Titans
&nbsp
-
Rajasthan Royal
25 May 22
Lucknow Super G
&nbsp
-
Royal Challenge



Latest Results
22 May 22
Sunrisers Hyder&nbsp
157 - 160
&nbsp
Punjab Kings
21 May 22
Mumbai Indians&nbsp
160 - 159
&nbsp
Delhi Capitals
20 May 22
Rajasthan Royal&nbsp
151 - 150
&nbsp
Chennai Super K
19 May 22
Royal Challenge&nbsp
170 - 168
&nbsp
Gujarat Titans
18 May 22
Kolkata Knight &nbsp
208 - 210
&nbsp
Lucknow Super G
17 May 22
Mumbai Indians&nbsp
190 - 193
&nbsp
Sunrisers Hyder
16 May 22
Punjab Kings&nbsp
142 - 159
&nbsp
Delhi Capitals
15 May 22
Chennai Super K&nbsp
133 - 137
&nbsp
Gujarat Titans
15 May 22
Lucknow Super G&nbsp
154 - 178
&nbsp
Rajasthan Royal
14 May 22
Kolkata Knight &nbsp
177 - 123
&nbsp
Sunrisers Hyder
Description
Available in:
The Indian Premier League (IPL) is a professional Twenty20 cricket league in India contested during April and May of every year by franchise teams representing Indian cities. The league was founded by the Board of Control for Cricket in India (BCCI) in 2007. The title sponsor of the IPL in 2016 was Vivo Electronics, thus the league is officially known as the Vivo Indian Premier League. The current IPL title holders are Sunrisers Hyderabad.

The IPL is the most-attended cricket league in the world and ranks sixth among all sports leagues. In 2010, the IPL became the first sporting event in the world to be broadcast live on YouTube. The brand value of IPL was estimated to be US$4.5 billion in 2015 by American Appraisal, A Division of Duff & Phelps. According to BCCI, the 2015 IPL season contributed ₹11.5 billion (US$182 million) to the GDP of the Indian economy.

According to global valuation and corporate finance advisor Duff & Phelps, the value of brand IPL has jumped to $4.16 billion after the 2016 edition, against $3.54 billion in 2015. The 19% jump is despite the fact that the US dollar to Indian rupee currency has depreciated by nearly 10%.

Seasons

2010

2011

2012

2013

2014

2015

2016

2017

2018

2019

2020

2021

2022
Teams

Chennai Super Kin


Delhi Capitals-1


Gujarat Titans -11


Kolkata Knight Ri


Lucknow Super G -11


Mumbai Indians


Punjab Kings


Rajasthan Royals


Royal Challengers


Sunrisers Hyderab
Key
(
) Missing Artwork
(- 4) Missing 4 Players: Data and Artwork
(
) Team Complete
Trophy Icon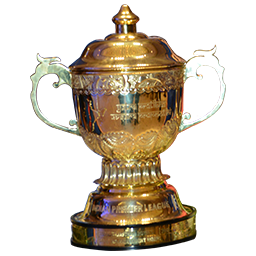 Fanart
Banner
Other Links