Site
Home /
Sport /
Handball
/
French LNH Division 1
Logo
Upcoming Events
29 Sep 23
US Ivry Handbal
&nbsp
-
Saint-Raphaël
29 Sep 23
Fenix Toulouse
&nbsp
-
C Chartres Mét
29 Sep 23
Saran Loiret HB
&nbsp
-
Chambéry Savoi
29 Sep 23
Dijon Bourgogne
&nbsp
-
PAUC Handball
29 Sep 23
US Créteil Han
&nbsp
-
USAM Nîmes Gar
30 Sep 23
HBC Nantes
&nbsp
-
Limoges Handbal
01 Oct 23
Dunkerque Handb
&nbsp
-
Paris Saint-Ger
01 Oct 23
Cesson Rennes M
&nbsp
-
Montpellier Han
06 Oct 23
PAUC Handball
&nbsp
-
C Chartres Mét
06 Oct 23
Chambéry Savoi
&nbsp
-
US Créteil Han



Latest Results
24 Sep 23
Paris Saint-Ger&nbsp
35 - 27
&nbsp
US Créteil Han
24 Sep 23
Limoges Handbal&nbsp
30 - 36
&nbsp
Montpellier Han
23 Sep 23
USAM Nîmes Gar&nbsp
33 - 28
&nbsp
Dunkerque Handb
22 Sep 23
Fenix Toulouse &nbsp
24 - 34
&nbsp
HBC Nantes
22 Sep 23
Saint-Raphaël &nbsp
31 - 30
&nbsp
Cesson Rennes M
22 Sep 23
C Chartres Mét&nbsp
33 - 27
&nbsp
Dijon Bourgogne
22 Sep 23
Chambéry Savoi&nbsp
29 - 28
&nbsp
US Ivry Handbal
21 Sep 23
PAUC Handball&nbsp
35 - 31
&nbsp
Saran Loiret HB
17 Sep 23
US Ivry Handbal&nbsp
34 - 38
&nbsp
Paris Saint-Ger
17 Sep 23
Montpellier Han&nbsp
32 - 26
&nbsp
Chambéry Savoi
Description
Available in:
The Division 1 of Ligue Nationale de Handball is the premier men's professional handball league in France, administered by the French Handball Federation. Founded in 1952, it is currently contested by 14 teams.

The Montpellier Agglomération Handball is the most successful club with 14 titles, but this is also the club which won the most consecutive titles: 5 between 2002 and 2006 and between 2008 and 2012.

The champion and the vice-champion are directly qualified for the group phase of the EHF Champions League. The winners of the Coupe de France and the Coupe de la Ligue are qualified for the EHF Cup. If the winner of (one of) these cups is also the champion, the place(s) are attributed in terms of the final ranking.



Seasons


2002-2003

2003-2004

2004-2005

2005-2006

2006-2007

2007-2008

2008-2009

2009-2010

2010-2011

2011-2012

2012-2013

2013-2014

2014-2015

2015-2016

2016-2017

2017-2018

2018-2019

2019-2020

2020-2021

2021-2022

2022-2023

2023-2024
Teams

C Chartres Mét


Cesson Rennes M


Chambéry Savoi


Dijon Bourgogne


Dunkerque Handb


Fenix Toulouse


HBC Nantes


Istres Provence


Limoges Handbal


Montpellier Han


Paris Saint-Ger


PAUC Handball


Saint-Raphaël


Saran Loiret HB


Sélestat Alsac


US Créteil Han


US Ivry Handbal


USAM Nîmes Gar
Key
(
) Missing Artwork
(- 4) Missing 4 Players: Data and Artwork
(
) Team Complete
Trophy Icon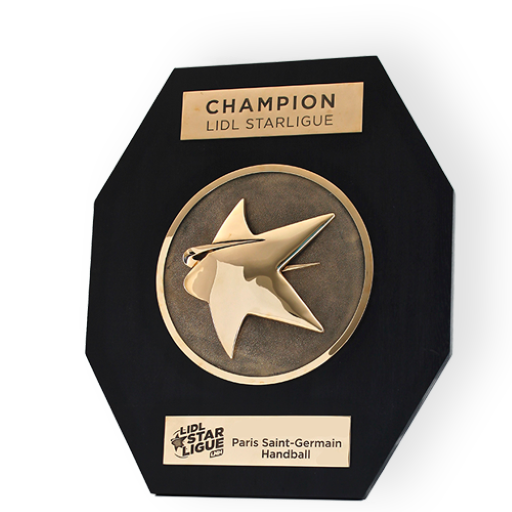 Fanart
Banner

Other Links