Site
Home /
Sport /
Netball
/
Australian Super Netball League
Logo
Upcoming Events
None Found...


Latest Results
03 Jul 22
West Coast Feve&nbsp
70 - 59
&nbsp
Melbourne Vixen
25 Jun 22
Melbourne Vixen&nbsp
55 - 54
&nbsp
Giants Netball
19 Jun 22
Giants Netball&nbsp
55 - 48
&nbsp
Collingwood Mag
18 Jun 22
Melbourne Vixen&nbsp
62 - 71
&nbsp
West Coast Feve
13 Jun 22
Collingwood Mag&nbsp
54 - 56
&nbsp
Melbourne Vixen
12 Jun 22
New South Wales&nbsp
63 - 61
&nbsp
Queensland Fire
12 Jun 22
West Coast Feve&nbsp
68 - 57
&nbsp
Adelaide Thunde
11 Jun 22
Giants Netball&nbsp
68 - 65
&nbsp
Sunshine Coast
05 Jun 22
Sunshine Coast &nbsp
62 - 68
&nbsp
Collingwood Mag
05 Jun 22
New South Wales&nbsp
72 - 73
&nbsp
West Coast Feve
Description
Available in:
Suncorp Super Netball (also known non-commercially as the National Netball League) is the premier netball league in Australia. The inaugural season commenced in February 2017.

History
Foundation
In 2008, Netball Australia and Netball New Zealand joined forces and created a Trans-Tasman league, the ANZ Championship as a successor to the Commonwealth Bank Trophy in Australia and the National Bank Cup in New Zealand, both of which were retired after 2007. The ANZ Championship saw netball become a semi-professional sport in both countries, with increased media coverage and player salaries. The 2016 season was the last of the competition, as Netball Australia looked to create a nationally exclusive league with a significantly improved broadcasting and media deal. This instigated the creation of Suncorp Super Netball, announced in May 2016. The New Zealand successor to the previous ANZ Championship is the ANZ Premiership.

The new league consists of the five former Australian ANZ Championship teams; the Adelaide Thunderbirds, Melbourne Vixens, New South Wales Swifts, Queensland Firebirds and West Coast Fever, in addition to three new teams, the Collingwood Magpies, Giants Netball and Sunshine Coast Lightning. Giants Netball are owned by Netball New South Wales and in a strategic partnership with the GWS Giants, and the two other new teams are owned and operated by two clubs in the popular Australian Football League and National Rugby League football codes.

Expansion teams Sunshine Coast Lightning and Giants Netball met in the Grand Final in the competition's inaugural season, the Lightning winning the match 65–48 before a crowd of 8,999 at the Brisbane Entertainment Centre.

The league is run by the Suncorp Super Netball Commission, an independent commission formed in January 2019 to oversee and make all decisions relating to the league. The commission replicates the examples set by Australia's two most popular football codes, the AFL and NRL and consists of six independent commissioners and the CEO of Netball Australia.

Ladder system
The league introduced a new ladder system for the 2018 season. In any game the winning team receives four points, with the loser receiving none. In the event of a draw, points are split. In addition to these points, the winner of each quarter is awarded a point. Drawn quarters result in no points being awarded. Thus, teams can win up to eight points in a match. If two teams finish the regular season on the same number of points, their final position on the ladder is determined by the number of wins and not percentage. If teams are tied on points and number of wins are equal, then goal percentages during the home and away rounds are used to determine the rank.

Seasons
| | | | | | | | | | | | |
| --- | --- | --- | --- | --- | --- | --- | --- | --- | --- | --- | --- |
| 2017 | | 2018 | | 2019 | | 2020 | | 2021 | | 2022 | |
Teams

Adelaide Thunderb


Collingwood Magpi


Giants Netball


Melbourne Vixens


New South Wales S


Queensland Firebi


Sunshine Coast Li


West Coast Fever
Key
(
) Missing Artwork
(- 4) Missing 4 Players: Data and Artwork
(
) Team Complete
Trophy Icon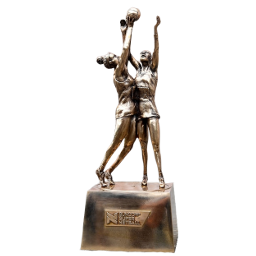 Fanart
Banner

Other Links