Site
Home /
Sport /
Rugby
/
Rugby World Cup
Logo
Upcoming Events

Latest Results
None Found...

02 Nov 19
England Rugby&nbsp
12 - 32
&nbsp
South Africa Ru
01 Nov 19
New Zealand Rug&nbsp
40 - 17
&nbsp
Wales Rugby
27 Oct 19
Wales Rugby&nbsp
16 - 19
&nbsp
South Africa Ru
26 Oct 19
England Rugby&nbsp
19 - 7
&nbsp
New Zealand Rug
20 Oct 19
Wales Rugby&nbsp
20 - 19
&nbsp
France Rugby
20 Oct 19
Japan Rugby&nbsp
3 - 26
&nbsp
South Africa Ru
19 Oct 19
England Rugby&nbsp
40 - 16
&nbsp
Australia Rugby
19 Oct 19
New Zealand Rug&nbsp
46 - 14
&nbsp
Ireland Rugby
13 Oct 19
Namibia Rugby&nbsp
0 - 0
&nbsp
Canada Rugby
13 Oct 19
USA Rugby&nbsp
19 - 31
&nbsp
Tonga Rugby
Description
Available in:
The Rugby World Cup is a men's rugby union tournament contested every four years between the top international teams. The tournament was first held in 1987, when the tournament was co-hosted by New Zealand and Australia.

The winners are awarded the Webb Ellis Cup, named after William Webb Ellis, the Rugby School pupil who, according to a popular legend, invented rugby by picking up the ball during a football game. Four countries have won the trophy; New Zealand three times, Australia and South Africa each twice, and England once. New Zealand are the current champions, having defeated Australia in the final of the 2015 tournament in England.

The tournament is administered by World Rugby, the sport's international governing body. Sixteen teams were invited to participate in the inaugural tournament in 1987, however since 1999 twenty teams have taken part. Japan will host the 2019 Rugby World Cup and France will host in 2023.

Seasons

1987

1991

1995

1999

2003

2007

2011

2015

2019
Teams

Argentina Rugby -11


Australia Rugby -11


Canada Rugby -11


England Rugby


Fiji Rugby -11


France Rugby -11


Georgia Rugby -11


Japan Rugby -11


Namibia Rugby -11


New Zealand Rug -11


Russia Rugby -11


Samoa Rugby -11


South Africa Ru -11


Tonga Rugby -10


Uruguay Rugby -11


USA Rugby -11
Key
(
) Missing Artwork
(- 4) Missing 4 Players: Data and Artwork
(
) Team Complete
Trophy Icon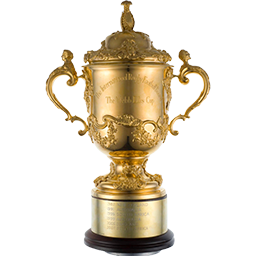 Fanart
Banner
Other Links