Site
Home /
Sport /
Motorsport
/
World Rallycross Championship
Logo
Upcoming Events

Latest Results
None Found...

Latest Results

World RX of Catalunya Barcelona 2 (18 Oct 2020)

World RX of Catalunya Barcelona 1 (17 Oct 2020)

Neste World RX of Riga Latvia 2 (20 Sep 2020)

Neste World RX of Riga Latvia 1 (19 Sep 2020)

CapitalBox World RX of Finland 2 (30 Aug 2020)

CapitalBox World RX of Finland 1 (29 Aug 2020)

Swecon World RX of Sweden 2 (23 Aug 2020)

Swecon World RX of Sweden 1 (22 Aug 2020)

World RX of South Africa (10 Nov 2019)

World RX of Latvia (15 Sep 2019)

Description
Available in:
Rallycross is a combination of rallying and circuit racing. It is head-to-head short, sharping racing on mixed surfaces (dirt and asphalt) contained within amphitheatre venues. High profile drivers are equipped with RX Supercars with over 600bhp and the ability to accelerate from 0-60mph in less than two seconds – faster than an F1 car.
Rallycross was invented by Robert Reed, who was the producer on ITV's World of Sport programme at the time. The first event took place at Lydden Hill on 4 February back in 1967, where it quickly became a staple of Saturday afternoon sports in the UK with both ITV and BBC broadcasting rallycross. The popularity of rallycross soon spread, with the first event on the European mainland taking place in Holland in 1969, with the Scandinavian rallycross debut taking place in Sweden two years later.
The FIA World Rallycross presented by Monster Energy was inaugurated in 2014 in Portugal after the FIA granted the World Championship status to the sport, becoming one of only five championships in that category.

Seasons

2014

2015

2016

2017

2018

2019

2020
Teams

ALL-INKL.COM


GC Kompetition


GCK Bilstein


GRX Taneco


KYB Team JC


Monster Energy RX


Team Hansen MJP


Volkswagen Dealer
Key
(
) Missing Artwork
(- 4) Missing 4 Players: Data and Artwork
(
) Team Complete
Trophy Icon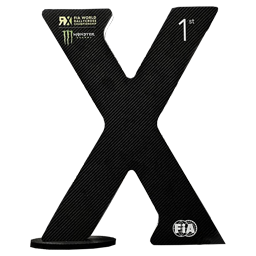 Fanart
Banner

Other Links