Site
Home /
Sport /
Basketball
/
Argentine LNB
Logo
Upcoming Events
05 Oct 23
Unión de Santa
&nbsp
-
Instituto de Co
05 Oct 23
La Union
&nbsp
-
Gimnasia y Esgr
05 Oct 23
Regatas Corrien
&nbsp
-
Argentino de Ju
06 Oct 23
Obras Sanitaria
&nbsp
-
Ferro Carril Oe
06 Oct 23
Comunicaciones
&nbsp
-
Instituto de Co
07 Oct 23
La Union
&nbsp
-
Platense
07 Oct 23
San Martin
&nbsp
-
Gimnasia y Esgr
07 Oct 23
Unión de Santa
&nbsp
-
Riachuelo
07 Oct 23
Ciclista Olímp
&nbsp
-
Independiente d
08 Oct 23
Boca Juniors
&nbsp
-
Ferro Carril Oe



Latest Results
17 Jun 23
Quimsa&nbsp
77 - 51
&nbsp
Boca Juniors
15 Jun 23
Boca Juniors&nbsp
64 - 73
&nbsp
Quimsa
13 Jun 23
Boca Juniors&nbsp
78 - 83
&nbsp
Quimsa
09 Jun 23
Quimsa&nbsp
72 - 75
&nbsp
Boca Juniors
07 Jun 23
Quimsa&nbsp
85 - 68
&nbsp
Boca Juniors
02 Jun 23
Instituto de Co&nbsp
72 - 75
&nbsp
Boca Juniors
30 May 23
Boca Juniors&nbsp
104 - 96
&nbsp
Instituto de Co
28 May 23
Gimnasia y Esgr&nbsp
74 - 84
&nbsp
Quimsa
27 May 23
Boca Juniors&nbsp
93 - 77
&nbsp
Instituto de Co
26 May 23
Quimsa&nbsp
91 - 77
&nbsp
Gimnasia y Esgr
Description
Available in:
The Liga Nacional de Básquet (abbreviated LNB, and literally in English, "National Basketball League"), also commonly referred to as "La Liga de Básquet" ("The Basketball League"), is the top-tier level of the Argentine basketball league system. The league is under the auspices of the Basketball Clubs' Association (in Spanish: Asociación de Clubes de Básquetbol). The LNB's predecessor league is the now defunct Campeonato Argentino de Clubes, which was organized by the Argentine Basketball Federation.

The league was created through the efforts of basketball coach León Najnudel, and sports journalist Osvaldo Orcasitas, in the 1980s, to make Argentine men's club basketball more competitive, through the merging of the many existing local leagues. It is designed like the NBA, with a regular season, all-star game, and playoffs. However, unlike the NBA, the LNB has a promotion and relegation system, with the La Liga Argentina (LLA), the league level that is immediately below the LNB.

A tribute to Najnudel's vision, is the string of successes of the senior men's Argentine national basketball team, culminating with the team's Summer Olympic Games gold medal won at the 2004 Summer Olympics, and the international careers of many players who started in the league.



Seasons

| | | | | | | | | | | | | | |
| --- | --- | --- | --- | --- | --- | --- | --- | --- | --- | --- | --- | --- | --- |
| 2019-2020 | | 2020-2021 | | 2021-2022 | | 2022-2023 | | 2023-2024 | | | | | |
Teams

Argentino de Jun�


Atenas de Córdob


Boca Juniors


Ciclista Olímpic


Comunicaciones


Ferro Carril Oest


Gimnasia y Esgrim


Independiente d


Instituto de Cord


La Union


Obera TC


Obras Sanitarias


Peñarol Mar de


Platense


Quimsa


Regatas Corriente


Riachuelo


San Lorenzo


San Martin


Unión de Santa
Key
(
) Missing Artwork
(- 4) Missing 4 Players: Data and Artwork
(
) Team Complete
Trophy Icon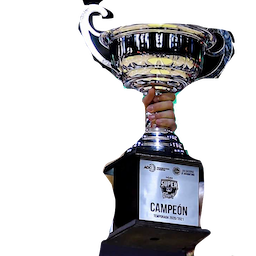 Fanart
Banner

Other Links