Name
AFC Asian Cup
Badge
Archive
Poster
Established
1956 (67 years old)
First Recorded Event
2019-01-05
Current Season
2022-2023
API Football ID
3504
Sport
Soccer
Location
Worldwide
Gender
Male
Alternate Names
亚足联亚洲杯
Piala Asia AFC
एएफसी एशियाई कप
اے ایف سی ایشیائی کپ
AFC 아시안컵
كأس آسيا
جام ملت‌های آسیا
Азийн хөлбөмбөгийн аварга шалгаруулах тэмцээн
এএফসি এশিয়ান কাপ
Cúp bóng đá châu Á
AFCアジアカップ
TV Rights
US - CBS Sports [2021-2024]
Last Edit
Site
Home /
Sport /
Soccer
/
AFC Asian Cup
Logo
Upcoming Events
None Found...


Latest Results
14 Jun 22
Indonesia&nbsp
7 - 0
&nbsp
Nepal
14 Jun 22
Jordan&nbsp
3 - 0
&nbsp
Kuwait
14 Jun 22
Uzbekistan&nbsp
2 - 0
&nbsp
Thailand
14 Jun 22
Kyrgyzstan&nbsp
0 - 0
&nbsp
Tajikistan
14 Jun 22
India&nbsp
4 - 0
&nbsp
Hong Kong
14 Jun 22
Malaysia&nbsp
4 - 1
&nbsp
Bangladesh
14 Jun 22
Maldives&nbsp
1 - 0
&nbsp
Sri Lanka
14 Jun 22
Afghanistan&nbsp
2 - 2
&nbsp
Cambodia
14 Jun 22
Myanmar&nbsp
2 - 6
&nbsp
Singapore
14 Jun 22
Bahrain&nbsp
1 - 0
&nbsp
Turkmenistan
Description
Available in:
The AFC Asian Cup is an international association football tournament run by the Asian Football Confederation (AFC). It is the second oldest continental football championship in the world after Copa América. The winning team becomes the champion of Asia and until 2015 qualified for the FIFA Confederations Cup.

The Asian Cup was held once every four years from the 1956 edition in Hong Kong until the 2004 tournament in China. However, since the Summer Olympic Games and the European Football Championship were also scheduled in the same year as the Asian Cup, the AFC decided to move their championship to a less crowded cycle. After 2004, the tournament was next held in 2007 when it was co-hosted by four nations: Indonesia, Malaysia, Thailand and Vietnam. Thereafter, it has been held every four years.

The Asian Cup has generally been dominated by a small number of top teams. Initially successful teams included South Korea (twice) and Iran (three times). Since 1984, Japan (four times) and Saudi Arabia (three times) have been the most successful teams, together winning seven of the last ten finals. The other teams which have achieved success are Qatar (2019 current champions), Australia (2015), Iraq (2007) and Kuwait (1980). Israel won in 1964 but were later expelled and have since joined UEFA.

Australia joined the Asian confederation in 2007 and hosted the Asian Cup finals in 2015. The 2019 tournament had been expanded from 16 teams to 24 teams, with the qualifying process doubling as part of the qualification for the 2018 FIFA World Cup.



Seasons

Teams

Afghanistan


Australia


Bahrain


Bangladesh


Bhutan


Brunei


Cambodia


China


Chinese Taipei


Guam


Hong Kong


India


Indonesia


Iran


Iraq


Japan


Jordan


Kuwait


Kyrgyzstan


Laos


Lebanon


Macau


Malaysia


Maldives


Mongolia


Myanmar


Nepal


North Korea


Northern Marian


Oman


Pakistan


Palestine


Philippines


Qatar


Saudi Arabia


Singapore


South Korea


Sri Lanka


Syria


Tajikistan


Thailand


Timor-Leste


Turkmenistan


United Arab Emi


Uzbekistan


Vietnam


Yemen
Key
(
) Missing Artwork
(- 4) Missing 4 Players: Data and Artwork
(
) Team Complete
Trophy Icon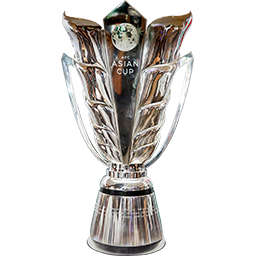 Fanart
Banner
Other Links