Site
Home /
Sport /
Watersports
/
Olympics Surfing
Logo
Upcoming Events
None Found...

Latest Results
None Found...
Description
Available in:
Surfing at the Summer Olympics is planned to make its debut appearance in the 2020 Summer Olympics in Tokyo, Japan. The Olympics was originally scheduled to be held in 2020, but was postponed to 2021 due to the COVID-19 pandemic.

Setting
In 2018, the International Surfing Association (ISA) announced that surfing at the 2020 Summer Olympics would take place in the ocean, and not in an artificial wave pool. The contest site for the 2020 Games was announced to be Shidashita Beach, or "Shida", located about 40 miles (64 km) outside of Tokyo in Chiba. To ensure quality surf, the contest will feature a waiting period of 16 days. Once the event runs, it will take two days to finish the competition.

Competition structure
The 2020 Summer Olympics will use a four-person heat structure, Four athletes will compete at any given time. The best two of each heat will continue to the next round. Each heat will run for 20 to 25 minutes, with their top two scores being used.

Only one rider may ride a wave at any given time, using a common surfing etiquette rule where the surfer who is closest to the peak has right of way. Any interference with the surfer who has right of way can incur a penalty and result in point deductions.

A panel of judges will determine each rider's performance from wave to wave, scoring from one to ten with two decimals. e.g. 8.51. Scores are based on the difficulty of manoeuvres performed. This includes speed, power, and flow of each manoeuvre.

SeasonsTeamsKey
(
) Missing Artwork
(- 4) Missing 4 Players: Data and Artwork
(
) Team Complete
Trophy Icon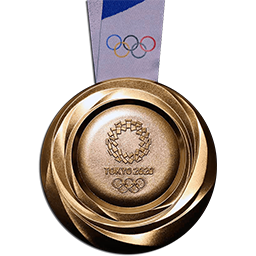 Fanart
Banner

Other Links