Site
Home /
Sport /
Rugby
/
Major League Rugby
Logo
Upcoming Events
None Found...


Latest Results
25 Jun 22
Rugby United Ne&nbsp
30 - 15
&nbsp
Seattle Seawolv
19 Jun 22
New England Fre&nbsp
16 - 24
&nbsp
Rugby United Ne
18 Jun 22
Houston SaberCa&nbsp
27 - 46
&nbsp
Seattle Seawolv
13 Jun 22
Houston SaberCa&nbsp
-
&nbsp
Seattle Seawolv
13 Jun 22
Seattle Seawolv&nbsp
43 - 19
&nbsp
San Diego Legio
12 Jun 22
Rugby ATL&nbsp
19 - 26
&nbsp
Rugby United Ne
05 Jun 22
LA Giltinis&nbsp
27 - 35
&nbsp
Seattle Seawolv
05 Jun 22
Toronto Arrows&nbsp
35 - 50
&nbsp
Old Glory DC
05 Jun 22
Dallas Jackals&nbsp
5 - 33
&nbsp
Utah Warriors
04 Jun 22
Houston SaberCa&nbsp
14 - 29
&nbsp
Austin Gilgroni
Description
Available in:
Major League Rugby (MLR or USMLR) is a professional rugby union competition and the top-level championship for clubs in North America. In the 2021 season it will be contested by twelve teams: eleven from the United States and one from Canada. Officially sanctioned by USA Rugby, which is a member union of Rugby Americas North (RAN), and consequently part of World Rugby, the league was founded in 2017, and is headquartered in Dallas, Texas.

With its initial beginnings as part of established amateur rugby clubs in major North American urban areas, MLR began its first season in 2018 as an initiative of the American rugby community in partnership with private investors. Three further American clubs, in Atlanta, Boston, and Washington D.C., began play in 2020.

Major League Rugby implemented its first collegiate MLR Draft in 2020.

In 2020, Major League Rugby teams started forming youth academies.

The 2020 season was suspended on March 12, 2020, due to the COVID-19 pandemic. On March 18, the league announced that they would resume play in 2021, with two new teams in both Los Angeles in 2021 and Dallas joining in 2022 (delayed by one year).



Seasons

Teams

Austin Gilgronis


Dallas Jackals


Houston SaberCats


LA Giltinis


New England Free


New Orleans Gold


Old Glory DC


Rugby ATL


Rugby United New


San Diego Legion


Seattle Seawolves


Toronto Arrows


Utah Warriors
Key
(
) Missing Artwork
(- 4) Missing 4 Players: Data and Artwork
(
) Team Complete
Trophy Icon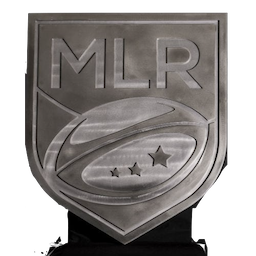 Fanart
Banner

Other Links