Site
Home /
Soccer
/
Portuguese Primeira Liga
/
Benfica /
Jonas
Description
Available in:
Jonas Gonçalves Oliveira, known simply as Jonas (Portuguese pronunciation: ; born 1 April 1984), is a Brazilian professional footballer who plays as a forward for Portuguese club Benfica. He can also play as an attacking midfielder.

Club career
Guarani
Jonas started his career at Guarani in 2005. He made his debut against Esporte Clube Santo André. While playing for Guarani, Jonas scored 12 goals in 25 matches.

Santos
In 2006, Jonas transferred to Santos, where he won the 2006 Campeonato Paulista scoring five goals in six matches. However, he had a serious knee injury that kept him out of action for six months.

In 2007 he returned to the pitch and scored four goals in the Paulista, helping Santos won the tournament for the second time in a row. After spending only one year at Santos, Jonas transferred to Grêmio in 2007.

Grêmio
On 12 September 2007, Grêmio signed a four-year deal which transferred 50% of Jonas' rights. He made his debut in the Gre–Nal derby, leaving injured early in the second half.

After the arrival of more forwards in 2008, Jonas lost his place, sometimes even failing to make the reserves list. The most consistent criticism from the press was his lack of physical strength when playing up front against powerful defenders. By July Jonas decided to leave the club.

Portuguesa (loan)
Despite not being able to avoid relegation to Série B, Jonas was one of the best players in the team, scoring 18 goals during his stay, nine in the Campeonato Brasileiro, ahead of teammate Edno's eight.

Return to Grêmio
After the end of the loan he returned to Grêmio for the 2009 season. He played in the 2009 Copa Libertadores, and after playing his worst game in the tournament (incredibly missing three chances to score in the same attack) against Boyacá Chicó F.C. he was dubbed "the worst forward of the world" ("el peor delantero del mundo") by the Spanish magazine Mundo Deportivo.

However, Jonas scored 14 goals in the 2009 Campeonato Brasileiro Série A and was amongst the top goal scorers. Jonas has enjoyed further success throughout the 2010 season. He was top-scorer for Grêmio in the 2010 Campeonato Gaúcho and finished the top goal scorer in the Série A with 23 goals.

Valencia
Due to a low release fee (€1.25 million), Jonas rescinded his contract with Grêmio. He was finally transferred to Spanish club Valencia on 24 January 2011. He got his first goal for Los Che on February 27, scoring a late winner in a 2–1 away victory for Valencia against Athletic Bilbao. He scored his second goal in an April 24 game against Real Madrid, which ended 3–6.

On 1 November 2011, Jonas scored the second fastest goal in Champions League history by netting inside 10.5 seconds, to give Valencia a 1–0 lead over Bayer Leverkusen. He just fell short of former FC Bayern Munich and Dutch national team striker, Roy Makaay's record of 10.13 seconds that he set against Real Madrid in the 2006–07 edition of the tournament. Valencia won the match 3–1.

He scored both goals for Valencia in a 2–0 Champions League win against Lille OSC on 2 October 2012. Jonas continued the tournament scoring further goals. In the season of 2012–13 he scored a personal season high with the Spanish club of 13 goals in league.

On 1 December 2013, Jonas hit an eight minute hat-trick as Valencia defeated 10-man Osasuna in a home league match. On 1 September he rescinded his link with the club.

Benfica
On 12 September 2014, Jonas signed for S.L. Benfica on a two-year deal. On 5 October 2014, he made his debut in a 4–0 win against Arouca, scoring the fourth goal. On 18 October, he scored a hat-trick as Benfica defeated S.C. Covilhã (2–3) in the third round of Taça de Portugal. On 22 November, he scored twice against Moreirense (4–1) in the Portuguese Cup. On 30 December, Jonas scored the only goal in a home win against Nacional in the third round of League Cup, achieving 9 goals in 11 matches, thus scoring in every competition.



Career Honours

None Found... Add Some?


Former Teams

None Found... Add Some?


Contracts

None Found... Add One?

Fanart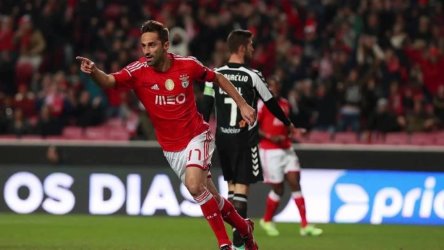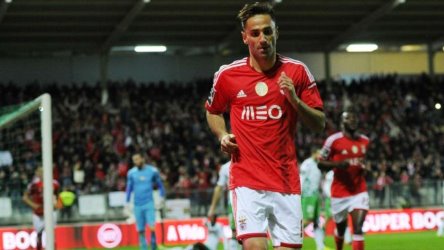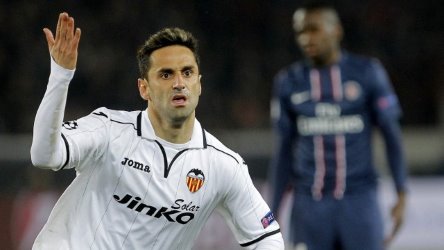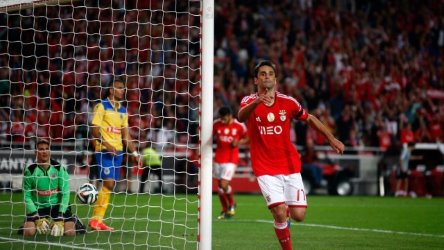 Banner



Other Links