Site
Home /
Basketball
/
_No League
/
_Retired Basketball /
Dirk Nowitzki
Description
Available in:
Dirk Werner Nowitzki (born June 19, 1978) is a German professional basketball player who currently plays for the Dallas Mavericks of the National Basketball Association (NBA). An alumnus of Röntgen Gymnasium and the DJK Würzburg basketball club, Nowitzki was chosen as the ninth pick in the 1998 NBA Draft by the Milwaukee Bucks and immediately traded to the Mavericks, where he has played since. Listed at 7 ft 0 in (2.13 m), Nowitzki is considered one of the greatest power forwards in basketball history.

Nowitzki led the Mavericks to 13 NBA Playoffs (2001–2012; 2014), including the franchise's first Finals appearance in 2006 and only championship in 2011. He is a 12-time All-Star, a 12-time All-NBA Team member, and the first European player to start in an All-Star Game as well as the first to receive the NBA Most Valuable Player Award (2007). Nowitzki is the highest-scoring foreign-born player in NBA-history, currently being ranked 7th in all-time scoring. He is also one of six players who achieved a 50-40-90 season. He is the first Maverick voted onto an All-NBA Team and holds several all-time Mavericks franchise records. Kareem Abdul-Jabbar and Nowitzki are the only players to achieve four consecutive 30-point, 15-rebound post-season games. Besides him, only Rasheed Wallace achieved over 100 blocks and 150 3-pointers in a single season. Nowitzki is also the only player sized at least 7 ft to win the Three-Point Shootout.

Nowitzki led the German national basketball team to a bronze medal in the 2002 FIBA World Championship and silver in EuroBasket 2005, and was the leading scorer and MVP in both tournaments. He was named the Euroscar European Basketball Player of the Year by the Italian sports newspaper Gazzetta dello Sport for five years running from 2002 to 2006 and again in 2011. He was also named the Mister Europa European Player of the Year by the Italian sports magazine Superbasket in 2005, and the FIBA Europe Basketball Player of the Year twice in 2005 and 2011. He was named Eurobasket's All-Europeans Player of the Year from 2005 to 2008, and again in 2011.

On December 18, 2011, Nowitzki was named the 2011 German Sports Personality of the Year, the first basketball player to receive the award. In 2012, he became the first non-American player to receive the Naismith Legacy Award.



Career Honours

2019

2015

2014

2012

2011

2011

2011

2010

2009

2009

2008

2007

2007

2007

2006

2006

2006

2005

2005

2004

2003

2002
Former Teams
| | |
| --- | --- |
| 1994-1998 | |
Contracts
| | |
| --- | --- |
| 1998-2019 | |
Fanart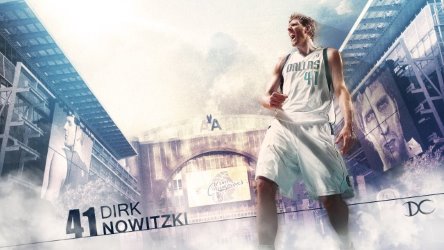 Banner
Other Links