Site
Home /
Sport
/
Motorsport
/
Formula 1
/
Aston Martin Racing /
Sebastian Vettel
Latest Results
Gran Premio De Espana
22 May 2022
Spanish Grand Prix Qualifying
21 May 2022
Miami Grand Prix
08 May 2022
Miami Grand Prix Qualifying
07 May 2022
Gran Premio dell'Emilia Romagna
24 Apr 2022
Description
Available in:
Sebastian Vettel (born 3 July 1987) is a German Formula One racing driver, currently driving for Scuderia Ferrari. He is contracted to remain in that role until at least the end of 2017. He is a four-time Formula One World Champion, having won the championship in 2010, 2011, 2012, and 2013 with Red Bull Racing. He is among the most successful F1 drivers of all time.
In his first year driving for Red Bull in 2009, Vettel finished the season as the youngest-ever World Drivers' Championship runner-up. The following year he went on to become the youngest driver ever to win the World Drivers' Championship, aged 23. In the same year he helped Red Bull win the team's first World Constructors' Championship. He followed up his first championship with three more titles, becoming the youngest double, triple and quadruple world champion in Formula One. Vettel left Red Bull Racing and ended his long-term association with the company after the 2014 season and signed a contract with Ferrari for 2015, after activating a clause to terminate his Red Bull contract early.
Vettel has held numerous other "youngest" Formula One records, among them: the youngest driver to have taken part in an official practice session of a Grand Prix (until Max Verstappen at the 2014 Japanese Grand Prix), to score championship points (until Daniil Kvyat at the 2014 Australian Grand Prix), to lead a race, to secure pole position and to win a race. He is also currently third in the overall tally of pole positions behind fellow German Michael Schumacher and Ayrton Senna and in fourth place among race winners.
Junior series
Vettel started amateur karting at the young age of 3½ and began racing in karts series in 1995, at the age of eight. Having shown early talent, he was accepted into the Red Bull Junior Team at age 11 in 1998, and kept on winning various titles, such as the Junior Monaco Kart Cup in 2001. In 2003, he was promoted to open-wheel cars and won the 2004 German Formula BMW Championship with 18 victories from 20 races. Having impressed in his first season of auto racing in 2003, Vettel was given a chance by Derrick Walker to test a Reynard Motorsport Champ Car in a two-day private test at the Homestead road course.
In 2005 he drove for ASL Mucke Motorsport in the Formula 3 Euro Series. He was placed fifth in the final standings with 63 points, winning the year's top rookie honours. He tested the Williams FW27 Formula One automobile on 27 September as a reward for this Formula BMW success. He then went on to test for the BMW Sauber team.
2006 became a busy year for the 18-year-old racing driver. He drove his second season in the F3 Euroseries, had two guest appearances in the Renault World Series and was promoted to test driver for Sauber in Formula One. A schedule that resulted in a competitive season with several victories, but ultimately no championships.

Vettel finished as runner-up in the 2006 F3 Euroseries, behind series leader and team mate Paul di Resta. He also made his debut in the Formula Renault 3.5 Series at Misano, winning after Pastor Maldonado was disqualified. At the next round at Spa-Francorchamps, however, his finger was almost sliced off by flying débris in an accident, and he was expected to be out of racing for several weeks. Nevertheless, he managed to compete in the Ultimate Masters of F3 at Zandvoort the following weekend, finishing in sixth place. He also set the third-fastest lap time, and it surprised his ASM team boss Frédéric Vasseur. Vasseur said: "I was impressed for sure, because at the beginning of the week I was sure he wouldn't race! But he showed good pace from the first practice session. I can't imagine he's 100 per cent but at least we know we can be competitive in the next F3 Euroseries round at the Nürburgring next weekend – that's important."
Vettel competed in the Formula Renault 3.5 Series in 2007, and took his first win at the Nürburgring. He was leading the championship when he was called up to Formula One permanently. His seat was taken by Michael Ammermüller.
Vettel became BMW Sauber third driver at the 2006 Turkish Grand Prix, when former incumbent Robert Kubica was called up to replace Jacques Villeneuve for the 2006 Hungarian Grand Prix.
On his testing debut, Vettel set the fastest time in the second Friday Free Practice before the race. In his second testing session in the 2006 Italian Grand Prix, he set the fastest time in both Friday practice sessions, a race weekend in which all the BMW cars were quick, with his predecessor Robert Kubica finishing on the podium in the race.
Vettel was confirmed as BMW's test driver for 2007. Following the serious crash of regular BMW driver Kubica at the Canadian Grand Prix, Vettel substituted for him at the United States Grand Prix. He started in seventh position on the grid, finishing in eighth position to take his first World Championship point and became the youngest driver ever to score a point in Formula One (at the age of 19 years and 349 days), a record previously held by Jenson Button – who was 20 years and 67 days old when he finished sixth at the 2000 Brazilian Grand Prix.
On 31 July 2007, BMW released Vettel to join Red Bull's Scuderia Toro Rosso team, replacing Scott Speed as one of its drivers from the Hungarian Grand Prix onwards. He earned approximately US$165,000 for finishing the season with Toro Rosso. Before the race, it was also announced that Vettel would drive for Toro Rosso in 2008, alongside Sébastien Bourdais.
Vettel driving the Toro Rosso STR2 at the 2007 Brazilian Grand Prix
Vettel struggled for his first couple of races while cutting his teeth with his new team, but managed two impressive drives in his 5th and 6th drives for Toro Rosso, a team that was averaging a little worse than 14th place in the 2007 season before Vettel's arrival. In the rain-hit Japanese Grand Prix at Fuji, Vettel worked his way up to third, behind Lewis Hamilton and Red Bull Racing's Mark Webber, and seemed to be on course for not only his but also Toro Rosso's maiden podium finish. However, Vettel crashed into Webber under safety car conditions taking them both out of the race and prompting Webber to say to ITV reporter Louise Goodman "It's kids isn't it... kids with not enough experience – you do a good job and then they fuck it all up." Webber also specifically criticized Lewis Hamilton's erratic behaviour in contributing to the accident, describing his antics behind the safety car as "shit". Vettel was initially punished with a ten-place grid penalty for the following race, but this was lifted after a spectator video on YouTube showed the incident may have been caused by Hamilton's behaviour behind the safety car. Vettel bounced back to finish a career-best fourth a week later at the Chinese Grand Prix having started 17th on the grid while in mixed conditions. He collected five championship points, making it both his and Toro Rosso's best race result.
Red Bull owner Dietrich Mateschitz stated his belief Vettel would be one of Formula One's big stars in the future. "Vettel is one of the young guys with extraordinary potential He is fast, he is intelligent, and he is very interested in the technical side."
After four races of the 2008 season, Vettel was the only driver to have failed to finish a single race, having retired on the first lap in three of them. In each of these three instances, he was involved in accidents caused by other drivers, the other being an engine failure. However, at the fifth round at the Turkish Grand Prix, he finally saw the chequered flag, albeit finishing in 17th after qualifying 14th and suffering a puncture on the opening lap. In the next race at the Monaco Grand Prix, Vettel scored his first points of the season with a fifth-place finish, after qualifying 17th. He scored again at the Canadian Grand Prix fighting off Heikki Kovalainen in the last few laps for the final championship point, having started from pit lane. Vettel finished 12th in France, before retiring on lap one at the wet British Grand Prix after being clipped by David Coulthard and aquaplaned into the gravel trap along with Coulthard. He earned another point at the German Grand Prix, fending off Fernando Alonso and securing eighth after Jarno Trulli ran wide. Vettel retired in Hungary after his engine overheated during his first pit stop. He impressed many at the European Grand Prix by setting the fastest times in the first practice session and second qualifying session, before qualifying sixth on the grid. Vettel finished the race in sixth, two seconds behind Jarno Trulli. Toro Rosso's technical director Giorgio Ascanelli explained said that something changed at the European Grand Prix in Valencia: "Suddenly Vettel understood something about how to drive an F1 car quickly. It made a huge difference – not only to the speed he could unlock, but also to his ability to do so consistently."
At the 2008 Italian Grand Prix, Vettel became the youngest driver in history to win a Formula One Grand Prix. Aged 21 years and 74 days, Vettel broke the record set by Fernando Alonso at the 2003 Hungarian Grand Prix by 317 days when he won in wet conditions at Monza. Vettel led for the majority of the Grand Prix and crossed the finish line 12.5 seconds ahead of McLaren's Heikki Kovalainen. It was the first podium and win for his Toro Rosso team. Earlier in the weekend, he had already become the youngest polesitter, after setting the fastest times in both Q2 and Q3 qualifying stages, and his win also gave him the record of youngest podium finisher. Toro Rosso team boss Gerhard Berger said, "As he proved today, he can win races, but he's going to win world championships. He's a cool guy". Hamilton praised the German, stating that this victory showed "how good he is". The nature of the victory and the story of the 21-year-old's fledgling career led the German media to dub him "baby Schumi", although Vettel was quick to downplay the expectation the result had brought, particularly the comparison with the seven-time World Champion: "To compare me with Michael Schumacher is just a bit ridiculous... It will be difficult in normal conditions for us to repeat this achievement". He then went on to finish fifth in Singapore. In Japan, he finished sixth after being promoted from seventh after teammate Bourdais was penalised for contact with Felipe Massa.
In the Brazilian Grand Prix, after running as high as second in the race on a 3-stop strategy, Vettel overtook Lewis Hamilton in the rain for fifth place on the penultimate lap to contribute to a thrilling climax to the season. He nearly deprived the McLaren driver of the championship before Timo Glock slowed dramatically on the last lap (he was struggling with dry tyres in the ever increasing rain) enabling both Vettel and Hamilton to pass him, earning Hamilton the title, and Vettel fourth place.
After the season had finished Vettel was named Rookie of the Year at the Autosport Awards.
At the start of the 2009 season, Vettel replaced the retired David Coulthard at Red Bull Racing, and began strongly at the Australian Grand Prix, qualifying third and running in second for the majority of the race. However, a clash with Robert Kubica over second place on the third to last lap of the race forced both to retire. Vettel attempted to finish the race on three wheels behind the safety car to salvage some points, but eventually pulled off to the side. He thought that he would be able to attempt this because the yellow flag resulting from his incident forbids overtaking; instead he was given a ten-place grid penalty for the next race, the Malaysian Grand Prix, and his team was fined for instructing him to stay on track after the damage occurred. In Malaysia he qualified in third position, but was demoted down to 13th due to his ten-place grid drop. He spun out of the race while eighth, just before the race was stopped due to adverse weather conditions. However in China he went on to take pole position, the first for the Red Bull Racing team. He went on to win the race ahead of teammate Mark Webber, again a first for his team, which scored its first victory and one-two finish in the same race. At the age of 21 years and 287 days, Vettel became the youngest Grand Prix driver in history to win for two different teams, having won the 2008 Italian Grand Prix for the Toro Rosso team.

In the Bahrain Grand Prix, Vettel qualified in third, and finished second behind Jenson Button in the race. In Spain, he qualified in second but finished the race in fourth, behind his teammate Mark Webber who finished in third. Vettel won the British Grand Prix after claiming pole position in qualifying. At the German Grand Prix he qualified fourth and finished second, behind Webber, who won his first Grand Prix. At the Hungarian Grand Prix, Vettel qualified second after an eventful qualifying, but had to retire from the race on lap 30 after his car sustained damage from contact with Kimi Räikkönen's car on the first lap.
At the European Grand Prix, he qualified fourth but had to retire from the race with an engine failure. It was the second engine failure for Vettel during the weekend, and the RB5's reliability issues began to show. He finished third at Spa-Francorchamps, and struggled for pace at Monza, finishing 8th at a race he previously won. He qualified 2nd at Singapore, but was given a drive-though penalty for speeding in the pit lane and damaged the diffuser on a kerb, struggling to 4th. He subsequently won the Japanese Grand Prix from pole position, leading every lap and only being denied of the fastest lap by 0.002 seconds by teammate Mark Webber, who did so on the final lap. He would have to wait until the 2011 Indian Grand Prix until he finally achieved a Grand Slam.

At the Brazilian Grand Prix, Vettel qualified 16th in a rain-hit session, behind title rival Jenson Button (14th) and Rubens Barrichello (1st), while his teammate Webber qualified second with Adrian Sutil in third. Vettel needed to score at least second place in the race to keep his title hopes alive. He finished fourth with Button behind, giving Button the Championship and moving Vettel up into second place. He officially claimed second place by winning the inaugural Abu Dhabi Grand Prix, again ahead of Webber with Button completing the podium. He also scored his third fastest lap of the year, drawing him level with teammate Webber. However, as Vettel had more second fastest laps, he won the 2009 DHL Fastest Lap Award.
On 21 August 2009 it was announced that Red Bull and Vettel had extended his contract until the end of the 2011 season with an option for 2012. The option was later taken up on 14 March 2011, as Vettel extended his contract with the team until the end of 2014.
Vettel mentioned he would like to drive for Ferrari at some point in his career and was rumoured to have a non-binding pre-contract, with options, to join them in 2014. Red Bull believed he would stay with the team for as long as they supplied a competitive car.

On the day Vettel and Red Bull announced parting ways, team principal Christian Horner announced that Vettel was going to sign with Ferrari. From there it took from early October to 20 November for Ferrari to announce a three-year contract with Vettel. At the same time, Ferrari announced that Vettel's long time championship rival Fernando Alonso would be departing the team at the end of the season; meaning Vettel would partner Kimi Räikkönen at the team.

Vettel was denied an early release from his Red Bull contract to test the 2014 Ferrari car in Abu Dhabi post-race. Vettel instead made his first appearance at the Ferrari factory over the weekend of 29–30 November, completing nearly 100 laps around the test track of Fiorano in the 2012 car as well as performing simulator work and completing his first official interview as a Ferrari driver. According to Ferrari's official website, Vettel did however try the simulated 2014 car in the team's simulator program.

Career Honours

Laureus World Sportsman of the Year
2014
Ferrari

FIA Formula 1 World Championship
2013
Ferrari

FIA Formula 1 World Championship
2012
Ferrari

FIA Formula 1 World Championship
2011
Ferrari

FIA Formula 1 World Championship
2010
Ferrari

Former Youth Teams



Former Senior Teams

2007-2007

2007-2008

2009-2014

2015-2020

2021-

Former Club Staff
Contracts
| | |
| --- | --- |
| 2015-2020 | |
Fanart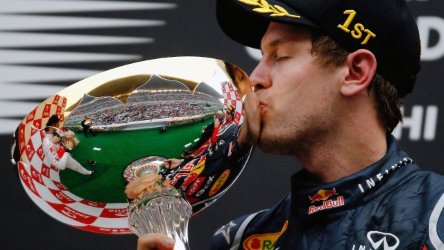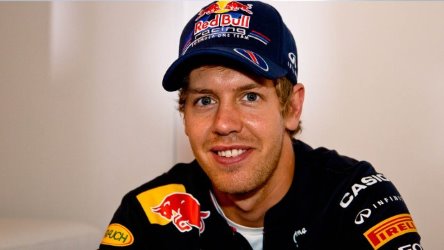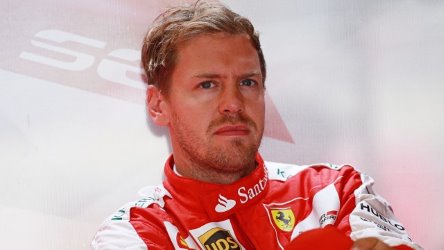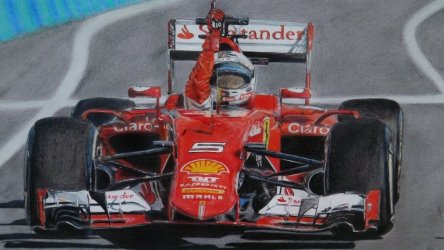 Banner

News Reports
None found...
Statistics
None Found...
Other Links