Site
Home /
Sport
/
Baseball
/
MLB
/
Los Angeles Dodgers /
Clayton Kershaw
Description
Available in:
Clayton Edward Kershaw (born March 19, 1988) is an American professional baseball pitcher for the Los Angeles Dodgers of Major League Baseball (MLB). A left-handed starting pitcher, Kershaw has played in the major leagues since 2008, and his career earned run average (ERA) and walks and hits per innings pitched average (WHIP) are the lowest among starters in the live-ball era with a minimum of 1,000 innings pitched. Kershaw has a career hits allowed per nine innings pitched average of 6.61—the second-lowest in MLB history—along with three Cy Young Awards and the 2014 National League Most Valuable Player Award. He has been described throughout the majority of his career as the best pitcher in baseball.

Kershaw was drafted seventh overall in the 2006 MLB draft. He worked his way through the Dodgers' farm system in just one full season, and reached the majors at 20 years old. When he debuted in 2008, he was the youngest player in MLB, a title he held for one full year. In 2011, he won the pitching Triple Crown and the National League Cy Young Award, becoming the youngest pitcher to accomplish either of these feats since Dwight Gooden in 1985. During the 2013 off-season, the Dodgers signed Kershaw to a franchise record seven-year, $215 million contract extension. Kershaw pitched a no-hitter on June 18, 2014, becoming the 22nd Dodger to do so. Being a left-handed strikeout pitcher and playing for the Los Angeles Dodgers, Kershaw has often been compared to Hall of Fame pitcher Sandy Koufax. He became the first pitcher in history to lead MLB in ERA for four consecutive years when he did so in the 2011 through 2014 seasons.

Off the field, Kershaw is an active participant in volunteer work. He and his wife, Ellen, launched "Kershaw's Challenge" and wrote the book Arise to raise money to build an orphanage in Zambia. He has been honored with the Roberto Clemente Award and the Branch Rickey Award for his humanitarian work.



Career Honours

2017

2016

2015

2014

2013

2012

2011

2011

2006
Former Youth Teams
None Found...
Former Senior Teams
None Found...
Former Club Staff
None Found...
Contracts
None Found...
Fanart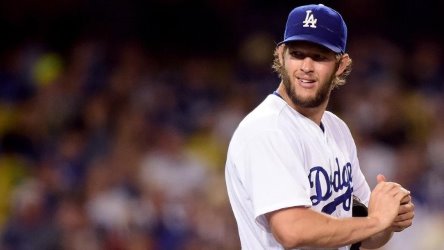 Banner
Statistics
None Found...
Other Links