Site
Home /
Sport
/
Soccer
/
_No League
/
_Deceased Soccer /
Johan Cruyff
Description
Available in:
Hendrik Johannes Cruijff OON (internationally spelled Cruyff; 25 April 1947 – 24 March 2016) was a Dutch professional football player and coach. As a player, he won the Ballon d'Or three times, in 1971, 1973, and 1974. Cruyff was an exponent of the football philosophy known as Total Football explored by Rinus Michels, and is widely regarded as one of the greatest players in football history. In the late 1960s and early 1970s, Dutch football rose from obscurity to become a powerhouse in the sport. Cruyff led the Netherlands to the final of the 1974 FIFA World Cup and received the Golden Ball as player of the tournament. At the 1974 finals, he executed a feint that subsequently was named after him, the "Cruyff Turn", a move widely replicated in the modern game. Wearing the number 14 jersey, he set a trend for wearing shirt numbers outside the usual starting line-up numbers of one to eleven. After finishing third in UEFA Euro 1976, he refused to take part of 1978 World Cup squad due to Argentinian dictator Jorge Videla.

At club level, Cruyff started his career at Ajax, where he won eight Eredivisie titles, three European Cups and one Intercontinental Cup. In 1973, he moved to Barcelona for a world record transfer fee, winning La Liga in his first season and was named European Footballer of the Year. After retiring from playing in 1984, Cruyff became highly successful as manager of Ajax and later Barcelona; he remained an influential advisor to both clubs. His son Jordi also played football professionally.

In 1999, Cruyff was voted European Player of the Century in an election held by the International Federation of Football History & Statistics, and came second behind Pelé in their World Player of the Century poll. He came third in a vote organised by the French magazine France Football consulting their former Ballon d'Or winners to elect their Football Player of the Century. He was chosen on the World Team of the 20th Century in 1998, the FIFA World Cup Dream Team in 2002, and in 2004 was named in the FIFA 100 list of the world's greatest living players.

Considered to be one of the most influential figures in football history, Cruyff's style of play and his football philosophy has influenced managers and players, including the likes of Arrigo Sacchi, Sir Alex Ferguson, Arsène Wenger, Quique Setién, Carlo Ancelotti, Lucien Favre, Luis Enrique, Roberto Martínez, Pep Guardiola, Frank Rijkaard, Michael Laudrup, Eric Cantona, Peter Bosz, Mauricio Pochettino, Judan Ali and Xavi. Ajax and Barcelona are among the clubs that have developed youth academies based on Cruyff's coaching methods. His coaching philosophy helped lay the foundations for the revival of Ajax's international successes in the 1990s. Spanish football's successes at both club and international level during the years 2008 to 2012 have been cited by many as evidence of Cruyff's impact on contemporary football.



Career Honours



1994
Barcelona



1993-1994
Barcelona



1992-1993
Barcelona



1992
Barcelona



1992
Barcelona



1991-1992
Barcelona



1991-1992
Barcelona



1991
Barcelona



1990-1991
Barcelona



1989-1990
Barcelona



1986-1987
Ajax



1985-1986
Ajax



1983-1984
Ajax



1983-1984
Ajax



1982-1983
Ajax



1982-1983
Ajax



1981-1982
Ajax



1977-1978
Barcelona



1974
Netherlands



1973-1974
Netherlands



1973
Netherlands



1972-1973
Ajax



1972-1973
Netherlands



1972
Netherlands



1971-1972
Ajax



1971-1972
Netherlands



1971-1972
Netherlands



1971
Netherlands



1970-1971
Netherlands



1970-1971
Netherlands



1969-1970
Ajax



1969-1970
Netherlands



1967-1968
Ajax



1966-1967
Ajax



1966-1967
Netherlands



1965-1966
Ajax
Former Youth Teams
| | |
| --- | --- |
| 1957-1964 | |
Former Senior Teams

1964-1973

1966-1977

1973-1978

1981-1981

1981-1983

1983-1984
Former Club Staff

1985-1988
Manager

1988-1996
Manager

2009-2013
Manager
Contracts
None Found...
Fanart
Banner
Statistics




Feyenoord
Appearances
Dutch Eredivisie
1983-1984
33


Feyenoord
Appearances
Dutch KNVB Cup
1983-1984
7


Feyenoord
Appearances
UEFA Cup
1983-1984
4


Feyenoord
Assists
Dutch Eredivisie
1983-1984
3


Feyenoord
Goals
Dutch Eredivisie
1983-1984
11


Feyenoord
Goals
Dutch KNVB Cup
1983-1984
1


Feyenoord
Goals
UEFA Cup
1983-1984
1


Feyenoord
Mins Played
Dutch Eredivisie
1983-1984
2,825


Feyenoord
Mins Played
Dutch KNVB Cup
1983-1984
524


Feyenoord
Mins Played
UEFA Cup
1983-1984
360




Ajax
Appearances
Dutch Eredivisie
1982-1983
21


Ajax
Appearances
Dutch KNVB Cup
1982-1983
7


Ajax
Appearances
UEFA Champions League
1982-1983
2


Ajax
Assists
Dutch KNVB Cup
1982-1983
2


Ajax
Goals
Dutch Eredivisie
1982-1983
7


Ajax
Goals
Dutch KNVB Cup
1982-1983
2


Ajax
Mins Played
Dutch Eredivisie
1982-1983
1,787


Ajax
Mins Played
Dutch KNVB Cup
1982-1983
601


Ajax
Mins Played
UEFA Champions League
1982-1983
177




Ajax
Appearances
Dutch Eredivisie
1981-1982
15


Ajax
Appearances
Dutch KNVB Cup
1981-1982
1


Ajax
Assists
Dutch Eredivisie
1981-1982
9


Ajax
Goals
Dutch Eredivisie
1981-1982
7


Ajax
Mins Played
Dutch Eredivisie
1981-1982
1,260


Ajax
Mins Played
Dutch KNVB Cup
1981-1982
90




Barcelona
Appearances
Spanish La Liga
1977-1978
4


Barcelona
Appearances
UEFA Cup
1977-1978
10


Barcelona
Assists
UEFA Cup
1977-1978
3


Barcelona
Goals
UEFA Cup
1977-1978
5


Barcelona
Mins Played
Spanish La Liga
1977-1978
270


Barcelona
Mins Played
UEFA Cup
1977-1978
952




Netherlands
Appearances
FIFA World Cup
1977
3


Netherlands
Appearances
International Friendlies
1977
1


Netherlands
Assists
FIFA World Cup
1977
1


Netherlands
Goals
FIFA World Cup
1977
1


Netherlands
Mins Played
FIFA World Cup
1977
251


Netherlands
Mins Played
International Friendlies
1977
90




Barcelona
Appearances
Spanish La Liga
1976-1977
9


Barcelona
Appearances
UEFA Cup
1976-1977
7


Barcelona
Goals
Spanish La Liga
1976-1977
8


Barcelona
Goals
UEFA Cup
1976-1977
5


Barcelona
Mins Played
Spanish La Liga
1976-1977
765


Barcelona
Mins Played
UEFA Cup
1976-1977
630




Netherlands
Appearances
FIFA World Cup
1976
1


Netherlands
Appearances
UEFA European Championships
1976
3


Netherlands
Assists
UEFA European Championships
1976
4


Netherlands
Goals
FIFA World Cup
1976
1


Netherlands
Goals
UEFA European Championships
1976
1


Netherlands
Mins Played
FIFA World Cup
1976
90


Netherlands
Mins Played
UEFA European Championships
1976
300




Barcelona
Appearances
Spanish La Liga
1975-1976
14


Barcelona
Appearances
UEFA Cup
1975-1976
9


Barcelona
Assists
UEFA Cup
1975-1976
1


Barcelona
Goals
Spanish La Liga
1975-1976
3


Barcelona
Goals
UEFA Cup
1975-1976
2


Barcelona
Mins Played
Spanish La Liga
1975-1976
1,260


Barcelona
Mins Played
UEFA Cup
1975-1976
792




Netherlands
Appearances
UEFA European Championships
1975
2


Netherlands
Mins Played
UEFA European Championships
1975
180




Barcelona
Appearances
Spanish La Liga
1974-1975
9


Barcelona
Appearances
UEFA Champions League
1974-1975
8


Barcelona
Assists
UEFA Champions League
1974-1975
1


Barcelona
Goals
Spanish La Liga
1974-1975
3


Barcelona
Mins Played
Spanish La Liga
1974-1975
810


Barcelona
Mins Played
UEFA Champions League
1974-1975
720




Netherlands
Appearances
FIFA World Cup
1974
7


Netherlands
Appearances
International Friendlies
1974
3


Netherlands
Appearances
UEFA European Championships
1974
2


Netherlands
Assists
FIFA World Cup
1974
7


Netherlands
Goals
FIFA World Cup
1974
3


Netherlands
Goals
International Friendlies
1974
1


Netherlands
Goals
UEFA European Championships
1974
4


Netherlands
Mins Played
FIFA World Cup
1974
630


Netherlands
Mins Played
International Friendlies
1974
270


Netherlands
Mins Played
UEFA European Championships
1974
180




Barcelona
Appearances
Spanish La Liga
1973-1974
6


Barcelona
Goals
Spanish La Liga
1973-1974
4


Barcelona
Mins Played
Spanish La Liga
1973-1974
521




Netherlands
Appearances
FIFA World Cup
1973
4


Netherlands
Appearances
International Friendlies
1973
2


Netherlands
Goals
FIFA World Cup
1973
5


Netherlands
Goals
International Friendlies
1973
1


Netherlands
Mins Played
FIFA World Cup
1973
360


Netherlands
Mins Played
International Friendlies
1973
146




Ajax
Appearances
Dutch Eredivisie
1972-1973
25


Ajax
Appearances
FIFA Club World Cup
1972-1973
2


Ajax
Appearances
UEFA Champions League
1972-1973
6


Ajax
Assists
Dutch Eredivisie
1972-1973
10


Ajax
Assists
FIFA Club World Cup
1972-1973
2


Ajax
Assists
UEFA Champions League
1972-1973
1


Ajax
Goals
Dutch Eredivisie
1972-1973
16


Ajax
Goals
FIFA Club World Cup
1972-1973
1


Ajax
Goals
UEFA Champions League
1972-1973
3


Ajax
Mins Played
Dutch Eredivisie
1972-1973
2,063


Ajax
Mins Played
FIFA Club World Cup
1972-1973
116


Ajax
Mins Played
UEFA Champions League
1972-1973
513




Ajax
Appearances
UEFA Super Cup
1972
2


Netherlands
Appearances
FIFA World Cup
1972
2


Netherlands
Appearances
International Friendlies
1972
3


Ajax
Goals
UEFA Super Cup
1972
2


Netherlands
Goals
FIFA World Cup
1972
2


Netherlands
Goals
International Friendlies
1972
3


Ajax
Mins Played
UEFA Super Cup
1972
180


Netherlands
Mins Played
FIFA World Cup
1972
180


Netherlands
Mins Played
International Friendlies
1972
270




Ajax
Appearances
Dutch Eredivisie
1971-1972
17


Ajax
Appearances
Dutch KNVB Cup
1971-1972
4


Ajax
Appearances
UEFA Champions League
1971-1972
9


Ajax
Assists
Dutch Eredivisie
1971-1972
13


Ajax
Assists
Dutch KNVB Cup
1971-1972
5


Ajax
Goals
Dutch Eredivisie
1971-1972
12


Ajax
Goals
Dutch KNVB Cup
1971-1972
3


Ajax
Goals
UEFA Champions League
1971-1972
5


Ajax
Mins Played
Dutch Eredivisie
1971-1972
1,530


Ajax
Mins Played
Dutch KNVB Cup
1971-1972
360


Ajax
Mins Played
UEFA Champions League
1971-1972
810




Netherlands
Appearances
International Friendlies
1971
1


Netherlands
Appearances
UEFA European Championships
1971
3


Netherlands
Assists
UEFA European Championships
1971
7


Netherlands
Goals
International Friendlies
1971
1


Netherlands
Goals
UEFA European Championships
1971
5


Netherlands
Mins Played
International Friendlies
1971
90


Netherlands
Mins Played
UEFA European Championships
1971
270




Ajax
Appearances
Dutch Eredivisie
1970-1971
25


Ajax
Appearances
Dutch KNVB Cup
1970-1971
6


Ajax
Appearances
UEFA Champions League
1970-1971
6


Ajax
Assists
Dutch Eredivisie
1970-1971
8


Ajax
Assists
Dutch KNVB Cup
1970-1971
3


Ajax
Assists
UEFA Champions League
1970-1971
4


Ajax
Goals
Dutch Eredivisie
1970-1971
21


Ajax
Goals
Dutch KNVB Cup
1970-1971
5


Ajax
Goals
UEFA Champions League
1970-1971
1


Ajax
Mins Played
Dutch Eredivisie
1970-1971
2,056


Ajax
Mins Played
Dutch KNVB Cup
1970-1971
537


Ajax
Mins Played
UEFA Champions League
1970-1971
525




Netherlands
Appearances
International Friendlies
1970
2


Netherlands
Goals
International Friendlies
1970
2


Netherlands
Mins Played
International Friendlies
1970
180




Ajax
Appearances
Dutch Eredivisie
1969-1970
33


Ajax
Appearances
Dutch KNVB Cup
1969-1970
5


Ajax
Appearances
UEFA Cup
1969-1970
8


Ajax
Assists
Dutch Eredivisie
1969-1970
23


Ajax
Assists
Dutch KNVB Cup
1969-1970
1


Ajax
Assists
UEFA Cup
1969-1970
10


Ajax
Goals
Dutch Eredivisie
1969-1970
23


Ajax
Goals
Dutch KNVB Cup
1969-1970
6


Ajax
Goals
UEFA Cup
1969-1970
4


Ajax
Mins Played
Dutch Eredivisie
1969-1970
2,878


Ajax
Mins Played
Dutch KNVB Cup
1969-1970
435


Ajax
Mins Played
UEFA Cup
1969-1970
724




Netherlands
Appearances
FIFA World Cup
1969
2


Netherlands
Appearances
International Friendlies
1969
1


Netherlands
Assists
FIFA World Cup
1969
1


Netherlands
Goals
FIFA World Cup
1969
1


Netherlands
Mins Played
FIFA World Cup
1969
180


Netherlands
Mins Played
International Friendlies
1969
90




Ajax
Appearances
Dutch Eredivisie
1968-1969
29


Ajax
Appearances
Dutch KNVB Cup
1968-1969
3


Ajax
Appearances
UEFA Champions League
1968-1969
10


Ajax
Assists
Dutch Eredivisie
1968-1969
18


Ajax
Assists
Dutch KNVB Cup
1968-1969
1


Ajax
Assists
UEFA Champions League
1968-1969
4


Ajax
Goals
Dutch Eredivisie
1968-1969
24


Ajax
Goals
Dutch KNVB Cup
1968-1969
3


Ajax
Goals
UEFA Champions League
1968-1969
6


Ajax
Mins Played
Dutch Eredivisie
1968-1969
2,516


Ajax
Mins Played
Dutch KNVB Cup
1968-1969
270


Ajax
Mins Played
UEFA Champions League
1968-1969
862




Netherlands
Appearances
International Friendlies
1968
1


Netherlands
Mins Played
International Friendlies
1968
90




Ajax
Appearances
Dutch KNVB Cup
1967-1968
5


Ajax
Appearances
UEFA Champions League
1967-1968
2


Ajax
Goals
Dutch KNVB Cup
1967-1968
6


Ajax
Goals
UEFA Champions League
1967-1968
1


Ajax
Mins Played
Dutch KNVB Cup
1967-1968
450


Ajax
Mins Played
UEFA Champions League
1967-1968
210




Netherlands
Appearances
International Friendlies
1967
1


Netherlands
Appearances
UEFA European Championships
1967
2


Netherlands
Goals
UEFA European Championships
1967
1


Netherlands
Mins Played
International Friendlies
1967
90


Netherlands
Mins Played
UEFA European Championships
1967
180




Ajax
Appearances
Dutch KNVB Cup
1966-1967
5


Ajax
Appearances
UEFA Champions League
1966-1967
6


Ajax
Assists
Dutch KNVB Cup
1966-1967
3


Ajax
Goals
Dutch KNVB Cup
1966-1967
5


Ajax
Goals
UEFA Champions League
1966-1967
3


Ajax
Mins Played
Dutch KNVB Cup
1966-1967
510


Ajax
Mins Played
UEFA Champions League
1966-1967
540




Netherlands
Appearances
International Friendlies
1966
1


Netherlands
Appearances
UEFA European Championships
1966
1


Netherlands
Goals
UEFA European Championships
1966
1


Netherlands
Mins Played
International Friendlies
1966
78


Netherlands
Mins Played
UEFA European Championships
1966
90




Ajax
Appearances
Dutch KNVB Cup
1965-1966
5


Ajax
Goals
Dutch KNVB Cup
1965-1966
9


Ajax
Mins Played
Dutch KNVB Cup
1965-1966
450




Ajax
Appearances
Dutch Eredivisie
1964-1965
9


Ajax
Goals
Dutch Eredivisie
1964-1965
1


Ajax
Mins Played
Dutch Eredivisie
1964-1965
810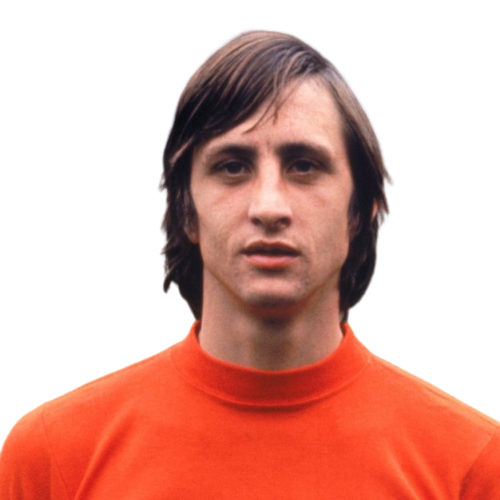 Other Links