Site
Home /
Sport
/
Soccer
/
Spanish La Liga
/
Real Madrid /
Marcelo
Description
Available in:
Marcelo Vieira da Silva Júnior (born 12 May 1988), known as Marcelo, is a Brazilian professional footballer for Spanish club Real Madrid and the Brazil national team. He plays mainly at left back but can also operate as a left winger.

In 2005, he won a Campeonato Carioca with Fluminense and in 2006 he was named to the Brasileirão Team of the Season, at age 18. By the end of the year, he joined Real Madrid for a $8 million fee. As of 2017, he has played 11 seasons at Madrid, scoring 28 goals in 408 matches. There he won three UEFA Champions Leagues, being elected to the Squad of the Season two times, as well as four La Liga titles.

Marcelo debuted for Brazil in 2006 against Wales, scoring a goal. He was part of Brazil's squad in the 2014 FIFA World Cup, where he reached the semi-finals and was named to the tournament's Dream Team. He was named to the FIFPro World XI four times, the UEFA Team of the Year two times and La Liga's Team of the Season in 2016.

After his breakthrough season, Marcelo was praised by football legends such as Paolo Maldini and Diego Maradona, who also called him the best in his position. He is frequently compared to Roberto Carlos, who himself said Marcelo was his heir, the world's best left back and that "Marcelo possesses a better technical ability than me".

Career Honours


2019-2020
Real Madrid


2019-2020
Real Madrid


2019
Real Madrid


2018
Real Madrid


2018
Real Madrid


2018
Real Madrid


2017-2018
Real Madrid


2017
Real Madrid


2017
Real Madrid


2017
Real Madrid


2017
Real Madrid


2017
Real Madrid


2016-2017
Real Madrid


2016-2017
Real Madrid


2016
Real Madrid


2016
Real Madrid


2016
Real Madrid


2015-2016
Real Madrid


2015
Real Madrid


2014
Real Madrid


2014
Real Madrid


2013-2014
Real Madrid


2013-2014
Real Madrid


2013
Real Madrid


2012
Real Madrid


2012
Real Madrid


2011-2012
Real Madrid


2011
Real Madrid


2010-2011
Real Madrid


2008
Real Madrid


2007-2008
Real Madrid


2006-2007
Real Madrid

Former Youth Teams

2002-2005

Former Senior Teams

2005-2006

2006-2018

Former Club Staff
Contracts
| | |
| --- | --- |
| 2007-2022 | |
Fanart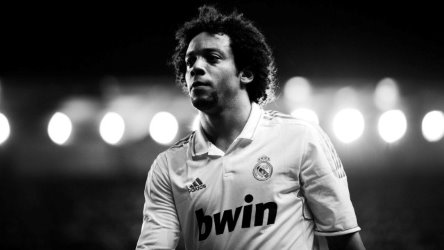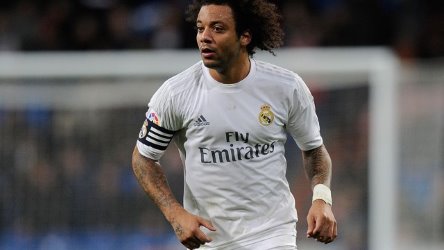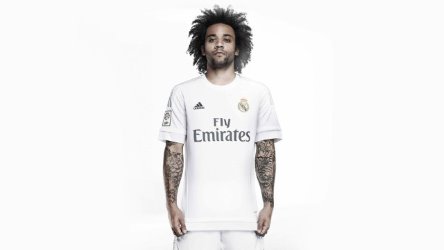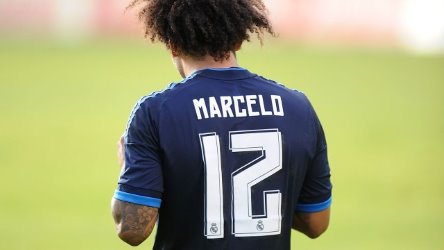 Banner
Statistics




Real Madrid
Appearances
Copa del Rey
2020-2021
1


Real Madrid
Appearances
Spanish La Liga
2020-2021
16


Real Madrid
Appearances
UEFA Champions League
2020-2021
2


Real Madrid
Assists
Copa del Rey
2020-2021
1


Real Madrid
Assists
Spanish La Liga
2020-2021
2


Real Madrid
Assists
UEFA Champions League
2020-2021
1


Real Madrid
Mins Played
Copa del Rey
2020-2021
120


Real Madrid
Mins Played
Spanish La Liga
2020-2021
1,052


Real Madrid
Mins Played
UEFA Champions League
2020-2021
167




Real Madrid
Appearances
Copa del Rey
2019-2020
3


Real Madrid
Appearances
Spanish La Liga
2019-2020
15


Real Madrid
Appearances
Supercopa de Espana
2019-2020
1


Real Madrid
Appearances
UEFA Champions League
2019-2020
4


Real Madrid
Assists
Spanish La Liga
2019-2020
4


Real Madrid
Assists
UEFA Champions League
2019-2020
3


Real Madrid
Goals
Copa del Rey
2019-2020
1


Real Madrid
Goals
Spanish La Liga
2019-2020
1


Real Madrid
Mins Played
Copa del Rey
2019-2020
270


Real Madrid
Mins Played
Spanish La Liga
2019-2020
1,299


Real Madrid
Mins Played
Supercopa de Espana
2019-2020
19


Real Madrid
Mins Played
UEFA Champions League
2019-2020
266




Real Madrid
Appearances
Copa del Rey
2018-2019
4


Real Madrid
Appearances
FIFA Club World Cup
2018-2019
2


Real Madrid
Appearances
Spanish La Liga
2018-2019
23


Real Madrid
Appearances
UEFA Champions League
2018-2019
4


Real Madrid
Assists
Copa del Rey
2018-2019
1


Real Madrid
Assists
FIFA Club World Cup
2018-2019
2


Real Madrid
Assists
Spanish La Liga
2018-2019
2


Real Madrid
Assists
UEFA Champions League
2018-2019
1


Real Madrid
Goals
Spanish La Liga
2018-2019
2


Real Madrid
Goals
UEFA Champions League
2018-2019
1


Real Madrid
Mins Played
Copa del Rey
2018-2019
360


Real Madrid
Mins Played
FIFA Club World Cup
2018-2019
180


Real Madrid
Mins Played
Spanish La Liga
2018-2019
1,854


Real Madrid
Mins Played
UEFA Champions League
2018-2019
344




Brazil
Appearances
FIFA World Cup
2018
4


Brazil
Appearances
International Friendlies
2018
4


Real Madrid
Appearances
UEFA Super Cup
2018
1


Brazil
Mins Played
FIFA World Cup
2018
280


Brazil
Mins Played
International Friendlies
2018
307


Real Madrid
Mins Played
UEFA Super Cup
2018
120




Real Madrid
Appearances
FIFA Club World Cup
2017-2018
2


Real Madrid
Appearances
Spanish La Liga
2017-2018
28


Real Madrid
Appearances
UEFA Champions League
2017-2018
11


Real Madrid
Assists
Spanish La Liga
2017-2018
6


Real Madrid
Assists
UEFA Champions League
2017-2018
4


Real Madrid
Goals
Spanish La Liga
2017-2018
2


Real Madrid
Goals
UEFA Champions League
2017-2018
3


Real Madrid
Mins Played
FIFA Club World Cup
2017-2018
180


Real Madrid
Mins Played
Spanish La Liga
2017-2018
2,263


Real Madrid
Mins Played
UEFA Champions League
2017-2018
958




Brazil
Appearances
FIFA World Cup
2017
3


Brazil
Appearances
International Friendlies
2017
2


Real Madrid
Appearances
Supercopa de Espana
2017
2


Real Madrid
Appearances
UEFA Super Cup
2017
1


Brazil
Assists
FIFA World Cup
2017
1


Real Madrid
Assists
Supercopa de Espana
2017
1


Brazil
Goals
FIFA World Cup
2017
1


Brazil
Goals
International Friendlies
2017
1


Brazil
Mins Played
FIFA World Cup
2017
270


Brazil
Mins Played
International Friendlies
2017
149


Real Madrid
Mins Played
Supercopa de Espana
2017
180


Real Madrid
Mins Played
UEFA Super Cup
2017
90




Real Madrid
Appearances
Copa del Rey
2016-2017
3


Real Madrid
Appearances
FIFA Club World Cup
2016-2017
2


Real Madrid
Appearances
Spanish La Liga
2016-2017
30


Real Madrid
Appearances
UEFA Champions League
2016-2017
11


Real Madrid
Assists
Copa del Rey
2016-2017
1


Real Madrid
Assists
Spanish La Liga
2016-2017
10


Real Madrid
Assists
UEFA Champions League
2016-2017
2


Real Madrid
Goals
Copa del Rey
2016-2017
1


Real Madrid
Goals
Spanish La Liga
2016-2017
2


Real Madrid
Mins Played
Copa del Rey
2016-2017
270


Real Madrid
Mins Played
FIFA Club World Cup
2016-2017
210


Real Madrid
Mins Played
Spanish La Liga
2016-2017
2,277


Real Madrid
Mins Played
UEFA Champions League
2016-2017
1,001




Brazil
Appearances
FIFA World Cup
2016
3


Real Madrid
Appearances
UEFA Super Cup
2016
1


Brazil
Assists
FIFA World Cup
2016
1


Brazil
Mins Played
FIFA World Cup
2016
270


Real Madrid
Mins Played
UEFA Super Cup
2016
120




Real Madrid
Appearances
Spanish La Liga
2015-2016
30


Real Madrid
Appearances
UEFA Champions League
2015-2016
11


Real Madrid
Assists
Spanish La Liga
2015-2016
3


Real Madrid
Assists
UEFA Champions League
2015-2016
1


Real Madrid
Goals
Spanish La Liga
2015-2016
2


Real Madrid
Mins Played
Spanish La Liga
2015-2016
2,473


Real Madrid
Mins Played
UEFA Champions League
2015-2016
910




Brazil
Appearances
FIFA World Cup
2015
1


Brazil
Appearances
International Friendlies
2015
4


Brazil
Mins Played
FIFA World Cup
2015
90


Brazil
Mins Played
International Friendlies
2015
257




Real Madrid
Appearances
Copa del Rey
2014-2015
3


Real Madrid
Appearances
FIFA Club World Cup
2014-2015
2


Real Madrid
Appearances
Spanish La Liga
2014-2015
34


Real Madrid
Appearances
UEFA Champions League
2014-2015
11


Real Madrid
Assists
Spanish La Liga
2014-2015
8


Real Madrid
Assists
UEFA Champions League
2014-2015
2


Real Madrid
Goals
Copa del Rey
2014-2015
1


Real Madrid
Goals
Spanish La Liga
2014-2015
2


Real Madrid
Goals
UEFA Champions League
2014-2015
1


Real Madrid
Mins Played
Copa del Rey
2014-2015
210


Real Madrid
Mins Played
FIFA Club World Cup
2014-2015
134


Real Madrid
Mins Played
Spanish La Liga
2014-2015
2,929


Real Madrid
Mins Played
UEFA Champions League
2014-2015
779




Brazil
Appearances
FIFA World Cup
2014
6


Brazil
Appearances
International Friendlies
2014
3


Real Madrid
Appearances
Supercopa de Espana
2014
2


Real Madrid
Appearances
UEFA Super Cup
2014
1


Brazil
Assists
FIFA World Cup
2014
2


Brazil
Mins Played
FIFA World Cup
2014
570


Brazil
Mins Played
International Friendlies
2014
179


Real Madrid
Mins Played
Supercopa de Espana
2014
110


Real Madrid
Mins Played
UEFA Super Cup
2014
6




Real Madrid
Appearances
Copa del Rey
2013-2014
4


Real Madrid
Appearances
Spanish La Liga
2013-2014
28


Real Madrid
Appearances
UEFA Champions League
2013-2014
7


Real Madrid
Assists
Spanish La Liga
2013-2014
7


Real Madrid
Assists
UEFA Champions League
2013-2014
1


Real Madrid
Goals
Spanish La Liga
2013-2014
1


Real Madrid
Goals
UEFA Champions League
2013-2014
1


Real Madrid
Mins Played
Copa del Rey
2013-2014
237


Real Madrid
Mins Played
Spanish La Liga
2013-2014
2,176


Real Madrid
Mins Played
UEFA Champions League
2013-2014
585




Brazil
Appearances
Confederations Cup
2013
5


Brazil
Appearances
International Friendlies
2013
7


Brazil
Assists
Confederations Cup
2013
2


Brazil
Assists
International Friendlies
2013
2


Brazil
Mins Played
Confederations Cup
2013
450


Brazil
Mins Played
International Friendlies
2013
421




Real Madrid
Appearances
Copa del Rey
2012-2013
1


Real Madrid
Appearances
Spanish La Liga
2012-2013
14


Real Madrid
Appearances
UEFA Champions League
2012-2013
2


Real Madrid
Assists
UEFA Champions League
2012-2013
1


Real Madrid
Goals
UEFA Champions League
2012-2013
1


Real Madrid
Mins Played
Copa del Rey
2012-2013
45


Real Madrid
Mins Played
Spanish La Liga
2012-2013
1,062


Real Madrid
Mins Played
UEFA Champions League
2012-2013
180




Brazil
Appearances
International Friendlies
2012
8


Real Madrid
Appearances
Supercopa de Espana
2012
2


Brazil
Assists
International Friendlies
2012
3


Brazil
Goals
International Friendlies
2012
2


Brazil
Mins Played
International Friendlies
2012
667


Real Madrid
Mins Played
Supercopa de Espana
2012
99




Real Madrid
Appearances
Copa del Rey
2011-2012
3


Real Madrid
Appearances
Spanish La Liga
2011-2012
32


Real Madrid
Appearances
UEFA Champions League
2011-2012
7


Real Madrid
Assists
Spanish La Liga
2011-2012
6


Real Madrid
Assists
UEFA Champions League
2011-2012
4


Real Madrid
Goals
Spanish La Liga
2011-2012
3


Real Madrid
Mins Played
Copa del Rey
2011-2012
224


Real Madrid
Mins Played
Spanish La Liga
2011-2012
2,717


Real Madrid
Mins Played
UEFA Champions League
2011-2012
465




Brazil
Appearances
International Friendlies
2011
2


Real Madrid
Appearances
Supercopa de Espana
2011
2


Brazil
Goals
International Friendlies
2011
1


Brazil
Mins Played
International Friendlies
2011
180


Real Madrid
Mins Played
Supercopa de Espana
2011
134




Real Madrid
Appearances
Copa del Rey
2010-2011
6


Real Madrid
Appearances
Spanish La Liga
2010-2011
32


Real Madrid
Appearances
UEFA Champions League
2010-2011
12


Real Madrid
Assists
Copa del Rey
2010-2011
1


Real Madrid
Assists
Spanish La Liga
2010-2011
6


Real Madrid
Assists
UEFA Champions League
2010-2011
3


Real Madrid
Goals
Spanish La Liga
2010-2011
3


Real Madrid
Goals
UEFA Champions League
2010-2011
2


Real Madrid
Mins Played
Copa del Rey
2010-2011
514


Real Madrid
Mins Played
Spanish La Liga
2010-2011
2,734


Real Madrid
Mins Played
UEFA Champions League
2010-2011
991




Real Madrid
Appearances
Copa del Rey
2009-2010
2


Real Madrid
Appearances
Spanish La Liga
2009-2010
35


Real Madrid
Appearances
UEFA Champions League
2009-2010
6


Real Madrid
Assists
Spanish La Liga
2009-2010
9


Real Madrid
Goals
Spanish La Liga
2009-2010
4


Real Madrid
Mins Played
Copa del Rey
2009-2010
49


Real Madrid
Mins Played
Spanish La Liga
2009-2010
2,999


Real Madrid
Mins Played
UEFA Champions League
2009-2010
495




Brazil
Appearances
FIFA World Cup
2009
1


Brazil
Appearances
International Friendlies
2009
1


Brazil
Mins Played
FIFA World Cup
2009
90


Brazil
Mins Played
International Friendlies
2009
90




Real Madrid
Appearances
Copa del Rey
2008-2009
2


Real Madrid
Appearances
Spanish La Liga
2008-2009
27


Real Madrid
Appearances
UEFA Champions League
2008-2009
5


Real Madrid
Assists
Spanish La Liga
2008-2009
5


Real Madrid
Goals
Spanish La Liga
2008-2009
4


Real Madrid
Mins Played
Copa del Rey
2008-2009
180


Real Madrid
Mins Played
Spanish La Liga
2008-2009
2,063


Real Madrid
Mins Played
UEFA Champions League
2008-2009
359




Brazil
Appearances
International Friendlies
2008
2


Brazil
Assists
International Friendlies
2008
1


Brazil
Mins Played
International Friendlies
2008
25




Real Madrid
Appearances
Copa del Rey
2007-2008
2


Real Madrid
Appearances
Spanish La Liga
2007-2008
24


Real Madrid
Appearances
UEFA Champions League
2007-2008
6


Real Madrid
Assists
Spanish La Liga
2007-2008
2


Real Madrid
Assists
UEFA Champions League
2007-2008
1


Real Madrid
Mins Played
Copa del Rey
2007-2008
152


Real Madrid
Mins Played
Spanish La Liga
2007-2008
2,106


Real Madrid
Mins Played
UEFA Champions League
2007-2008
540




Brazil
Appearances
International Friendlies
2007
1


Brazil
Mins Played
International Friendlies
2007
90




Real Madrid
Appearances
Spanish La Liga
2006-2007
6


Real Madrid
Mins Played
Spanish La Liga
2006-2007
165




Brazil
Appearances
International Friendlies
2006
1


Fluminense
Appearances
Brazilian Serie A
2006
8


Fluminense
Appearances
Copa Sudamericana
2006
3


Brazil
Goals
International Friendlies
2006
1


Fluminense
Goals
Brazilian Serie A
2006
3


Brazil
Mins Played
International Friendlies
2006
74


Fluminense
Mins Played
Brazilian Serie A
2006
720


Fluminense
Mins Played
Copa Sudamericana
2006
253
Latest Season
15 Appearances
4 Assists
1 Goals
1,299 Mins Played
Previous Season
23 Appearances
2 Assists
2 Goals
1,854 Mins Played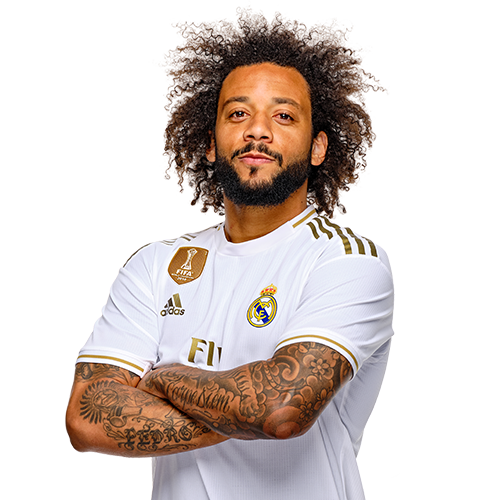 Other Links