Site
Home /
Sport
/
Soccer
/
_No League
/
_Retired Soccer /
Henrik Larsson
Description
Available in:
Henrik Edward Larsson (born 20 September 1971) is a Swedish professional football manager, most recently in charge of Helsingborgs IF, and former player, who played as a striker. Larsson began his career with Högaborg. In 1992, he moved to Helsingborg where in his first season his partnership up front with Mats Magnusson helped the club win promotion to Allsvenskan after 24 seasons in the lower tiers. He moved to Feyenoord in November 1993, staying for four years before leaving in 1997. During his time in the Dutch Eredivisie, he won two KNVB Cups with Feyenoord. He also broke into the Swedish national football team, and helped them finish in third place at the 1994 World Cup.

Wim Jansen signed Larsson for Scottish club Celtic in July 1997 for a fee of £650,000. In his first season at the club, he played a crucial role in stopping Rangers winning a 10th league title in a row. However, he suffered a broken leg in a UEFA Cup tie against Lyon in 1999. Despite this setback, Larsson came back stronger, netting 53 goals in a 2000–01 season that saw him claim the European Golden Shoe. Larsson went on to win four league titles in his seven years at Celtic. He also helped the team reach the 2003 UEFA Cup Final against Porto, scoring both goals in a 3–2 defeat in extra time. However, his 242 goals in 315 matches saw Celtic fans nickname him The King of Kings. Larsson then joined Barcelona in 2004, where he won two league titles and the 2005–06 UEFA Champions League with a pivotal two assists in the final. Following the expiration of his contract at Barcelona, Larsson returned to his hometown club Helsingborg, during which time he joined Manchester United on a brief loan between January and March 2007. He announced his retirement from football on 20 October 2009.

Regarded as one of the greatest Swedish players of all time, Larsson played for Sweden in three FIFA World Cups and three UEFA European Championships, winning a bronze medal at the 1994 World Cup, and is a former captain of the national team. He ended his international career with 37 goals in 106 matches. He also won the Golden Ball (Guldbollen), the annual Award for best Swedish footballer twice, first in 1998 and again in 2004, while in 2003 he was named the Greatest Swedish Footballer of the Last 50 Years as part of the UEFA Jubilee Awards.

In 2010, Larsson began his career as a football manager at the Superettan club Landskrona BoIS during three seasons. He later managed Falkenberg in Allsvenskan, and eventually he took over at Helsingborg in 2015, where his son, Jordan was one of his players. However, Helsingborg were relegated to Superettan in 2016 and Larsson left the club. Three years later he made a brief return in the same role at the club for just a couple of months. His son Jordan now plays for Spartak Moscow and has also represented Sweden at an international level.

Career Honours


2006-2007
Man United


2005-2006
Barcelona


2005-2006
Barcelona


2005
Barcelona


2004-2005
Celtic


2003-2004
Celtic


2003-2004
Celtic


2001-2002
Celtic


2000-2001
Celtic


2000-2001
Celtic


2000-2001
Celtic


1997-1998
Feyenoord


1994-1995
Feyenoord


1993-1994
Helsingborg

Former Youth Teams



Former Senior Teams

1992-1993

1993-1997

1993-2009

1997-2004

2004-2006

2006-2009

2007-2007 (Loan)

Former Club Staff

2010-2012
Manager

2014-2014
Manager

2015-2016
Manager

2018-2019
Assistant Manager

2019-2019
Manager
Contracts
Fanart
Banner
Statistics




Helsingborg
Appearances
UEFA Europa League
2009-2010
4


Helsingborg
Goals
UEFA Europa League
2009-2010
3


Helsingborg
Mins Played
UEFA Europa League
2009-2010
323




Helsingborg
Appearances
Swedish Allsvenskan
2009
20


Sweden
Appearances
International Friendlies
2009
1


Sweden
Appearances
FIFA World Cup
2009
3


Helsingborg
Assists
Swedish Allsvenskan
2009
2


Helsingborg
Goals
Swedish Allsvenskan
2009
7


Helsingborg
Mins Played
Swedish Allsvenskan
2009
1,745


Sweden
Mins Played
International Friendlies
2009
45


Sweden
Mins Played
FIFA World Cup
2009
270




Helsingborg
Appearances
Svenska Cupen
2008-2009
2


Helsingborg
Mins Played
Svenska Cupen
2008-2009
120




Helsingborg
Appearances
Swedish Allsvenskan
2008
27


Sweden
Appearances
FIFA World Cup
2008
2


Sweden
Appearances
UEFA European Championships
2008
3


Sweden
Appearances
International Friendlies
2008
4


Helsingborg
Assists
Swedish Allsvenskan
2008
7


Sweden
Assists
UEFA European Championships
2008
1


Helsingborg
Goals
Swedish Allsvenskan
2008
14


Sweden
Goals
International Friendlies
2008
1


Helsingborg
Mins Played
Swedish Allsvenskan
2008
2,385


Sweden
Mins Played
FIFA World Cup
2008
180


Sweden
Mins Played
International Friendlies
2008
241


Sweden
Mins Played
UEFA European Championships
2008
267




Helsingborg
Appearances
UEFA Cup
2007-2008
11


Helsingborg
Assists
UEFA Cup
2007-2008
1


Helsingborg
Goals
UEFA Cup
2007-2008
9


Helsingborg
Mins Played
UEFA Cup
2007-2008
990




Helsingborg
Appearances
Swedish Allsvenskan
2007
22


Helsingborg
Assists
Swedish Allsvenskan
2007
13


Helsingborg
Goals
Swedish Allsvenskan
2007
9


Helsingborg
Mins Played
Swedish Allsvenskan
2007
1,980




Man United
Appearances
UEFA Champions League
2006-2007
2


Man United
Appearances
FA Cup
2006-2007
4


Man United
Appearances
English Premier League
2006-2007
7


Man United
Goals
English Premier League
2006-2007
1


Man United
Goals
FA Cup
2006-2007
1


Man United
Goals
UEFA Champions League
2006-2007
1


Man United
Mins Played
UEFA Champions League
2006-2007
171


Man United
Mins Played
FA Cup
2006-2007
275


Man United
Mins Played
English Premier League
2006-2007
459




Helsingborg
Appearances
Swedish Allsvenskan
2006
15


Sweden
Appearances
FIFA World Cup
2006
4


Helsingborg
Assists
Swedish Allsvenskan
2006
2


Helsingborg
Goals
Swedish Allsvenskan
2006
8


Sweden
Goals
FIFA World Cup
2006
1


Helsingborg
Mins Played
Swedish Allsvenskan
2006
1,350


Sweden
Mins Played
FIFA World Cup
2006
360




Barcelona
Appearances
Supercopa de Espana
2005-2006
1


Barcelona
Appearances
Copa del Rey
2005-2006
3


Barcelona
Appearances
UEFA Champions League
2005-2006
10


Barcelona
Appearances
Spanish La Liga
2005-2006
28


Barcelona
Assists
UEFA Champions League
2005-2006
2


Barcelona
Assists
Spanish La Liga
2005-2006
3


Barcelona
Goals
UEFA Champions League
2005-2006
1


Barcelona
Goals
Copa del Rey
2005-2006
4


Barcelona
Goals
Spanish La Liga
2005-2006
10


Barcelona
Mins Played
Supercopa de Espana
2005-2006
6


Barcelona
Mins Played
Copa del Rey
2005-2006
189


Barcelona
Mins Played
UEFA Champions League
2005-2006
558


Barcelona
Mins Played
Spanish La Liga
2005-2006
1,337




Sweden
Appearances
International Friendlies
2005
1


Sweden
Appearances
FIFA World Cup
2005
4


Sweden
Goals
FIFA World Cup
2005
1


Sweden
Goals
International Friendlies
2005
1


Sweden
Mins Played
International Friendlies
2005
84


Sweden
Mins Played
FIFA World Cup
2005
352




Barcelona
Appearances
Copa del Rey
2004-2005
1


Barcelona
Appearances
UEFA Champions League
2004-2005
4


Barcelona
Appearances
Spanish La Liga
2004-2005
12


Barcelona
Assists
Spanish La Liga
2004-2005
1


Barcelona
Goals
UEFA Champions League
2004-2005
1


Barcelona
Goals
Spanish La Liga
2004-2005
3


Barcelona
Mins Played
Copa del Rey
2004-2005
120


Barcelona
Mins Played
UEFA Champions League
2004-2005
141


Barcelona
Mins Played
Spanish La Liga
2004-2005
668




Sweden
Appearances
International Friendlies
2004
1


Sweden
Appearances
FIFA World Cup
2004
4


Sweden
Appearances
UEFA European Championships
2004
4


Sweden
Assists
UEFA European Championships
2004
1


Sweden
Goals
International Friendlies
2004
1


Sweden
Goals
UEFA European Championships
2004
3


Sweden
Goals
FIFA World Cup
2004
4


Sweden
Mins Played
International Friendlies
2004
62


Sweden
Mins Played
FIFA World Cup
2004
325


Sweden
Mins Played
UEFA European Championships
2004
390




Celtic
Appearances
UEFA Cup
2003-2004
6


Celtic
Appearances
UEFA Champions League
2003-2004
9


Celtic
Appearances
Scottish Premier League
2003-2004
37


Celtic
Assists
UEFA Cup
2003-2004
1


Celtic
Assists
UEFA Champions League
2003-2004
4


Celtic
Assists
Scottish Premier League
2003-2004
16


Celtic
Goals
UEFA Champions League
2003-2004
3


Celtic
Goals
UEFA Cup
2003-2004
3


Celtic
Goals
Scottish Premier League
2003-2004
30


Celtic
Mins Played
UEFA Cup
2003-2004
540


Celtic
Mins Played
UEFA Champions League
2003-2004
767


Celtic
Mins Played
Scottish Premier League
2003-2004
3,124




Sweden
Appearances
UEFA European Championships
2003
1


Sweden
Mins Played
UEFA European Championships
2003
90




Celtic
Appearances
UEFA Champions League
2002-2003
2


Celtic
Appearances
UEFA Cup
2002-2003
10


Celtic
Appearances
Scottish Premier League
2002-2003
35


Celtic
Assists
UEFA Cup
2002-2003
1


Celtic
Assists
Scottish Premier League
2002-2003
14


Celtic
Goals
UEFA Champions League
2002-2003
1


Celtic
Goals
UEFA Cup
2002-2003
11


Celtic
Goals
Scottish Premier League
2002-2003
28


Celtic
Mins Played
UEFA Champions League
2002-2003
180


Celtic
Mins Played
UEFA Cup
2002-2003
887


Celtic
Mins Played
Scottish Premier League
2002-2003
2,977




Sweden
Appearances
International Friendlies
2002
3


Sweden
Appearances
FIFA World Cup
2002
4


Sweden
Goals
FIFA World Cup
2002
3


Sweden
Mins Played
International Friendlies
2002
253


Sweden
Mins Played
FIFA World Cup
2002
388




Celtic
Appearances
UEFA Cup
2001-2002
2


Celtic
Appearances
UEFA Champions League
2001-2002
8


Celtic
Appearances
Scottish Premier League
2001-2002
33


Celtic
Assists
Scottish Premier League
2001-2002
11


Celtic
Goals
UEFA Cup
2001-2002
1


Celtic
Goals
UEFA Champions League
2001-2002
3


Celtic
Goals
Scottish Premier League
2001-2002
29


Celtic
Mins Played
UEFA Cup
2001-2002
210


Celtic
Mins Played
UEFA Champions League
2001-2002
714


Celtic
Mins Played
Scottish Premier League
2001-2002
2,860




Sweden
Appearances
International Friendlies
2001
1


Sweden
Appearances
FIFA World Cup
2001
7


Sweden
Goals
FIFA World Cup
2001
7


Sweden
Mins Played
International Friendlies
2001
90


Sweden
Mins Played
FIFA World Cup
2001
630




Celtic
Appearances
UEFA Cup
2000-2001
5


Celtic
Appearances
Scottish Premier League
2000-2001
37


Celtic
Assists
UEFA Cup
2000-2001
1


Celtic
Assists
Scottish Premier League
2000-2001
14


Celtic
Goals
UEFA Cup
2000-2001
4


Celtic
Goals
Scottish Premier League
2000-2001
35


Celtic
Mins Played
UEFA Cup
2000-2001
483


Celtic
Mins Played
Scottish Premier League
2000-2001
3,290




Sweden
Appearances
International Friendlies
2000
2


Sweden
Appearances
FIFA World Cup
2000
3


Sweden
Appearances
UEFA European Championships
2000
3


Sweden
Goals
FIFA World Cup
2000
1


Sweden
Goals
UEFA European Championships
2000
1


Sweden
Mins Played
International Friendlies
2000
69


Sweden
Mins Played
UEFA European Championships
2000
208


Sweden
Mins Played
FIFA World Cup
2000
270




Celtic
Appearances
UEFA Cup
1999-2000
3


Celtic
Goals
UEFA Cup
1999-2000
3


Celtic
Mins Played
UEFA Cup
1999-2000
189




Sweden
Appearances
International Friendlies
1999
2


Sweden
Appearances
UEFA European Championships
1999
6


Sweden
Goals
UEFA European Championships
1999
2


Sweden
Mins Played
International Friendlies
1999
90


Sweden
Mins Played
UEFA European Championships
1999
520




Celtic
Appearances
UEFA Champions League
1998-1999
4


Celtic
Appearances
UEFA Cup
1998-1999
4


Celtic
Goals
UEFA Champions League
1998-1999
1


Celtic
Goals
UEFA Cup
1998-1999
3


Celtic
Mins Played
UEFA Champions League
1998-1999
360


Celtic
Mins Played
UEFA Cup
1998-1999
360




Sweden
Appearances
UEFA European Championships
1998
2


Sweden
Appearances
International Friendlies
1998
5


Sweden
Goals
UEFA European Championships
1998
1


Sweden
Mins Played
UEFA European Championships
1998
178


Sweden
Mins Played
International Friendlies
1998
442




Celtic
Appearances
UEFA Cup
1997-1998
4


Celtic
Assists
UEFA Cup
1997-1998
4


Celtic
Mins Played
UEFA Cup
1997-1998
360




Sweden
Appearances
FIFA World Cup
1997
1


Sweden
Appearances
International Friendlies
1997
1


Sweden
Mins Played
International Friendlies
1997
23


Sweden
Mins Played
FIFA World Cup
1997
65




Feyenoord
Appearances
UEFA Cup
1996-1997
6


Feyenoord
Appearances
Dutch Eredivisie
1996-1997
31


Feyenoord
Assists
Dutch Eredivisie
1996-1997
9


Feyenoord
Goals
UEFA Cup
1996-1997
1


Feyenoord
Goals
Dutch Eredivisie
1996-1997
7


Feyenoord
Mins Played
UEFA Cup
1996-1997
503


Feyenoord
Mins Played
Dutch Eredivisie
1996-1997
2,420




Sweden
Appearances
International Friendlies
1996
1


Sweden
Appearances
FIFA World Cup
1996
2


Sweden
Goals
FIFA World Cup
1996
1


Sweden
Mins Played
International Friendlies
1996
23


Sweden
Mins Played
FIFA World Cup
1996
61




Feyenoord
Appearances
Dutch Eredivisie
1995-1996
32


Feyenoord
Assists
Dutch Eredivisie
1995-1996
2


Feyenoord
Goals
Dutch Eredivisie
1995-1996
10


Feyenoord
Mins Played
Dutch Eredivisie
1995-1996
2,400




Sweden
Appearances
International Friendlies
1995
2


Sweden
Appearances
UEFA European Championships
1995
3


Sweden
Mins Played
International Friendlies
1995
112


Sweden
Mins Played
UEFA European Championships
1995
126




Feyenoord
Appearances
Dutch Eredivisie
1994-1995
23


Feyenoord
Goals
Dutch Eredivisie
1994-1995
8


Feyenoord
Mins Played
Dutch Eredivisie
1994-1995
1,838




Sweden
Appearances
UEFA European Championships
1994
3


Sweden
Appearances
FIFA World Cup
1994
5


Sweden
Assists
FIFA World Cup
1994
1


Sweden
Goals
FIFA World Cup
1994
1


Sweden
Mins Played
UEFA European Championships
1994
120


Sweden
Mins Played
FIFA World Cup
1994
192




Feyenoord
Appearances
Dutch Eredivisie
1993-1994
15


Feyenoord
Goals
Dutch Eredivisie
1993-1994
1


Feyenoord
Mins Played
Dutch Eredivisie
1993-1994
1,046




Sweden
Appearances
FIFA World Cup
1993
1


Sweden
Mins Played
FIFA World Cup
1993
73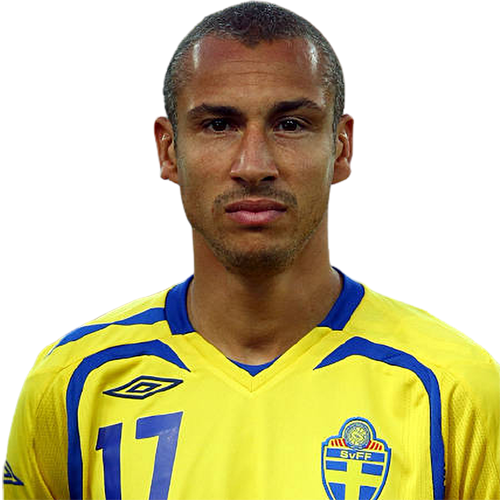 Other Links