Event
Barcelona vs
Bayern Munich
Date
Fri 14th August 2020 UTC
Fri 14th August 2020 Local
Time
19:00:00 UTC
20:00:00 Local
Poster
Your Rating (Click a star below)


Total Rating

(1 users)


Thumb




Square Poster




Recent Record
Click here to show

League
UEFA Champions League

Season
2019-2020

Round
125

Status


Location
Estádio da Luz
(0 Attendance)
Lisbon
Portugal





Site
Home /
Sport /
Soccer
/
UEFA Champions League
/
2019-2020
/
Barcelona vs Bayern Munich
vs

2

| | | |
| --- | --- | --- |
| 7' | Goal | Alaba |
| 54' | Card | Suarez |
| 57' | Goal | Suarez |
| 60' | Card | Alba |
| 90' | Card | Vidal |

8

| | | |
| --- | --- | --- |
| 4' | Goal | Muller |
| 22' | Goal | Perisic |
| 27' | Goal | Gnabry |
| 31' | Goal | Muller |
| 42' | Card | Boateng |
| 52' | Card | Davies |
| 63' | Goal | Kimmich |
| 82' | Goal | Lewandowski |
| 85' | Card | Kimmich |
| 85' | Goal | Coutinho |
| 89' | Goal | Coutinho |
Video Highlights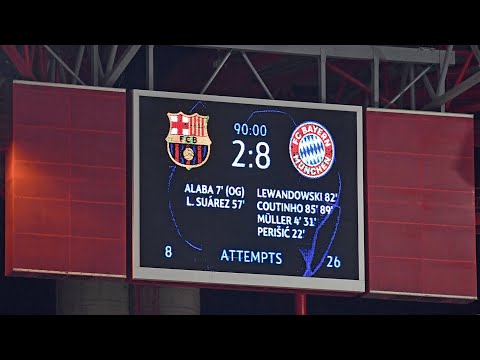 Play on YouTube
Home Team Lineup

Gerard
Pique
Centre Back




Clément
Lenglet
Centre Back




Sergi
Roberto
Centre Midfielder
Griezmann 46



Frenkie
de
Jong
Centre Midfielder




Sergi
Busquets
Defensive Midfielder
Fati 70



Luis
Suarez
Forward




Marc-Andre
ter
Stegen
Goalkeeper




Jordi
Alba
Left Back




Arturo
Vidal
Midfielder




Nélson
Semedo
Right Back




Lionel
Messi
Right Wing



Away Team Lineup

Thomas
Muller
Attacking Midfielder




Jerome
Boateng
Centre Back
Sule 76



Leon
Goretzka
Centre Midfielder
Tolisso 84



Robert
Lewandowski
Forward




Manuel
Neuer
Goalkeeper




David
Alaba
Left Back




Alphonso
Davies
Left Wing
Lucas Hernández 84



Thiago
Alcantara
Midfielder




Ivan
Perisic
Midfielder
Coman 67



Joshua
Kimmich
Right Back




Serge
Gnabry
Right Wing
Coutinho 75


Event Statistics
Shots on Goal
Shots off Goal
Total Shots
Blocked Shots
Shots insidebox
Shots outsidebox
Fouls
Corner Kicks
Offsides
Ball Possession
Yellow Cards
Red Cards
Goalkeeper Saves
Total passes
Passes accurate
Passes %
Description
Lionel Messi leads Barcelona against Alphonso Davies' Bayern Munich in the UEFA Champions League quarter-finals. The clubs last met five years ago, when a 5-3 aggregate win saw the Spanish team advance to the final and beat Juventus.
Reports
None found...
Result ListResult DescriptionPopular Tweets
Fanart
Banner
Ovokx says:
14 Aug 2020 20:57
Amazing game by Bayern that sets the end of an era for Barcelona!
Continue discussion on forum..

Other Event Name

Bayern Munich @ Barcelona

Potential Filename

UEFA.Champions.League.2020-08-14.Barcelona.vs.Bayern.Munich.mkv

UEFA.Champions.League.2020-08-14.Barcelona.vs.Bayern.Munich.S2019-2020E125.mkv

UEFA.Champions.League.20200814.Barcelona.vs.Bayern.Munich.special


Download Metadata

Kodi NFO File