Event
Inter vs
Shakhtar Donetsk
Date
Mon 17th August 2020 UTC
Mon 17th August 2020 Local
Time
19:00:00 UTC
No local time found
Poster
Your Rating (Click a star below)


Total Rating

(1 users)


Thumb




Square Poster




Recent Record
Click here to show

League
UEFA Europa League

Season
2019-2020

Round
150

Status


Location
Merkur Spiel-Arena
(0 Attendance)
Düsseldorf
Germany





Site
Home /
Sport /
Soccer
/
UEFA Europa League
/
2019-2020
/
Inter vs Shakhtar Donetsk
vs

5

| | | |
| --- | --- | --- |
| 19' | Goal | Lautaro Martínez |
| 64' | Goal | Danilo D'Ambrosio |
| 74' | Goal | Lautaro Martínez |
| 78' | Goal | Lukaku |
| 84' | Goal | Lukaku |

0
Video Highlights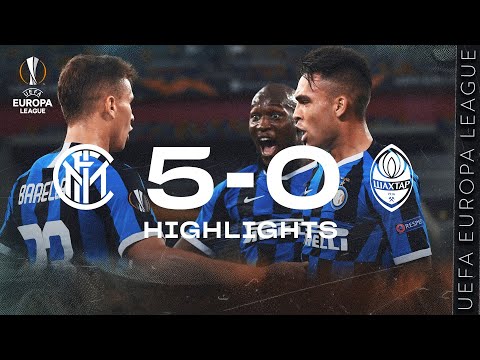 Play on YouTube
Home Team Lineup

Diego
Godín
Centre Back




Alessandro
Bastoni
Centre Back




Stefan
de
Vrij
Defender




Danilo
D'Ambrosio
Defender
Moses 81



Romelu
Lukaku
Forward
Esposito 85



Lautaro
Martínez
Forward
Eriksen 81



Samir
Handanovic
Goalkeeper




Nicolo
Barella
Midfielder




Marcelo
Brozović
Midfielder
Sensi 85



Roberto
Gagliardini
Midfielder




Ashley
Young
Midfielder
Biraghi 66


Away Team Lineup

Serhiy
Kryvtsov
Defender




Mykola
Matviyenko
Defender




Davit
Khocholava
Defender




Júnior
Moraes
Forward




Andriy
Pyatov
Goalkeeper




Marcos
Antônio
Midfielder




Alan
Patrick
Midfielder
Solomon 59



Taison
Midfielder




Taras
Stepanenko
Midfielder




Dodô
Right Back




Marlos
Winger
Konoplyanka 75


Event Statistics
Shots on Goal
Shots off Goal
Total Shots
Blocked Shots
Shots insidebox
Shots outsidebox
Fouls
Corner Kicks
Offsides
Ball Possession
Yellow Cards
Red Cards
Goalkeeper Saves
Total passes
Passes accurate
Passes %
Description
Having edged past Bayer Leverkusen in the quarter-finals, Antonio Conte's Inter Milan now faces Shakhtar Donetsk in the UEFA Europa League semi-finals. Inter is a three-time European champion but has not won a trophy of any kind since 2011.
Reports
None found...
Result ListResult DescriptionPopular Tweets
Fanart
Banner
Ovokx says:
17 Aug 2020 20:47
Gorgeous game by Inter and the result could be even higher!
Continue discussion on forum..

Other Event Name

Shakhtar Donetsk @ Inter

Potential Filename

UEFA.Europa.League.2020-08-17.Inter.vs.Shakhtar.Donetsk.mkv

UEFA.Europa.League.2020-08-17.Inter.vs.Shakhtar.Donetsk.S2019-2020E150.mkv

UEFA.Europa.League.20200817.Inter.vs.Shakhtar.Donetsk.special

Download Metadata
Kodi NFO File