Site
Home /
Soccer
/
English League 2
Logo

Upcoming Events
Coventry - Lincoln (Tuesday 24th April)
Newport - Accrington (Tuesday 24th April)
Yeovil - Forest Green Rovers (Tuesday 24th April)
Morecambe - Cambridge United (Tuesday 24th April)
Stevenage - Exeter (Saturday 28th April)
Crawley - Crewe (Saturday 28th April)
Yeovil - Mansfield (Saturday 28th April)
Grimsby - Notts County (Saturday 28th April)
Luton - Forest Green Rovers (Saturday 28th April)
Accrington - Lincoln (Saturday 28th April)
Latest Results
Carlisle 1 - 1 Luton (Saturday 21st April)

Mansfield 1 - 1 Port Vale (Saturday 21st April)

Cambridge United 4 - 3 Cheltenham (Saturday 21st April)

Lincoln 2 - 1 Colchester (Saturday 21st April)

Barnet 2 - 0 Newport (Saturday 21st April)

Forest Green Rovers 4 - 1 Chesterfield (Saturday 21st April)

Exeter 2 - 2 Crawley (Saturday 21st April)

Wycombe 0 - 4 Accrington (Saturday 21st April)

Crewe 1 - 0 Morecambe (Saturday 21st April)

Swindon 0 - 1 Grimsby (Saturday 21st April)

Description
Football League Two (often referred to as League Two for short or Sky Bet League 2 for sponsorship reasons) is the third-highest division of The Football League and fourth-highest division overall in the English football league system.

Football League Two was introduced for the 2004–05 season. It was previously known as the Football League Division 3. Before the advent of the Premier League, the fourth-highest division was known as the Football League Fourth Division.

At present (2014–15 season), Accrington Stanley hold the longest tenure in League Two, last being outside the division in the 2005–06 season when they were promoted from the Conference Premier.

Schedule
1213 Season
1314 Season
1415 Season
1516 Season
1617 Season
1718 Season
Teams

Accrington


Barnet


Cambridge United


Carlisle


Cheltenham


Chesterfield


Colchester


Coventry


Crawley


Crewe


Exeter


Forest Green Rov


Grimsby


Lincoln


Luton


Mansfield


Morecambe


Newport


Notts County


Port Vale


Stevenage


Swindon


Wycombe


Yeovil
Trophy Icon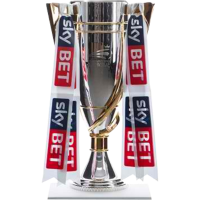 Fanart
Banner
Other Links